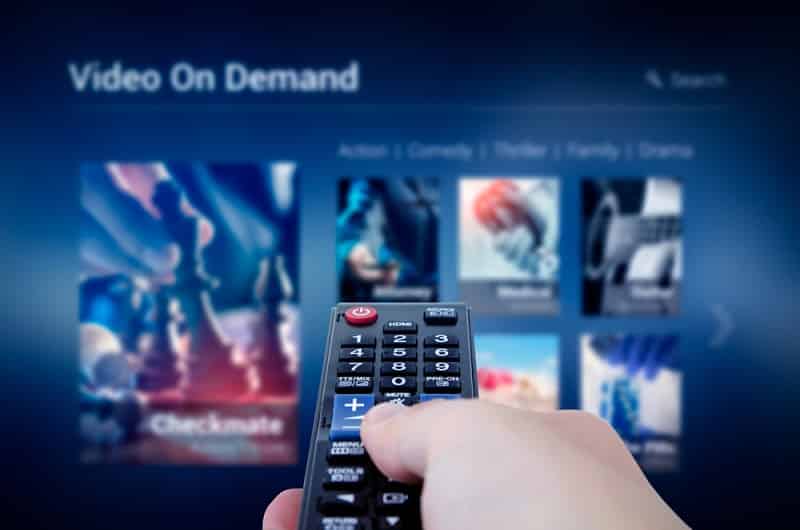 If you are old enough to remember the times when you had to arrange your schedule around your favorite television programs and movies then you will appreciate this article on why video on demand is growing in popularity.  You may even remember the days when you rented VCR videos from the local video store and then you had to remember the due date for return.  If the video was returned after the due date you had to pay a specified amount of money for each day it was late.
Video on demand has changed all of this and has even taken cable services such as TiVo to the next level thanks to the increased availability of high speed broadband Internet.  If you are vaguely familiar with video on demand or have heard the term the following information will explain why VOD is revolutionizing television viewing.
What is Video on Demand?
Video on demand is commonly referred to as VOD among many other titles depending upon the provider.  It provides a way to watch your favorite movies and television shows on your schedule instead of your cable TV provider's schedule.
Video on demand works similar to your DVR services where you can record your favorite movies and shows to watch at a later date or pause a program if you get interrupted.  Pay per view services is also similar because they offer the ability to watch video on demand when it is convenient for you.
The newest video on demand is delivered by services such as Netflix and Hulu where you can choose videos from a website and watch them whenever you want and as many times as you want.  All it requires is a high speed broadband Internet connection and a PC or mobile device.  The newer flat screen televisions are being manufactured with built-in Internet connectivity for accessing video on demand over the Internet.  This represents an attractive option for many since you can access some movies at no cost or you pay as little as $7.99 per month which is a fraction of the cost of your cable TV bill.
What Can You Watch with Video on Demand?
The sky is the limit when it comes to the number of movies and television programs that are available with video on demand.  If you are accessing VOD over the Internet you can find almost every movie and program imaginable including television shows from other countries.  Each video on demand source online provides you with access to hundreds of thousands of different types of movies and shows including news, sports, classic TV, entire television series, movies from different decades and even commercials available on demand.
Originally video on demand started with movie access however, with new technologies and high speed broadband Internet you now have access to a diverse selection of content including the ability to visit locations in other countries and other special interest content. Hence the reason video on demand is growing in popularity.
What Does Video on Demand Cost?
Cost is one of the driving forces behind the growth in popularity of video on demand.  Depending upon where and how you are accessing a VOD service the cost will vary but nevertheless it is very inexpensive which is why it is giving cable television services a lot of competition.
For example, if you choose to use a video on demand service using your PC and a high speed Internet connection the cost ranges anywhere from free to under $10 monthly.  If you access a VOD provider such as Hulu online you can access a wide selection of television shows, documentaries, and movies free of charge.  If you would like an even wider selection of content you can opt to pay for Hulu Plus for only $7.99 per month for access to thousands of movies and television programs.  Additionally, you can connect your PC to your flat screen television and view the content on the big screen just as you would with your cable television service.
In another instance, if you are accessing video on demand through your cable television service typically the movies are available through pay per view in which you will pay an extra fee for each movie you watch in addition to your regular monthly cable TV bill.   Other cable television providers may charge you an extra monthly fee for accessing video on demand services.
Major cable TV providers such as DirecTV and Dish Network have been trying to compete with video on demand providers but pricewise their services are more costly plus the services are not true VOD.  Instead, they are more pay per view where you pay an extra fee for each movie you watch if you choose to view it before it is taken off pay per view and placed on your regular cable television channels.
What if I Do Not Have Access to Broadband?
If you want to access video on demand services online but you live in a remote area that does not offer high speed broadband Internet, you can always opt to install a satellite Internet service such as HughesNet.  Instead of receiving broadband Internet through a cable connection it is delivered via a satellite signal.  This requires installing a satellite dish in a location that has a clear view of the southern sky to acquire a satellite signal for high speed broadband Internet connectivity.
Video on Demand Convenience
As you can see the above topics we discussed are the primary reasons why video on demand has increased in popularity.  One of the final reasons is convenience.  Although video on demand is not a necessity, once you use it you really prefer not to be without it.  In addition to a broader variety of content that you can watch any time you want, you can also view the content any way you want.  You can stream it to your HDTV or PC or you can choose to watch programs on the go with a mobile device such as an iPad or even your cell phone.  In fact, many automobiles are now being manufactured with high speed Internet and equipped with TV screens for viewing video on demand during a long trip.
If you have yet to use video on demand it is well worth your time to give it a try.  Chances are you will find it to be more convenient and enjoyable in addition to saving you tons of money on your monthly cable TV bill.