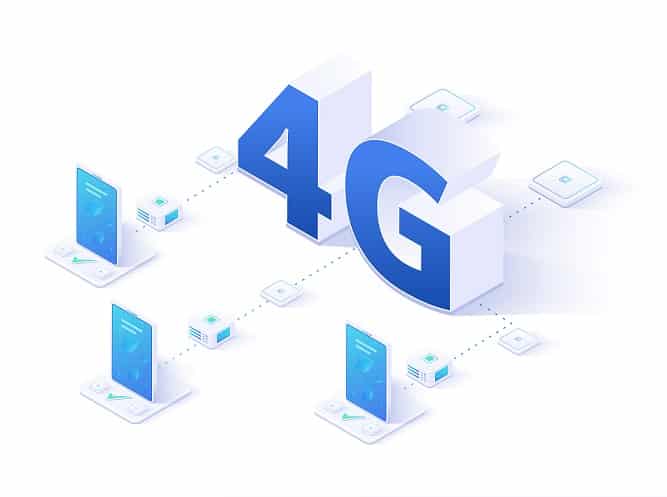 4G is the newest generation of high speed wireless broadband technology which offers a higher rate of data transfer than 3G technology.  The higher rate of data transfer accommodates more applications that demand a high speed Internet connection in order to function properly. The letter G in 4G technology stands for generation which means that 4G is fourth generation wireless broadband Internet connectivity.
4G networks are not yet available in some areas however the new technology provides additional capabilities for the use of high speed broadband Internet communications.  There are several different technologies that make up a 4G network.  In this article, we will help you to understand 4G technology and some of the capabilities a 4G network can offer when it comes to accommodating new applications.
Different Types of 4G Network Communications
2G, 3G, and 4G technologies are defined by an organization known as the International Telecommunications Union also known as the ITU.  The ITU is an organization that sets the standards for global telecommunications to ensure that networks and technologies integrate well with one another which results in a uniform telecommunications system.  Currently 4G technologies involve more than one type of communications system defined by the ITU which includes the following:
LTE:  4G LTE is used by Verizon and other wireless carriers and is a technology that offers faster upload and download speeds.  LTE stands for Long Term Evolution and utilizes a radio signal as opposed to signals that are transmitted via microwave technology.  In order to access a 4G network with LTE it is necessary to use an LTE modem, ExpressCard, or PCMCIA card.  Connectivity is also established via the use of cell phones that are designed with 4G LTE capability. 4G LTE is considered to provide competition for other cellular carriers that utilize WiMAX technology to establish high speed connectivity.
WiMAX:  Some 4G networks utilize what is known as WiMAX technology in which high speed broadband Internet is achieved via the transmission of microwave technology.  Instead of the standard 802.11, WiMAX is based on 802.16 and provides the same connection as WiFi, only the connection is faster and more efficient with speeds of up to 70Mbps (megabytes per second).  A line of sight connection is not necessary for cellular devices to operate on a WiMAX connection and a single base station is capable of handling thousands of users.  WiMAX stands for Worldwide Interoperability for Microwave Access and is offered by cellular carriers such as Sprint, Nextel, and T-Mobile.
Orthogonal Frequency Division Multiplexing:  OFDM is another type of 4G technology which supports high speed broadband connections by transmitting more than one stream of data over a variety of mediums including microwave (WiMAX), coaxial cables, fiber optics and twisted pair connections.  Although the concept of OFDM has been around for decades it is more widely used in the current age of technology due to its ability to adapt well to high speed data requirements for today's mobile devices.  OFDM is known for its bandwidth efficiency and allows data to travel faster even when noise is present in the lines.  OFDM is typically used with 802.11n standard WiFi, LTE, and WiMAX technologies.
Ultra Mobile Broadband:  This 4G network technology is commonly referred to as UMB and supports faster data speeds to accommodate voice and online media applications and other programs that rely on a high speed broadband connection to operate efficiently.  UMB supports a wide variety of 4G network low latency services and integrates well with EVDO (Evolution Data Optimized) systems.  This type of technology is expected to revolutionize the mobile communications industry within the next few years due to its ability to support low latency applications and voice at one end of the network while handling high speed broadband data traffic on the opposite end.
In terms of actual speeds for each type of technology WiMAX and LTE 4G networks can offer speeds as high as 100Mbps (megabytes per second) and when you are located in a set position within a reasonable distance of the base station, 4G networks with this type of technology can offer speeds as high as 1Gbps (gigabytes per second).  This represents a significant increase over third generation (3G) technology which typically operates at speeds of up to 3.1Mbps.
4G Network Applications and Devices
4G technology opens up a host of possibilities when it comes to greater coverage for high speed broadband connectivity.  As 4G networks become more widely available, applications that require a high speed broadband connection to function without latency will be easier to use.  Additionally, different devices that cannot function without a high speed connection will increase in popularity and become more widely available in the marketplace.
In addition to providing high speed wireless broadband 4G capabilities extend to LED and HDTVs which offer connectivity to the Internet.  This provides for a wider genre of programming in addition to other multitasking capabilities in home entertainment systems.  Additionally, access to and use of multimedia programs such as video streaming, video chat on Skype, SMS messaging, audio applications, and mobile TV applications is much more efficient and free of issues such as buffering, latency, and other problems that commonly occur with slower connections.
In terms of devices which offer 4G capability, when used on a 4G network you can construct high speed video camera surveillance systems, utilize web cams with zero latency, control your entire home entertainment system and even connect household appliances which are equipped with high speed broadband capability to a 4G network.  By using 4G networks you can also enjoy Internet TV with little to no disruption, take part in video conferencing, use VoIP applications such as Skype in addition to enjoying the basics such as faster browsing speeds on the Internet and applications which offer 3D capability.
The Switch to 4G Networks
If you are asking yourself why communications technology is gradually switching to 4G the answer is quite simple.  4G networks offer a faster rate of data transfer and if the engineering of the network is executed correctly you can achieve data transfer speeds of up to 100Mbps for LTE with data transfer rate of up to 70Mbps for WiMAX 4G networks.
4G networks are also designed for high rates of data transfer which makes this type of technology an end-to-end type of connection with Internet Protocol.  The advantage of this is that smartphones and other portable devices can function as an Internet hub which makes them an ideal device for transmitting data.  Where 4G networks will take us in the future remains to be seen meanwhile the faster rate of data transfer has already opened up a new array of possibilities for staying connected.