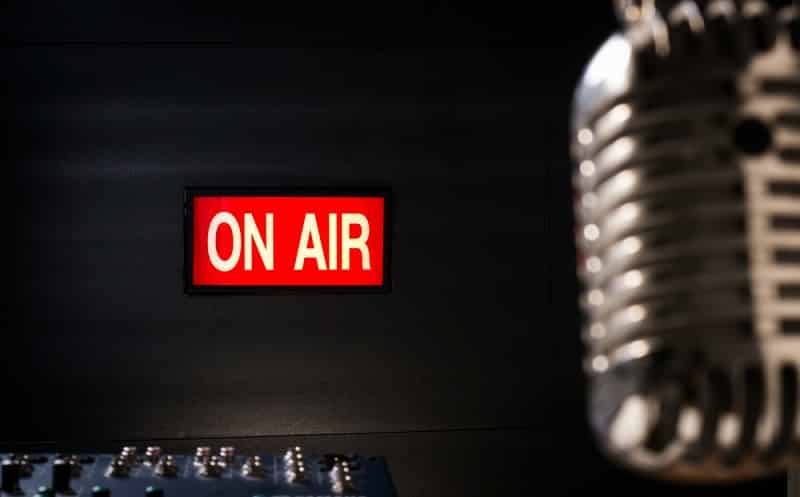 What Is WiFi Radio?
When people think of WiFi Radio, streamers like Pandora, iHeartRadio or Spotify (all of which have subscription options) come to mind. Yet, depending upon where you live, you can likely access thousands of radio stations across WiFi frequencies using a WiFi radio.
Of course, there are all sorts of ways to listen to music on the Internet. Your intrepid blogger prefers YouTube—it's a virtual library of songs from artists of all genres. For listeners who don't have specific tunes in mind, they can listen to a radio station anywhere in the world that streams music over the Internet.
For example, when your intrepid blogger wants traditional Texas country and western swing—music all but unavailable anywhere on today's American corporate radio machine—he tunes into the Texas Hill Country's sansabaradio.com. Or, for a journey to "Far Side of the Moon," he visits Warsaw's Polskie Radio Pink Floyd. Hint: open two media players simultaneously for a "surround sound" experience.
WiFi Radio Explained
To listen to WiFi radio stations, music lovers can use their computer—be it a smartphone, laptop or tablet—or choose from various WiFi radios that offer features of a terrestrial FM/AM radio: presets, scanning, tonal balance, bass and treble responses, an antenna, headphone output, microphone input and, invariably, a loudspeaker(s).
WiFi radios manifest themselves in different forms. Some are housed in stand-alone cabinets while others serve as a WiFi component, essentially the computer equivalent of a stereo tuner. For our younger readers, a "tuner" is a vintage audio component, part of a Hi-Fi amplifier and speakers set-up for home stereo. Stereo "receivers" combine tuner and amplifier capabilities.
WiFi radios offer incredible ease of use; its plug and play capability automatically searches for available WiFi networks. After the user connects, he or she then chooses either a music genre, radio station call letters or country/region. Once an available list of stations appears, the user simply selects the station of choice. It's that easy.
WiFi radio allows mom-and-pop broadcasters (precious few now survive in the U.S.) to compete on a level playing field with broadcasting behemoths like the BBC, giving them global reach to anyone able to access the Internet.
Best of all, WiFi radio is FREE. You don't have to pay a subscription to a digital streaming service like Spotify or Pandora unless you want a service like Pandora's "Music Genome Project" algorithm to create playlists that match your musical tastes.
WiFi Radio vs. Computer
Just like watching video on a device designed for viewing such content (viz, a television), most listeners tend to prefer their music experience sourced from an actual radio.
According to digital media maven Andrew Rhomberg—formerly Reciva Internet Radio's director of business development and strategy—all stakeholders (listeners, advertisers and program managers) better appreciate and enjoy Internet radio when accessed through a device resembling a traditional radio.
He adds, "PCs were not designed for listening to radio. Total listening hours per week for WiFi Internet radios are on par with terrestrial radios whereas the total listening hours per week for PC listening is a mere 3 to 5 hours."
Too, Internet radio sound quality is vastly improved from the days of lossy MP3 16 Kbps rates. First-generation media players like RealAudio and WinAmp were notorious for compressing audio streams that severed music's high and low ranges, delivering only "AM radio quality" mid-range tones to the listener.
Today, MP3 sound quality has greatly improved. Content is now encoded at rates as high as 64 Kbps. Even better is the Advanced Audio Coding (AAC) standard, delivering CD-quality sound (44.1 kHz) with the same bit rate as MP3s by using higher compression efficiency and a wideband audio coding algorithm.
See a primer on audio file formats here.
Tech-savvy audiophiles can even modify WiFi radio interfaces to support hi-res audio using lossless WAV, FLAC or MQA formats. But unless you're listening to music on high-end speakers, you won't discern the difference between MQA and AAC. And if you're using Bluetooth (BT) instead of infrared (IR) or Kleer to connect to audiophile speakers, you're definitely wasting money for sound quality you can't hear.
Selecting a WiFi Radio
You can either spend a little or a lot when purchasing a WiFi radio—and there are many models from which to choose. But like most audio gear, you get what you pay for. Marketers, bless their souls, have helpfully labeled various models to match your daily activities. If you want a WiFi radio for "bedtime" or to accompany you while you do household chores, Amazon will recommend a radio for you.
To be fair, one needs to know if a particular WiFi radio is "subscription-free" or "subscription-only." Some have BT capability; others also serve as terrestrial radios. As always, the best product is the one that addresses your specific needs.
To start, view this YouTube video from wiredtech.com on their best Internet radios for 2020: 
Below, we survey a sample of the dozens of WiFi radios available on Amazon as of June 2020. We make particular note of "Amazon's Choice" models as well as those recommended by "iMore," an Amazon Publisher (APS).
Topping iMore's WiFi radio wish list is the WR10. It's a single component (similar to a conventional tuner) with both Internet radio and FM radio built-in. The WR10 easily integrates into a home theater or HiFi system. However, we still can't justify its high iMore rating.
Why? The WR10 relies on BT, a decidedly inferior standard for listening to lossless or hi-res audio formats. We hearken back to September 2016 and our quote from Harbeth's Alan Shaw: "BT just 'isn't good enough for quality audio.'"
Nonetheless, the WR10 offers a bevy of features such as certified DLNA compatibility, an FM antenna jack, dual alarm and sleep timer settings and inputs/outputs for ¼-inch (6.35mm) plugs, RCA connectors and coax/optical (TOSLINK) sockets. It also offers up to 99 station presets and tuning control options from a PC or smartphone.
An "Amazon's Choice" selection, the WFR-28 is a portable network music player supporting digital radio, FM-RBDS (think embedded program information with audio) with USB MP3 playback and is WMA compatible. It's also compatible with Android and iOS devices as well as with the Spotify app.
While it's a dual-band (2.4 GHz and 5 GHz) device, the WFR-28 does not natively support BT although an Amazon user notes that he achieved BT connectivity by attaching a TaoTronics wireless portable BT transmitter (viz, a dongle with a 3.5 mm headphone jack). The product comes with a 120v AC adapter that also charges rechargeable batteries if installed.
If you're absolutely dead-set on having SiriusXM, Pandora or iHeart accessibility (you shouldn't be), this is not the radio for you. The only media service the WFR-28 supports is Frontier Nuvola Smart Radio.
Another iMore favorite, this product from Bose costs considerably more than most WiFi radios but delivers high res sound quality. The SoundTouch Music System IV is a standalone (not portable) network music player supporting several audio file formats including MP3, WMA, AAC, FLAC and ALAC.
The SoundTouch offers "one touch access" to music services such as Amazon Music, Pandora and Spotify. You can also use it to listen to your digital music library, CDs and terrestrial AM/FM radio. It also has a single 3.5 mm AUX input on the back of the system See the user manual here.
If voice control capability is a priority for your audio system, you can add Amazon's Alexa to the SoundTouch. (Alexa device sold separately.) The SoundTouch is also BT-compatible and comes with a convenient remote control. A USB Ethernet cable provides hardwired connectivity to other devices.
If you just have to have SiriusXM, consider the standalone Sound Station from Grace Digital. It connects to the Internet using 802.11b/g/n, or you can use an optional Ethernet adapter (sold separately). The Sound Station can pause, rewind and replay live radio. It also includes an integrated clock with multiple alarm, sleep and snooze timer settings.
Compared to other Internet radios, the Sound Station is rather bereft of bells and whistles (e.g., no BT capability). Yet, it does come with an adjustable equalizer to personalize bass and treble range to the user's taste. A handy remote control is also included. See the installation and user guide here.
Of course, this is a subscription-only radio, for use exclusively with SiriusXM—meaning it can't be used for terrestrial AM/FM radio. The streaming subscription is sold separately. However, you can listen to any audio device over the Sound Station using the integrated AUX input jack. (We assume it's 3.5 mm.) Also, remember that this is a WiFi radio, not a satellite radio.
Coda
Of course, there are manymany more WiFi Internet radios available with models from manufacturers like Aluratek, Sungale and C. Crane.
Sports fans, take note. Professional sports leagues (in America, anyway) as a rule prohibit Internet radio stations from airing their games. The NFL, MLB and the NBA all have subscription packages and SiriusXM offers American professional sports league "live sports" programming. If you're into college sports only, you'll probably be able to access the team of your choice on Internet radio.