Earbuds – you either love 'em or hate 'em. Most people who listen to music have strong opinions about using them. And, trending as everything else these days does, earbuds are increasingly going wireless.
Of course earbuds, as they apply to your specific application, determine their utility for you. Watching a YouTube vid or Hulu on your SmartPhone or tablet? Earbuds ensure that you enjoy the show whilst not disturbing those around you. Too, earbuds are particularly useful when conducting phone conversations in noisy environments. But often earbuds are the weak link in the sonic audio chain and that accounts for the MP3 audio coding format with its resulting loss in audio quality. Thus most wireless earbuds are a fitting match for those who listen to uber-compressed music streamed over Spotify or Pandora as they exercise. Not to worry, though; the earbuds will likely be sweat-resistant.


Wireless earbuds are yet another accessory of  our mobile lifestyle where portability rules. They're particularly favored by athletes who wear them while running/jogging or participating in sporting activities. Bluetooth (BT) wireless standards are used for most wireless earbuds, and as will be shown, there are beefs about how well they work.
A Brief History of Earbuds
What can be described as a headphone was first created for Bell telephone operators back in 1881. It was a single earpiece that lay astride the user's shoulder and weighed upward of ten pounds. Many point to Mormon inventor Nathaniel Baldwin as the inventor of today's modern headphones in 1910. The prototype for a contemporary earbud was a monaural earpiece used with transistor radios beginning in the 1960s. Today's modern earbuds can be traced to Steve Jobs and the Apple iPod. First released in 2001, Apple has since distributed over 600 million sets of its legacy earbuds.
Earbuds, also called earphones, fit directly into the outer ear. They face but do not penetrate the ear canal. If readers know of the original Bose QuietComfort headphones, they probably remember that one of their selling points was sonic isolation. Earbuds claim no such attribute; ambient noise percolates through whatever is heard in the earphones. To compensate for this aural intrusion, many users "crank up" the volume to overcome ambient noise. This long-term practice has raised concerns about permanent hearing loss among earbud users (see 'The Roaring Silence' below).
Another variant of the earbud is the canalphone. Also known as in-ear monitors or in-ear headphones, these fit into the ear canal itself. A few canalphone brands, such as the Sennheiser IE 800 (from the German manufacturer of audiophile headphones and earbuds), are a professional-grade product compared to the standard earbud and favored by musicians, audio engineers and audiophiles. In order to prevent slippage, many canalphone models  can be custom-molded to fit a particular user's ear canal while offering comfort and noise isolation. They're made from either foam, elastomer or silicon rubber. Their tight fit prevents the intrusion of most ambient sounds and thus they can be a safety hazard should they be used while walking or operating a vehicle. Another example of musician-grade earbuds is shown in the image below.
ETYMOTIC Musicians Earplugs™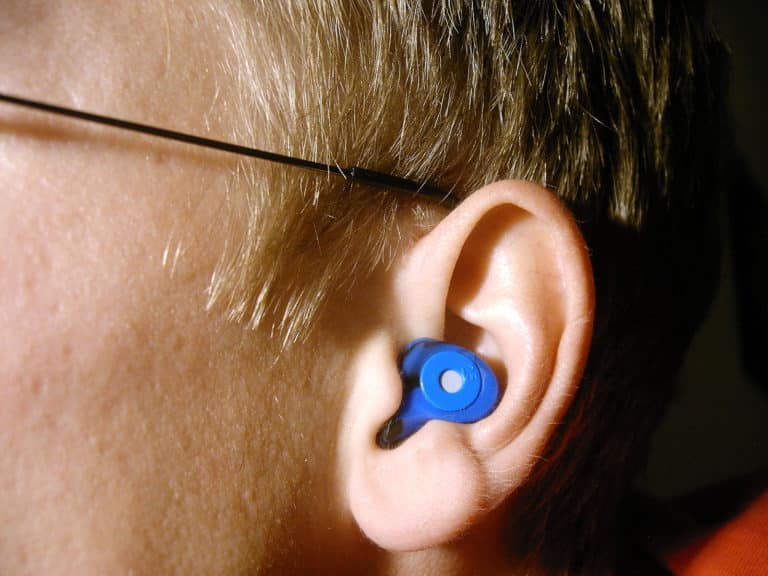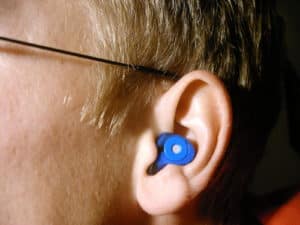 Image Source: Kick the beat on Wikimedia
Is it Better to Transmit or to Receive?
Wireless earbuds and headphones can be divided into two varieties: one that use a separate transmitter and those that don't.
Those with a separate transmitter use either old-school, unobstructed line-of-sight, infrared technology or radio frequency (e.g., Bluetooth) technology. Which is better? If one is to judge from the Sennheiser  IS410 — a lightweight stethoscope configuration headphone —  infrared has long been an option for high quality audio.
Distance as well as angles can be problematic with infrared transmitters but most users report that once they position themselves in the proper direction, issues such as static and loss of signal are diminished.
On the other hand, radio frequency (RF) is far more powerful than infrared, reaching distances up to 150 feet with the capability to penetrate walls. However, interference can be an issue; most devices operate on a bandwidth of 800 to 900 MHz. This is the same frequency, also known as the GSM frequency, used by 3G/LTE/CDMA devices. The potential exists for these bandwidths to become "flooded" with data, thereby eliminating the frequency path between devices.
For those earbuds/headphones that don't use transmitters, BT and now Near Field Communication (NFC) technologies link headsets to devices such as Smartphones, tablets, televisions or home stereos. Wait — wouldn't NFC range (10 cm/4 in) and slow (>0.5 Mbps) speeds foreclude its usage for streaming? Pairing BT devices together involves a number of steps and your intrepid writer, along with manymanymany other users, has experienced his share of difficulties trying to make his Bluetooth-enabled devices "see" each other. NFC cuts to the quick; just tap the two devices together and linkage is established. BT then takes over data transfer.
Perhaps the trendiest products in wireless earbuds are those that are, well, truly wireless. For example, Earin offers a pair of BT 3.0/4.0- compatible lightweight canalphones (3.5 g/0.12 oz; 14.5 x 20 mm/0.57 in x 0.78 in). They feature a "capsule," as do other manufacturers, to automatically charge the Li-ion battery and support AAC, aptX® and SBC audio codecs.
Or consider the Samsung Gear IconX "wire-free" wireless earbuds. This model is "geared," so to speak, at "casual exercisers." They've also acquired the trendy moniker "hearables" — a portmanteau of "wearable" and "headphone" Samsung also makes the Gear Fit 2, aimed for "health enthusiasts… who will wear it 24/7."  This level of use (or misuse) can cause hearing loss; see the "Roaring Silence" section below.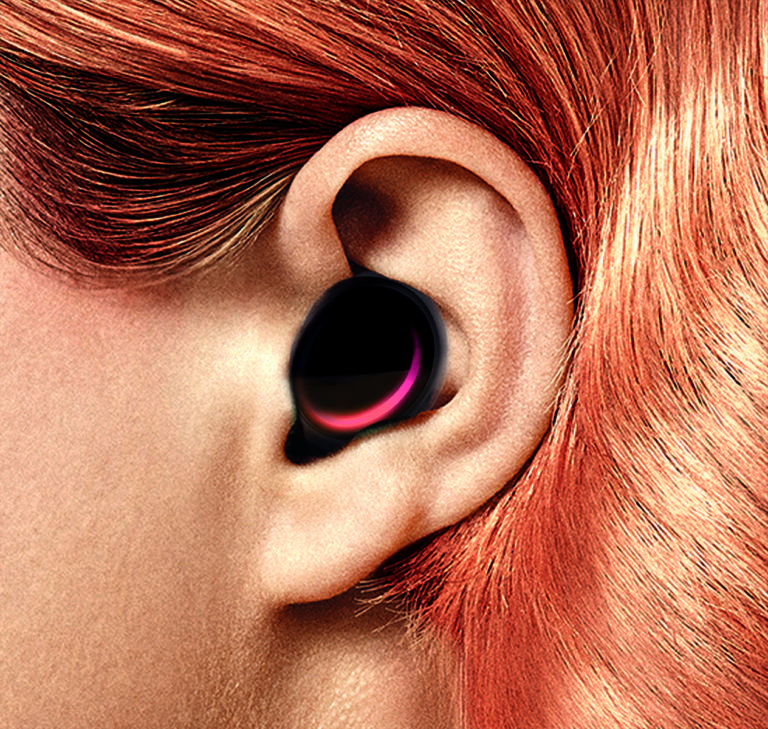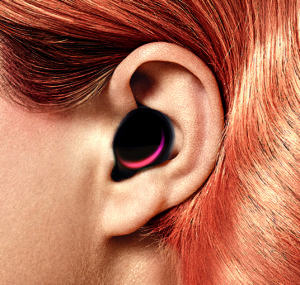 Image Source: Nicolas Sadoc

In addition to pumping music into your ears, the Gear IconX hawks itself as a counterpart to Fitbit since it has "fitness tracker" capability so users may keep tabs on their speed, distance, heart rate, calories consumed, etc. It also comes with a safety feature known as "ambient sound mode" so the runner can hear surrounding sounds amid the music streaming through the canalphones. Even BT streaming is superfluous to the IconX; it's also a digital media player with 3.5 GB RAM holding up to 1,000 songs. The IconX uses BT Low Energy (BLE) 4.1 connectivity and supports MP3, M4A, AAC, WAV and WMA (v9) audio codecs.
Sonic Boom
To be fair to the much-maligned earbud, the sonic quality of the media player is just as important if one wants to hear great sounding audio. Observant listeners have noted varying levels of quality among portable devices. For example, one Quora reviewer claims that from his substantial experience, the Nokia N95, Lumia 820 and the iPhone 3GS were among the best in audio quality. The worst was the Nexus 7 (2012) tablet while the Samsung S-III and Note-3 fell somewhere in the middle. Note that although mobile devices come with a built-in digital-to-analog converter (DAC), for best sound quality it's recommended to use an external DAC.
Too, the digital file properties of the audio source must be taken into account. Factors like sample rate, bit rate and file format are crucial in the reproduction of sound. The standard audio format for digital players and computer devices, MP3 audio coding uses lossy data compression compared to the CD-ROM digital audio format. While great for data storage, MP3s suffer from degraded sound quality. For example, a widely used MP3 encoding setting is CBR 128 kbps. CD-ROM digital audio uses 1,411 kbps; thus the MP3 compression is 91% of the original CD-ROM file.
Newer standards such as AAC and SBC are an improvement over MP3s but for audiophiles such as Alan Shaw, owner and designer of Harbeth Audio UK, standard BT just "isn't good enough for quality audio." When parsing audio compression technology reviews, one is apt to read phrases such as "CD-like sound quality" or that a particular format sounds "pretty good." Don't be misled; it's no wonder audiophiles refer to MP3s as "digital 8-Tracks," referring to the sound quality of the 8-Track tape format. Probably the best lossy audio codec currently available is aptX; alas, Apple iOS does not support it.
Kleer, for those who've actually heard of the technology, provides lossless and uncompressed audio operating in the 2.4, 5.2 and 5.8 GHz bandwidths and can stream 16 bit/44.1 kHz audio — true CD-ROM sonic quality. It also offers better battery life than BT (supposedly up to 10x better) with low latency of sound and robust resistance to RF interference. Yet, while BT and Wi-Fi permeates virtually all brands of computing devices, Kleer is inexplicably unknown by other than audiophile and home theater enthusiasts. For the technology to see widespread deployment, it must be built into hardware at the same saturation levels of its lesser brethren. A few top shelf manufacturers, such as Sennheiser, AKG and RCA among a few others, have products incorporating Kleer technology.
But for those who are more interested in exercising or talking on their SmartPhone using their wireless earbuds, there are plenty of brands that will fill the bill. Here's a more sanguine view of wireless earbuds — 5 Best Wireless Earbuds of 2016
The Roaring Silence
It's been documented that one out of five American teens has a some form of hearing loss — 30% higher than during the 1980s and 1990s — and the increased use of earbuds playing at high volume has been pegged as the culprit. California osteopathic pediatrician James Foy, DO claims, "Listening through headphones at a high volume for extended periods of time can result in lifelong hearing loss for children and teens. Even a mild hearing loss due to excessive noise could lead to developmental delays in speech and language." He adds, "Most MP3 players today can produce sounds up to 120 decibels, equivalent to a sound level at a rock concert. At that level, hearing loss can occur after only about an hour and 15 minutes."
Since hearing loss is irreversible, prevention is key to protecting your adolescent's ears from lifelong damage. It's a good reason to encourage your teens to listen to music through "old-school" over-the-ear headphones rather than earbuds. Remember that many MP3 players can hold thousands of songs and play for hours on battery power. The sonic onslaught can be relentless for tender ears and since hearing loss is generally cumulative and gradual over time, many people don't realize they've damaged their hearing until it's too late.
Coda
Another common complaint about wireless earbuds is their limited battery life. Look at the brands shown above; if three to four hours is sufficient to suit your needs, you'll be satisfied. But it's safe to say most people won't be.
Update! Apple Stiffs Consumers with the new iPhone 7 by Eliminating Headphone Jack
"Courage." If you want to believe Phil Schiller, Apple's senior VP of marketing, the company altruistically has the "courage … to do something new that betters all of us" by removing the earphone jack from the new Apple iPhone 7.
Don't believe a word; this move "betters" Apple and not the consumer. The migration to an jackless iPhone is business — big business — for Apple. Why? Apple is now muscling its loyal customers into buying wireless earbuds or headphones. Why again? Many if not most iPhone 7 purchasers will have to buy Lightning or Bluetooth headphones (or at least an inconvenient and unsightly adapter) and Apple makes money from each purchase. Reportedly Apple receives a flat fee from each Lightning headphone sold using an Apple connector. And there are gripes: for example, the iPhone can't recharge simultaneously whilst one listens to music since both plugs use the Lightning port. Lightning headphone plugs can't be plugged into laptops, even Macs, without an adapter. And these headphones aren't cheap — low-end models run approximately $150 as of early 2016.
And if consumers aren't thrilled about the Lightning headphone — and many aren't, considering that Lightning has been around for years without any great market saturation — they're also less than enthused about the other wireless earphone option available, Bluetooth. As related earlier, Bluetooth is hardly a high fidelity option for audio. In addition, latency and connection problems have been reported by listeners using headphones/earbuds with BT technology. But guess who owns the best selling BT headphones? Beats by Dr. Dre has led headphone sales for the past few years and is an "accessory" available at the Apple Store.
At the same time Apple announced the new iPhone 7, they unveiled their first wireless headphones — AirPods. Jacob Krastenakes of theverge.com compared their sound quality to that of the $29 EarPods, yet these gizmos cost $159. The newest Beats headphones, introduced with the AirPods, are available at three price points: $150, $200 and $300. The avarice of Apple is breathtaking, considering that earphones and earbuds already have perhaps the highest profit margin of any consumer electronics product.
An online petition with over 300,000 signatures begged Apple to keep the headphone jack for the iPhone 7. And why not? The headphone jack standard is backward compatible with an uncountable number of devices and has been proven over decades of use. Now Apple is forcing a technology on consumers that has "teething pains" and doesn't work nearly as well . Also, get ready for 'DRM' audio in a big way; the day will soon arrive when a "playback device not supported" message will appear on your iPhone when trying to listen to downloaded music. You'll have Apple to thank for it.
The Bragi Dash was released earlier this year (and the Bragi 2.0 OS is now available). But remember those "teething pains…."