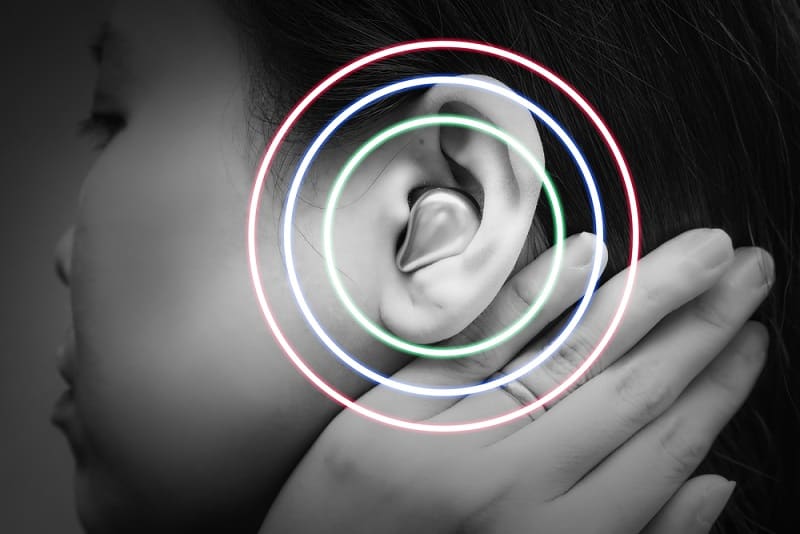 Is "True Wireless" Truly Wireless?
Given some of the outlandish claims tech companies often make (read: AT&T's "5Ge"—LTE masquerading as 5G), IAG readers rightfully question product descriptions bandied about by their manufacturers. So, is "true wireless" truly wireless? What does "true wireless" mean?
"True wireless" refers to peripherals such as headphones, earbuds (including in-ear monitors or IEMs) and such that eschew the use of wires between speakers or to the audio source. While the technology underlying the gear is usually presumed to be Bluetooth (BT), infrared (IR) wireless can be deployed for other "wireless" accouterments such as mouses (mice?), cordless microphones, printers, remote control systems, etc.
When Is "Wireless" Not "True Wireless"?
Most over-ear headphones, while not hardwired to an audio source, still have wired connections between the two electroacoustics transducers over or on each ear, connected by a band. This band, straddling one's pate, has wires embedded in it. Thus, a "wireless" headphone doesn't comply with a "true wireless" standard.
For example, your descendant beloveds—if they're of a tender age—may own a set of Dr. Dre Beats headphones. See the image below of the Beats Solo3 Wireless On-Ear Headphones. This is an example of a "wireless," not a "true wireless," headphone although Beats does offer true wireless earbuds. For example, see the Powerbeats Pro Wireless IEMs available on Amazon.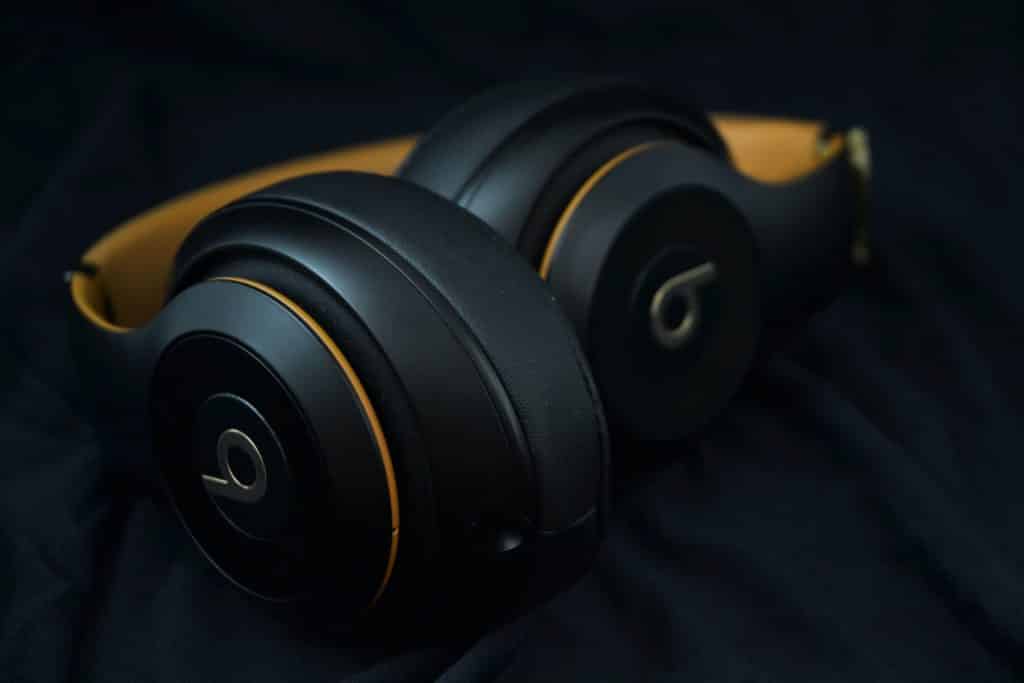 Photo by Yash Patel on Unsplash
Unsplash License
Aside: If your beloveds can afford these, turn them onto the Sennheiser Momentum 2.0 Wireless (again, not "true wireless") headphones. With a better price than the Beats Solo3, the 2.0 offers a wired capability option for superior sound. The product shown below is the pricier Sennheiser MM 550-X Wireless Bluetooth Travel Headphones. Earschplittenloudenboomer!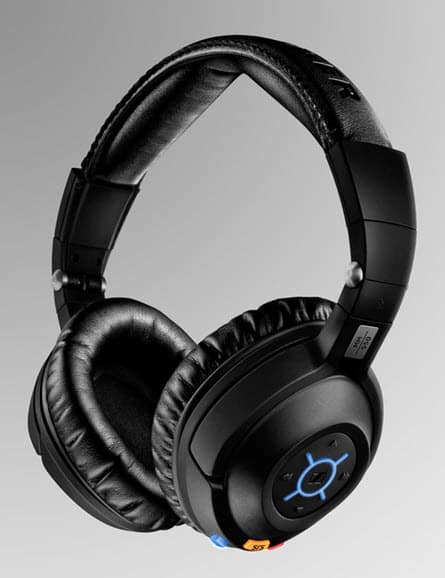 Photo by foeoc kannilc/Flickr
CC BY 2.0
But we digress. The images displayed above are not "True Wireless" gear. So, let's now continue with our prescribed topic.
Four Wireless Technologies in Brief
Along with BT and IR, mentioned above, consumers can also choose radio frequency (RF) or Kleer (our absolute favorite for wireless audiophile high fidelity) technologies.
Bluetooth is undoubtedly the most widely-deployed "short-link" radio technology used to pair devices. BT differs from WiFi in that it wirelessly connects BT-compatible devices point-to-point while WiFi is a diffuse point wireless technology for Internet access. BT's origins stem from Ericsson's efforts in the early 1990s to develop wireless headsets.
Most BT releases (i.e., Class 2 radio applications) broadcast over a much smaller area (around 30 feet or 10 meters) compared to WiFi, which extends to 150 feet (45 meters) indoors and 300 feet (91 meters) outdoors. Too, even the latest versions of BT have much less data throughput (~2 Mbps tops) compared to most legacy WiFi IEEE 802.x standards.
Capable of delivering much higher data transfer rates (up to 1 gig) than BT, IR (viz., 430 THz to 300 GHz of the electromagnetic spectrum, with a wavelength of 980 nm) offers high directionality—similar to laser light. The technology is available for both point-to-point aka line-of-sight applications (e.g., remote controls) and diffuse point applications (e.g., WLANs).
Highly secure with low power consumption and a low bit error rate (BER), IR is also a better choice for audiophile music aficionados compared to BT. IR-enabled devices, or IrDA devices, conform to standards established by the Infrared Data Association (IrDA). Note that these devices rely on line-of-sight functionality.
RF refers to wireless communications traveling across a wide range of the electromagnetic spectrum from 30 HZ (extremely low range or ELF) to 300 GHz (extremely high frequency aka millimeter waves or MMW). 
Headphones utilizing RF generally have greater range than BT, extending up to 300 feet (91 meters) before connectivity falters. However, headphonesty.com notes that "the lack of bass capabilities has been a common issue among RF headphone models, (delivering) better quality than BT but environment setup factors in the sound performance."
Highly underrated—this proprietary technology doesn't even have a separate Wikipedia page—Kleer aka Kleernet can operate in 2.4 GHz, 5.2 GHz and 5.8 GHz frequencies streaming 16-bit/44.1 kHz audio up to 100 meters distant. Readers, this is CD-quality sound. It's far superior to Qualcomm's aptX codecs on BT-enabled devices offering "CD-like quality" sound using lossy formats. (See more about Qualcomm's new SOC offerings below.)
As Lifewire's Gary Altunian states, "Despite Bluetooth's more recent improvements, Kleer still maintains a technological advantage with its low bandwidth use, low latency of sound, high resistance to wireless interference, ultra-low power consumption (i.e., better battery life by 8-10 times more, reportedly), and ability to support up to four Kleer-enabled devices through a sole transmitter" (i.e., a diffuse point application).
Alas, to take advantage of Kleer technology, audiophiles often must resort to clumsy dongles to stream high fidelity music to their Kleer-enabled headphones.
Fortunately, a few top-shelf gear manufacturers (Hooray Sennheiser, TDK, RCA, Focal and AKG!) offer products using built-in Kleer technology.
Qualcomm's BT Audio Systems on a Chipset
Just within the past few months, the semiconductor behemoth has introduced the QCC514X and the QCC304X SOCs (chipsets) for BT. Intended for low- to mid-range "true wireless" gear, "hearables" powered by these SOCs should be available late this summer or early fall.
For consumers enthralled by "voice assistants" such as Alexa, they'll rejoice that products with these chipsets will support voice assistance capability—a feature true wireless headphones offer yet conventional wireless headphones lack. Supposedly, these products will also have improved "hybrid active" noise cancellation and battery life.
Yet, true audiophiles could care less about Google Assistant or Alexa on their headphones and IEMs. What matters to them is high fidelity audio. Remember, these chipsets still power BT-quality sound, which just isn't good enough for their refined ears. In fairness, however, we must say that the latest BT aptX HD algorithm is a noticeable improvement over previous aptX codecs.
And, in case you're wondering, Qualcomm has trademarked "TrueWireless™" since their "technologies enable truly wireless earbuds that meet consumer demand for on-the-go audio that maximizes sound quality and battery life."
Three "True Wireless" IEMs to Consider
While undoubtedly trendy, there's a lot to be said for high-quality IEMs or earbuds. They're convenient, unobtrusive and they sound better with longer-lasting battery life than before. So, if your disposable income allows, try the models below for sound and ear fit. You may never go back to Apple's AirPods after listening to these.
We bolster our bias toward Sennheiser's quality audio products by starting our list with this model. Unfortunately, they use BT 5.1 instead of Kleer with support for AAC and aptX codecs (bah, humbug). But that means that they're compatible with Samsung's Galaxy smartphones and they also offer a built-in microphone for calls.
Of course, they're water-resistant. Since they're made by Sennheiser, you're assured that they sound great (for true wireless IEMs, anyway). CNET was suitably impressed—they bestowed the True Wireless 2 with their coveted Editors' Choice Award. Whathifi.com gave it five stars out of five.
Take a look at a Sennheiser-produced video touting the Momentum True Wireless 2: 
Another CNET Editors' Choice Award winner, the Elite 75t (according to CNET) sounds better and fits better than AirPods and delivers 7.5 hours of service between charges. While the Elite 75t charging case lacks wireless charging, fret not; Jabra claims wireless charging is in the offing for the Elite 75t. It even offers a sidetone feature so that the user can hear his or her voice in the headphones.
The Elite 75t also sells for considerably less than the Momentum True Wireless 2, so if you're budget-conscious yet still want decent-sounding IEMs, try these on for size. Audio geeks will want to know that Elite 75t supports SBC (A2DP/Music), CVSD (Legacy narrow-band speech), mSBC (Wideband speech), and AAC (Apple) BT audio codecs. You have been warned.
Boasting improved sound (featuring dual drivers for a fatter low-end), longer battery life (now 11 hours) and a new iOS app for Apple users, the Galaxy Buds+ still lack active noise canceling capability and a somewhat lame IPX2 water-resistance rating. Nonetheless, they're an Amazon Choice product and the least expensive of the three on this list.
For what it's worth, Amazon reviewer Seth Brown notes that "these buds only produce sound AAC and SBC (BT codecs)… the lowest quality sounds for BT… They don't have AptX, aptX HD or LDAC." But he recommends the Buds+ over AirPod Pros for Apple users. Again, you have been warned.
Coda
Longtime IAG readers surely remember that their intrepid blogger still prefers the sound of high-end wired headphones, convenience be damned. But, as audioholics.com Wayde Robson observed, "The sun has long since set on the market for wired headphones." He reports that wireless headphones outsold wired headphones for the first time in June 2016.
He adds, "Now you have the perfect excuse to buy those wireless headphones you've been thinking about because sooner or later, you'll have no choice."   Remember, if you're serious about sound, codecs matter. So choose your headphones or IEMs carefully.