The days of loudspeakers looking like, well, speakers is so 20th century. No more rectangular wooden boxes taking up too much space on bookshelves or tables. And increasingly, no more wires either. The amazing Amazon Echo is but one of the latest generation of wireless "smart" speakers going far beyond delivering just sound. It serves as a hub for a home's Internet of Things (IoT) and with thousands of "skills" it could be an automated virtual assistant. Alas, the Echo still falls short of delivering the kind of audio quality audiophiles expect.
The Echo Iteration
Available initially in stylish black matte and now in white, the futuristically designed Echo stands 9.3 inches (23.62 cm) with a diameter of 3.3 inches (8.38 cm) and weighs a smidge over 2 pounds (1,064 grams). Featuring Wi-Fi and Bluetooth connectivity, Echo comes with a 2.5 inch (6.35 cm) woofer and a 2 inch (5 cm) tweeter. Compatible with the Fire OS, Android and iOS devices, it's also accessible from a web browser. Echo uses the Bluetooth profiles, namely the Advanced Audio Distribution Profile (A2DP) for audio streaming from a mobile device as well as the Audio/Video Remote Control Profile (AVRCP) enabling voice control from connected mobile devices. The "Far-Field Voice Recognition" capability recognizes voice commands and questions from any direction, even if music is playing through the speaker. To use Echo, anyone in a room where the unit is located merely says the magic wake word "Alexa." In response, the halo or light ring at the top of the Echo cylinder illuminates as the unit streams audio to the cloud where the Alexa Voice Service resides. Alexa recognizes and responds to requests and commands at once. Need to know the time of day? Or the air-speed velocity of an unladen swallow, either African or European (with a nod and a wink to Monty Python & the Holy Grail)? Alexa can give you the answers (maybe). You could also tell Alexa, for example, to add items to the home's grocery list or  "to-do" errands for spring cleaning.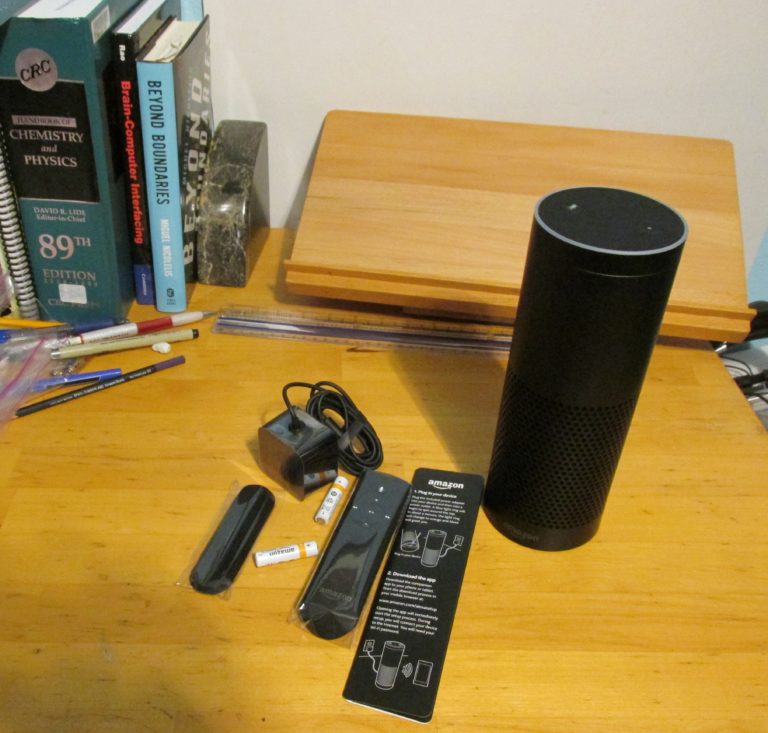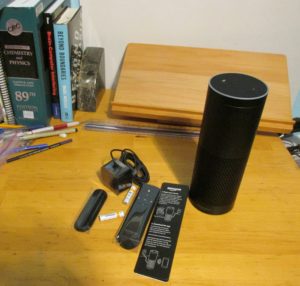 Image Source: Brewbooks / Wikimedia
Echo Applications with IoT Hubs
Hubs
Echo affords budget-conscious renters and homeowners the opportunity to have a voice-controlled home at a very reasonable price. Alexa integration is compatible with such home automation hubs as:
| | |
| --- | --- |
| Wink | Samsung SmartThings |
| Insteon | Alarm.com |
| Vivint | Nexia |
| Universal Devices ISY | Simple Control |
| HomeSeer Home Controllers | Almond Smart Home Wi-Fi routers |
This list is current as of May 2016; more hubs are added as time goes by.
Lighting
The first kind of home gizmos incorporated into the Echo was smart lighting. For those looking for a gateway product into smart home technology, this is a good place to start. Below are just a few of the lighting products compatible with Echo:
| | |
| --- | --- |
| Philips Hue light kits and extensions -- also works with Siri | Cree LED bulbs (via Wink or SmartThings Hub) |
| LIFX smart bulbs | GE Link bulbs (via Wink hub) |
| Ostram Lightify smart bulbs (via Wink or SmartThings hub | TCP Connected smart bulbs (via Wink or SmartThings hub) |
Switches, Outlets and Dimmers
These accessories allow remote control of appliances such as ceiling fans, coffee makers, lamps, TVs — anything that can be plugged into an electrical wall socket.
| | |
| --- | --- |
| Belkin WeMo light switch | iHome smart plug (via Wink hub) |
| Belkin WeMo switch and Insight switch (smart plugs) | Samsung SmartThings outlet (via SmartThings hub) |
| TP-Link HS100 smart plug and TP-Link HS110 smart plug with energy monitoring | GE Z-Wave switches, outlets and dimmers (via SmartThings hub) |
| Leviton switches, outlets and dimmers (via Wink or SmartThings hub) | Lutron Caseta wireless switches, dimmers and remotes |
| Enerwave switches, outlets and dimmers (via SmartThings hub) | Evolve switches, outlets and dimmers (via SmartThings hub) |
Heating and Cooling
This section includes Keen home smart vents for zone heating and cooling of individual rooms.
| | |
| --- | --- |
| Nest Learning thermostat | Ecobee3 Smarter Wi-Fi thermostat |
| Sensi Wi-Fi programmable thermostat | Haiku home ceiling fans |
| Keen home smart vents (via SmartThings hub) | Honeywell Lyric thermostat (via SmartThings hub) |
| Honeywell Total Connect Comfort thermostats (via SmartThings hub) | |
Services aka "Skills"
Echo's Alexa integration allows users to interact with a variety of services. Want a pizza? Tell Alexa to order one from Domino's. Want a ride? Tell Alexa to contact Uber. Want to pay bills? Tell Alexa to access your Capital One bank account to make payments. Send flowers with 1-800-Flowers.com, buy groceries with OurGroceries, book a flight with Kayak, find a plumber with HomeAdvisor, even determine if your kids need a doctor with KidsMD, all via Alexa integration. Alexa also interacts with a variety of streaming music services including iHeartRadio, TuneIn, Pandora, Amazon Prime Music and Spotify. Keep on top of the home's grounds and garden with the Rachio sprinkler system controller or GreenIQ Smart Garden hub. Other applications include the Ooma Telo (an IP-connected phone with free domestic calling) and the IFTTT ("If This, Then That") hub that connects to Echo, interacting with dozens of products and service that as of yet are not officially integrated with Alexa.
Here is a YouTube video "Introducing Amazon Echo"
Echo Dot
Half the size of the Echo, it comes with a lower quality speaker yet still has the functionality of its bigger brethren. No streaming but a media player connects to the Dot via Bluetooth or jack. Note that it's the only product in the Echo line that allows audio setup capability. Dot was one of two winners of the CNET October 2016 Editors' Choice award.
Coda
A gander at the Amazon website indicates a lot of people love Echo — as of November 2016 2/3 (or over 29,000 users) of those who rated Echo ranked it 5 out of 5 stars. Those who have disabilities rave about its functionality. But there are those few who complain about Amazon's lack of support for Echo as well as the product's longevity. One reviewer fumed about the syntax needed to talk to Alexa, e.g., "Alexa, weather my location weather forecast weather weather tomorrow." Others gripe about buggy apps as well as Alexa's inability to answer "useful" questions — not so much the air-speed velocity of an unladen swallow but more practical concerns such as recipes and "how-tos."
Regarding Echo and audiophile sound quality, let's defer to a comment from Brent Butterworth of thewirecutter.com: "There isn't a speaker so far that combines the sophistication of the Echo's voice command with the sound quality of the best wireless speakers…."