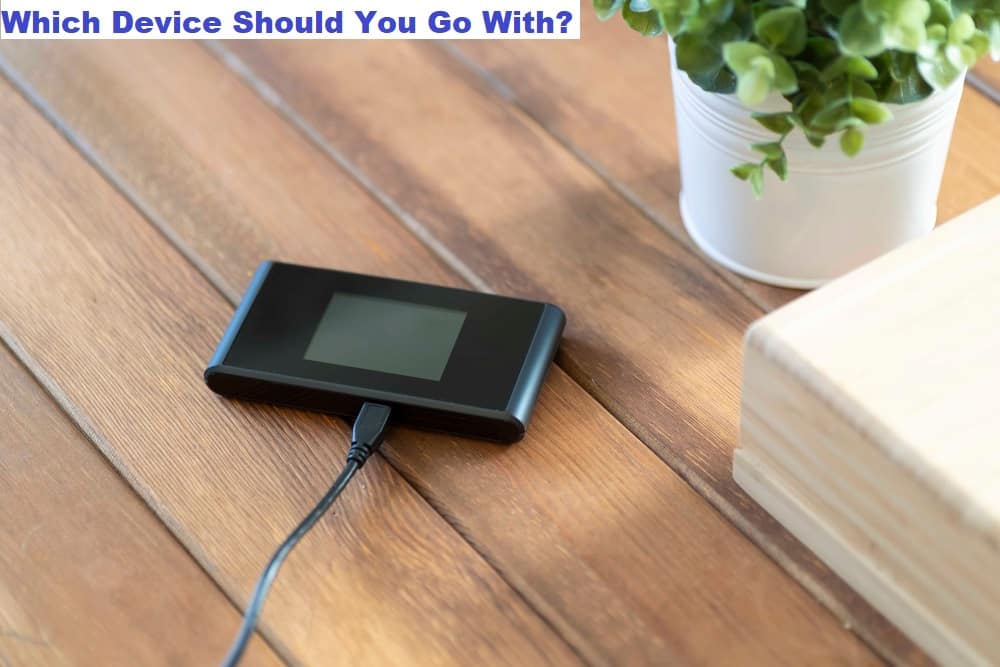 Verizon is one of the best options on the market when it comes to broadband connections or Wi-Fi services. Because many users have shifted to hotspot devices, which are more mobile and convenient, Verizon offers some great MiFi connections to meet your needs. Having said that, the most popular MiFi devices among users are the Verizon Jetpack MiFi 8000l and the Inseego MiFi m2100 5g. Because the devices' competitiveness has made it difficult for users to choose between them, we will provide a general comparison of the two.
Verizon Jetpack MiFi 8800l vs Inseego MiFi M2100 5G UW Comparison
Verizon Jetpack MiFi 8800l:
When considering the Verizon 8800l, it is one of the best Verizon MiFi devices for a 4G LTE experience. This device, which has an interactive interface, will provide you with fast Wi-Fi speeds via the 2.4GHz and 5GHz dual-band connection. Furthermore, you can expect an exceptional speed of 867Mbps on the 5GHz band and up to 300Mbps on the 2.4GHz, which is an incredible speed for a MiFi connection. With high coverage and the ability to connect more than 15 devices to the hotspot network, you can enjoy a good reception with no network connection issues.
If you were frustrated by your previous device's sudden disconnect issues, you can get them resolved with the MiFi 8800l's excellent performance over relatively high broadband speeds. With its high-performance removable 4400mAh battery, which has a battery life of nearly 24 hours, you can enjoy a trouble-free connection with your devices.
In addition to that, your 8800l MiFi device is capable of delivering a good signal strength up to 100 feet in an exposed area whereas delivering a range up to 50 feet in a closed area with structures. This is a pretty exceptional performance of the 8800l MiFi device.
Coming to the design and hardware of the device, it is quite portable and mobile with dimensions of 4.29 x 2.64 x .71 inches. It has a power button and a USB-C port which is utilized for charging purposes. Moreover, it possesses the latest Qualcomm X20 modem which delivers improved LTE speeds as well as 5GHz bandwidth.
Inseego MiFi M2100 5G UW:
This is the latest hotspot device from the Inseego series. Unlike the 8800l this device has Wi-Fi 6 support which delivers you the best and most reliable connection from your hotspot to your device. With an incredible 2.7Gbps internet speed, this device can connect up to 30 devices to your network. That is significantly more than the Verizon Jetpack's 8800l capacity. Moreover, it will give you up to 80MHz bandwidth on the Wi-Fi 6 band usage. However, this is not the maximum bandwidth that Wi-Fi 6 offers but is still sufficient for a mobile hotspot device.
Unlike the Inseego 8800l, this device has a battery power of 3500mAh which is significantly not close to the 4400mAh battery but it does the job. Talking about the range of the Inseego m2100, this device can efficiently deliver a good range up to 50 feet, but the signal strength drops as the range reaches 75 feet. This is an okay range when compared to the Inseego 8800l network range.
Concerning the device's features and design, with the dimensions of 7.2 x 3.86 x 2.13 inches this device is larger than that of the Jetpack 8800l MiFi but not large enough for the regular hotspot device so it still comes in handy. In addition to that, Inseego m2100 offers MAC filtering and a firewall to ensure a secure and protected network connection. However, one of the device's shortcomings is the lack of parental controls, which may be a source of concern for many users.
The Final Verdict:
Even though both the devices have a good rating and either of them is a good option to go for when choosing a hotspot device. However, a Jetpack 8800l will cost you more than m2100 but will give you great broadband speeds as well as good coverage. So if budget is not the major concern then a Jetpack 8800l will be worth the investment.