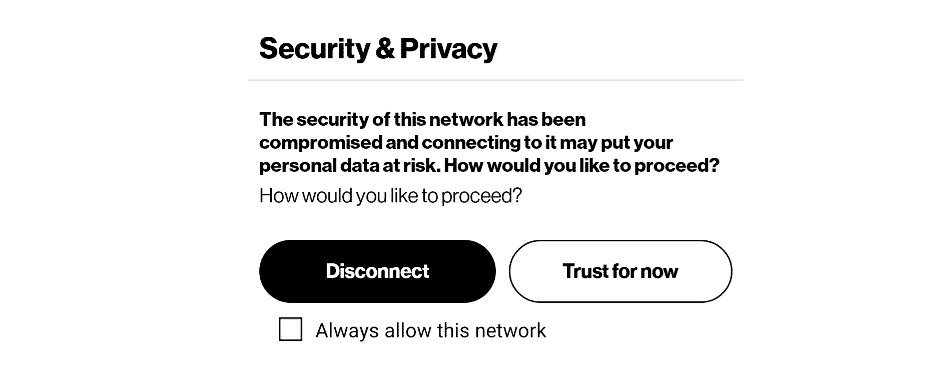 We are most concerned when it comes to the security of our phone service. There are no compromises that can be considered taking the personal data, communication, and other information regarding the phones we use. Strict laws are passed and are in motion that ensures that the privacy of each individual over these communication channels is safe and there are no intrusions to that. No telecom company would want the information of their consumer out there in the public.
However, there are still certain risks such as hacking or unauthorized access to the data that leads to several crimes. As a consumer, your main concern is the information that you don't want to get out and that is why you give it a serious thought. Recently, there has been seen a prompt on Samsung Phones by Verizon that the security of this network has been compromised. This was an alarming situation for most of the consumers as they start seeing these pop-ups randomly, out of nowhere and they had no idea how to fix the situation. So, to start with a viable solution to this error message, you need to understand what was the reason beyond such messages.
The Security Of This Network Has Been Compromised
A glitch
This was merely a glitch that made numerous people alarmed. There are several security apps by Verizon that are installed on your phones that you purchase from them, or you can install them from the play store later as well. Upon contacting Verizon, it was established that their network is secure and there have been no security breaches. This was triggered by some Verizon security applications or some third-party applications due to malfunctioning in them.
Should you be concerned?
The question that you must be asking yourself as a consumer is that if you should be concerned about your safety and privacy. Well, there have been no crimes of that sort reported or surfaced to date and the carriers including Verizon have stated upon contacting them that this is just a glitch that was causing this error to appear on your screen. Although, if the notification or pop-up is appearing quite often, that can cause you quite a nuisance that you want to get rid of. Since we have established that there are no such network security risks, let's see some troubleshooting steps that you can take to fix the issue.
1) Contact your Carrier
The first thing to do if you see such a prompt is to contact your carrier for confirmation if there is something wrong at their end. They will be able to give you a fair idea of the situation. If there are some actual threats on the network, you will be advised accordingly by your carrier and they will also be fixing it for you. On the other hand, in case of a glitch, they will assure you that your network is safe and here you can move towards these troubleshooting steps.
2) Restart your phone
To start with the troubleshooting, there are strong chances that your phone might be stuck due to some error, or the program or one of its components might not be working properly. To fix such issues, a simple restart will do the trick. You just have to reboot your device after saving all the unsaved data and it will restart any components or applications that might be causing you to have the error. If you are still seeing that prompt on your screen after restarting your device, please ensure to follow the steps below.
3) Check for Network Settings
Your network setting should always be on select the network automatically. This ensures that your carrier automatically connects you with the best possible tower near you over a secure channel. If there are some manual settings that you have added from some third-party application or yourself, those settings can cause such errors to be triggered. Hence, make sure that there are no such applications that require network settings access unnecessarily and that you have the "Automatic Network Selection" option on at all times.
4) Check for firmware update
Your phones run on a firmware that is originally developed by the OEM. If you are using a rooted phone that is not using the default firmware, that is a security risk for you as the developer of this MOD will have access to all your phone components, and information stored on it without you knowing it. This can trigger such errors on your phone as well. It is always recommended to only keep the stock firmware on your phones.
You might also need to update the firmware to make sure the latest security features and updates are installed on your phone. To make this possible, we recommend keeping the auto-updates feature on your phone at all times.
5) Check for security applications
There are tons of security applications out there that can be causing you to have the issue. The systematic approach towards solving the issue, if all of the above checks out is to find out which of these applications are triggering this prompt on your screen. Once you have that figured out, the rest would be easy for you. You can check within the app, the actual reason for this notification to be triggered and eliminate that. If you believe that it was sent by some error, you can also disable the application to have a trouble-free experience on your mobile phone.
Another useful trick would be to keep auto-updates on these applications. If you are seeing such errors and there are no viable reasons that you can find. You will need to update the application to its latest version and this would solve the problem for you most of the time.
6) Reset your phone to factory settings
The last option is to reset your phone to the factory settings. The reason for this being the last option is because you will lose all the data on your phone and it will be wiped completely. Hence, make sure that you have backed-up all the important files before giving it a try. This will solve the problem for you entirely and you can restore your files and data again from the backup.