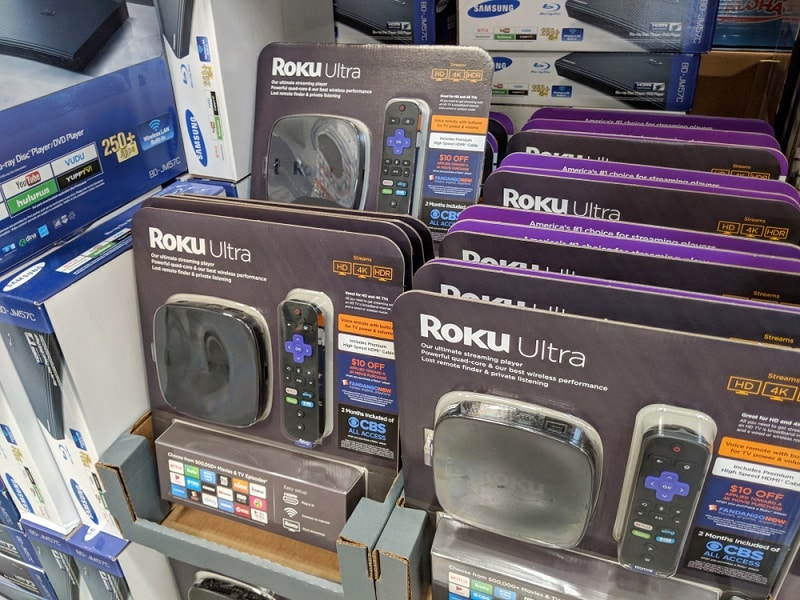 Roku is a popular service that comes as a whole package. The service allows you to have the internet on your TV and there are thousands of pre-loaded series and movies that you can access with the collaboration of ROKU and Netflix. However, that is not all and there are some other top features offered like the ability to stream your favorite TV channels and much more.
Keeping that in mind, you can think of Roku as a service that gets you the perks of Netflix and your local TV both at a single place under one subscription. This way, you can enjoy the benefits of both services and only have to pay one subscription at a time.
The only difference for ROKU is that it comes pre-loaded with a device and you will need this device to access ROKU subscription on any of the TVs. But that is not all, there are some HD TVs offered by ROKU as well that you can use as they are pre-loaded with a ROKU interface and you can use them to stream all the ROKU content without any hassles at all. To understand it better, let's have a look at what ROKU is and how it works.
What is ROKU
ROKU is a service that works with a collaboration of NETFLIX and allows you to get access to your favorite movies, tv serials, and the ability to stream live TV over the Internet. ROKU is an interface that comes pre-loaded with its own devices and these devices are connected to the Internet through WIFI or Ethernet to ensure the best quality video streaming.
How does it work?
ROKU uses its own platform to make possible the best streaming quality. It comes with a pre-loaded interface that brings you the best of both worlds. ROKU interface also has its own app store that allows you to download certain applications that will enable you to full-fledge entertainment with the comfort of your home.
However, the only drawback is that ROKY cannot be installed on any other platform like Android or Windows. ROKU offers a variety of dedicated devices that will ensure the best quality streaming for you. Some of these devices are:
ROKU Streaming Devices:
These devices come preloaded with ROKU hardware and software and are connected with your TV through HDMI port. These devices can be connected to the internet via WIFI or Ethernet to ensure that you can get the best quality streaming services on your existing TV. These devices may or may not have the WIFI connectivity, hence you need to make sure that you get the appropriate device that will support WIFI connectivity. These streaming devices also need to have the latest version of software to ensure optimal connectivity.
ROKU TVs
ROKU also presents a wide range of TVs that support ROKU platform connectivity. These are pre-loaded with the ROKU interface that is almost like the Android interface and allows you to connect with the Internet easily. These TVs have WIFI preloaded on them and all you need is an active WIFI connection to connect them with WIFI.
ROKU Can't Find WiFi Error And How To Fix This
However, there are certain errors that can make your ROKU not be connected with the Internet. ROKU is sometimes unable to find WIFI and some of the most common possibilities that can make this error possible are:
1. Software Update:
All the ROKU devices need to be connected through the internet to work optimally. This also ensures that you are running the latest version of ROKU software. If your software might be out of date or corrupted, you might not be able to connect your ROKU device to the WIFI and it will show you cannot find WIFI error.
To fix this issue, you will need to update your software of ROKU device or ROKU TV by connecting it to the internet and going to software settings.
2. Check your WIFI Router:
There is a thin possibility that your WIFI router might be the culprit and is not broadcasting signals at all. In this case, you need to ensure that your WIFI router is working fine by connecting some other devices with your WIFI. If another device can work with your WIFI, then you will need to check the configuration settings of your WIFI router.
This will be possible by accessing the admin access to your WIFI network and check if the connectivity to your new ROKU device is allowed. You might also need to check if there are any bandwidth restrictions or if the MAC address of your ROKU device is not blocked by your router settings.
If all of the above settings seem fine to you, the next step would be to restart your router and it will start working like new.
3. Hardware Compatibility:
There is a thing possible that you might have an outdated ROKU device that does not have WIFI support. There were some ROKU devices that do not support WIFI and are only capable to work with Ethernet cable. Although you might be able to see the WIFI menu in the settings it will not work due to the absence of hardware components to ensure connectivity with the WIFI network.
You need to ensure that your device is compatible with WIFI and has the hardware components that will be required to ensure connectivity with WIFI. You can check the product manual/specs sheet over the internet or you can contact ROKU for assistance in this regard.
4. Hardware Failure:
If none of the above works, then there is a chance that the hardware component on your device that supports connectivity over WIFI might have failed or have developed a fault in it. In such cases, you will need to contact ROKU to have your ROKU device checked for hardware errors and have it fixed.
Since ROKU are customized and highly advanced devices, we would recommend you to take them only to a ROKU authorized store. This will ensure that not only your ROKU device is repaired optimally but also will not void any warranties.