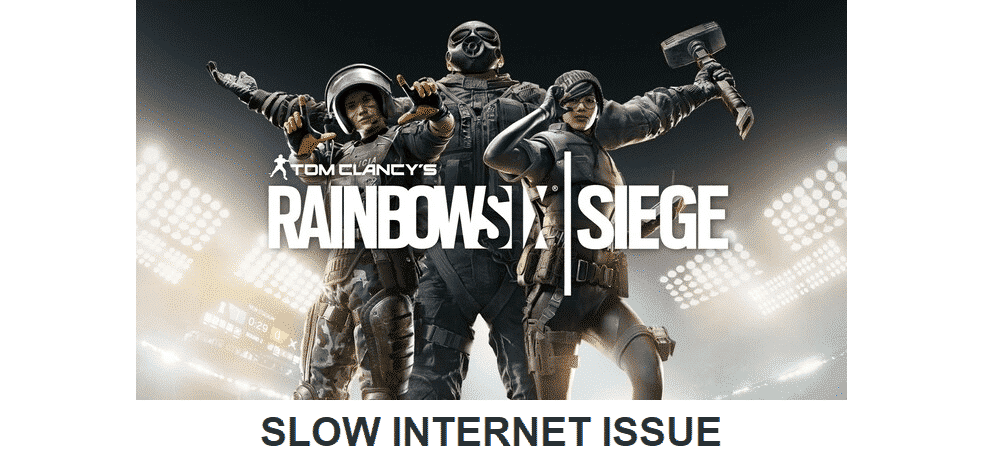 Tom Clancy's Rainbow Six Siege is an online shooting game. Ubisoft is the company that both published and developed it. There are multiple game modes that can be tried out in the game. Although in all of these your main objective is to fight the opposing team and complete the object before them. There's no main campaign mode in the game, but you can go through some missions that can be played offline.
These will help you in understanding the skills of different characters so that you can later on use them in your matches. Some Rainbow Six Siege players have been getting slow internet speeds while playing the game. This can be extremely annoying because having a good connection is a necessity for this game. If you have also been getting this problem then here are some steps you can follow to fix it.
Rainbow Six Siege Slow Internet
Change Region
This game is available to be played in many different regions. Considering this, you might be trying to play on a region where you are getting bad ping. This might be the reason why you are getting slow internet issues. You can easily get rid of this by changing the servers. For Microsoft Window users you will need to open up Uplay on your computer and then change the region from there. For other consoles, you will need to open up in-game settings.
After this look around and you should be able to find the option to change the servers under the connectivity settings. Select the region that you live in from here to get the best pings. If you still getting a slow connection then you can try changing the servers one by one and look at the ping that you are getting. Select the server with the lowest ping to fix your problem. Lastly, you might have to give your game a restart for the servers to completely change.
Weak Wi-Fi Signals
Most people prefer to use wireless connections to enjoy the internet. This is because wireless connections do not require any additional wires and look extremely clean. However, you should keep in mind that these are slower than a wired connection and they are also quite unstable. This means that your internet might suddenly slow down on its own.
This usually happens if the signal strength on it becomes too weak. If you are using a Wi-Fi connection then this is most likely the reason for this problem. To fix this, you should move your router closer to your console. Alternatively, the signals might be getting interrupted by objects between these two devices. You can also move anything that might be interfering with the connection out of the way. This should also fix the issue that you are getting. However, if you are unable to move your console and router closer to each other then one thing that you can do is to install a new router. This should also help you in receiving signals all-around your house. While purchasing a new router, it is recommended that you check the range that it provides.
This is essential because smaller routers might not provide enough signals to reach all-around your house. Additionally, you can even find a router that provides newer features. Some of these can greatly help you in getting a more stable and better signal strength. If you are having difficulty selecting out a good router. Then you can easily search online for a list of good routers depending on your budget. You will even be able to find a tutorial on how to set it up on your own.
Use Wired Connection
If you do not want to purchase a new router then you can use a wired connection instead. This should help you in getting the fastest speeds possible from your router. Additionally, setting up a wired connection is really simple. You need to take a wire and connect it to the LAN port of your console or computer. Now proceed to do the same on either your router or your modem. If you have two connections in your house then you also use both of these on your device at the same time. However, you need to set this up by using third-party software.