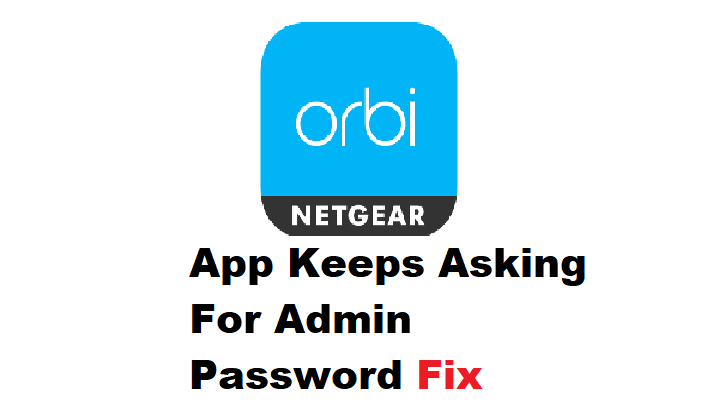 To secure your network, many networking companies employ password authentication. You can either leave them as default credentials or configure them. However, whenever you purchase a new network, it is a wise decision to configure your credentials so that unauthorized devices do not compromise your network.
The Orbi app, on the other hand, is a useful feature for accessing and managing your network. However, Netgear has recently received user complaints that the Orbi app keeps asking for the admin password and that they are unable to access it. As a result, we will investigate this matter.
How to Fix Orbi App Asking For Admin Password?
Factory Reset Your Router:
If your network credentials are not being accepted by the Orbi app, there could be a problem with the password you are typing. You've probably forgotten the password, or someone else in your house has changed it. So the simplest way to recover the network credentials is to perform a factory reset. Though it will delete all of your configured settings, it will allow you to access your Orbi app using the default credentials.
On the back of your router, press the reset button. For the correct location, consult the user manual. Hold the button for 5-10 seconds using a small paper clip. After that, let go of the button and wait for the router to reboot. The default username and password are now admin and password.
Delete The App:
Some users may be reluctant to reset their devices because they do not want to mess up their settings. So, let's try some other fixes, and if they don't work, you'll have to go back to step 1. Deleting and reinstalling the Orbi application may aid in the resolution of bugs. It's possible that your application crashed or halted, causing this error. So uninstall the app and clear the junk files from the device. Reinstall the app with the most recent version and see if that resolves the problem.
Access The Web Browser:
Another option is to use a web browser to access Orbi. Enter the credentials you believe are correct in the web portal. If it accepts the password, you must change it to something simpler. For example, a password with special characters is difficult to remember, so change the passcode to a basic password. Then exit your portal and try the reconfigured credentials in the Orbi app.
Remove The GBP Sign:
As a workable solution, Netgear users have reported that the Orbi app misbehaves when the £ special character is present. If you have access to the web portal, change your password and remove the GBP symbol. Include a simple character, such as "?" or "!" When you connect to the app, there will be no problems with the Orbi app sign-in.