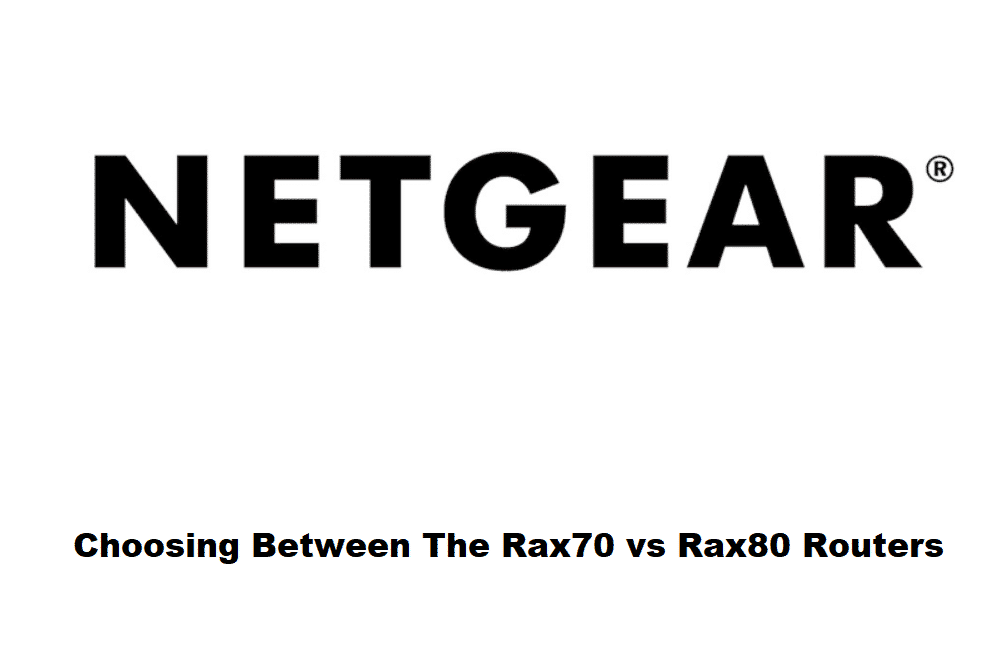 Netgear has become one of the most famous and preferred choices for everyone who needs a reliable modem and router. In fact, it's one of the first companies to launch the Wi-Fi 6 router, and they have always tried their best to launch advanced routers and modems. For this reason, we are sharing Netgear RAX70 vs RAX80 because these two have caught everyone's attention recently. So, let's check out what these routers are all about!
Netgear RAX70 vs RAX80 Comparison
Netgear RAX80
This router has been designed by Netgear, and it was launched in two different colors, including charcoal gray and black. The router is designed in a spaceship design, which is why it's widely used by gamers. The router is designed with foldable wings, and both these wings are actually high-performance antennas for Wi-Fi connectivity. The router can be mounted on the wall, or you can place it on the horizontal surface.
Netgear RAX80 is designed with five LAN ports, an LED switch on and off button, a power button, a reset button, two USB 3.0 ports, and a power jack. On the top of the router, there is a thin LED light strip to show the progress and status of the internet connection. The router is also designed with two USB ports, and there are WPS and Wi-Fi buttons. It is integrated with the 1.8GHz quad-core processor, which promises faster internet performance without heating up.
The router is designed with 512MB of RAM, and there is 25MB of flash memory, which means it will be able to reach the high speed of over 4.8Mbps connection on the 5GHz band. On the other hand, it will be able to achieve a 1.2MB speed if you are connected to the 2.4GHz band. On top of everything, it is designed with an eight-stream router, which promises seamless performance. It has a link aggregation feature that enhances the internet connectivity's reliability.
Netgear RAX80 comes with an 802.11ax wireless configuration, which surely enhances the connectivity. Honestly, this is an expensive router, but the higher internet speed and quick file transfer make it worth it. As far as the connectivity technology is concerned, it has a 160MHz bandwidth, beamforming, and special MU-MIMO data streaming, which makes it one of the best ones. On top of everything, it works fine with iOS as well as Android devices.
Netgear RAX70
Netgear has always been at the forefront of offering top-notch routers, and this RAX70 router is one of the best from their collections. This is an eight-stream router, which has increased its capacity to share and send out the data packets. These eight streams of Wi-Fi promises four-fold more device capacity as well as higher bandwidth for browsing, gaming, and streaming. It offers ultra-fast wireless connection speed, given its ability to support 1.2Gbps, 4.8Gbps, and 600Mbps internet connections.
Given this internet speed support, the users will be able to connect a higher number of devices without compromising on the reliability and speed of the internet. The best thing about this router is that it comes with cutting-edge cyber protection, given the Armor feature, to make sure your internet connections are secure. This security feature can be used for protecting as many connected devices as possible, ranging from smartphones to laptops and security cameras to thermostats.
The router is integrated with the smart parental controls, with which users can build different profiles for every family member, pause content on the devices, and keep an eye on the streaming. However, you need to remember that some of its advanced features are only available if you have a premium subscription, but you will get a 30-day free trial to try out the advanced features. It comes with a spaceship design, and these wings encapsulate over six antennas to offer a tri-band configuration.
On top of everything, it can work with Google Assistant as well as Amazon Alexa. It can be extremely easy to set up with the Android app, and there is an Ethernet link aggregation to make sure the cabled connection is possible. Keep in mind that you must have a paid subscription to use the Armor feature. Last but not least, it can be connected with the app for controlling the functions.
To summarize, both of them are from the same series and are pretty amazing. So, which one will you choose for your home's internet connection?