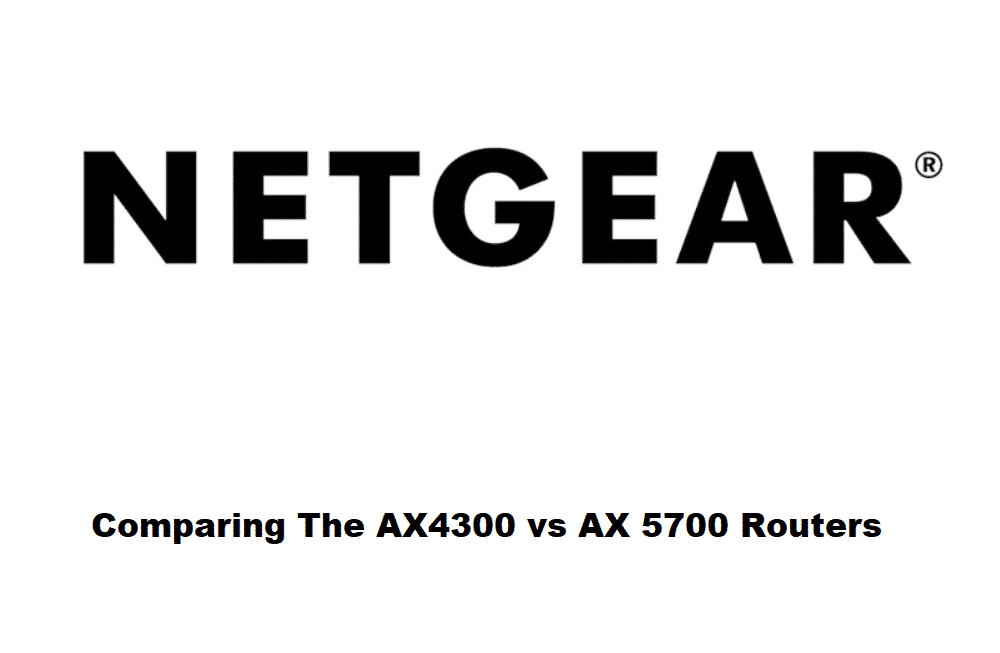 When it comes down to the Wi-Fi routers, it is essential to choose the right ones because it directly influences the data-transfer speed, device management, and signal quality. In simpler words, it is essential for improving the performance and connectivity of the internet connection. Having said that, if you are trying to purchase a new router, we have the Netgear AX4300 vs. AX5700 comparison laid out in this article to assist you.
Netgear AX4300 vs AX5700
Netgear AX4300
This Wi-Fi router is designed to offer faster downloading, streaming, and connectivity speed of up to 4.3Gbps without causing any hindrances in the connection. The router is integrated with the 1.5GHz processor with a triple-core configuration that makes sure the router doesn't overheat (overheated router can slow down the internet connection) and keeps performing well. In addition, it has an offloaded CPU which positively influences the network performance. Netgear AX4300 router is designed with advanced and high-end Armor technology, which offers high-end cyber threat protection.
With its ability to support ultra-fast internet speed, it can be used for streaming UHD and 4K streaming along with video conferencing and gaming. In addition, it can be used to support the smart home devices in addition to streaming videos simultaneously, given the 3.5x higher performance standards. When it comes down to channel support, it has 160MHz support, which increases the internet speed by two folds to offer gigabit-speed for compatible laptops as well as smartphones.
In addition, the Wi-Fi router has OFDMA, which increases the upload and download speed as it can transmit internet signals to multiple devices. Netgear AX4300 has a dual-band wireless configuration that offers a dedicated and reliable wireless network without causing internet congestion. Netgear AX4300 has four Ethernet LAN ports that allow the users to connect wired devices to ensure uninterrupted internet connection and high-speed file transfer.
There are various DFS channels that reduce network interference. On top of everything, it has four external antennas that offer a better internet range for small as well as medium homes. It works with the Nighthawk app that allows the users to set up the router and change the settings. Even more, it has a USB 3.0 port that promises ten times better internet connection. Last but not least, its Wi-Fi 6 technology, supports connection with all wireless devices.
Netgear AX5700 Wi-Fi Router
Netgear AX5700 router is known as the home router, and it's one-of-its-kind with multi-gig internet connectivity support. It promises the fastest wireless internet speed, which supports UHD, 4K, and 8K streaming with simultaneous video conferencing and gaming. The best thing about this Wi-Fi router is that it increases the connectivity performance for multiple smart home devices, even during the rush hour of the internet.
This router can support internet speed up to 5.7Gbps, which promises five-fold better internet performance and wireless speed. It has a 1.8GHz processor with a quad-core configuration that streamlines the streaming, even for advanced resolution. Netgear AX5700 comes with 160MHz channel support, which increases the internet speed by two folds to offer gigabit internet speed for compatible desktops, laptops, and mobile devices.
On top of everything, the MU-MIMO feature in the Wi-Fi router allows faster data transfer while streaming content on multiple devices. It has an OFDMA that promises high download speed and upload speed. In addition, it is integrated with the link aggregation support that maximizes the internet speed. It has four hidden antennas that help extend the internet range for bigger homes. The best thing about this router is that it's easy to install and has convenient management with the Nighthawk app (the app can be used for setting up the router as well).
There are two USB 3.0 ports that offer a ten-fold faster internet connection as compared to Netgear AX4300, which only has one port. It is integrated with ReadyCLOUD USB access, which helps achieve secure cloud access for USB-based storage. Not to forget, it comes with the ReadySHARE Vault that promises automated backup for PCs. If you are concerned about security, it has the Armor feature, which protects the internet network from hacking attempts, malware, identity theft, and stolen passwords.
To summarize, both of these routers are pretty great, but Netgear AX5700 is a better choice for bigger homes.