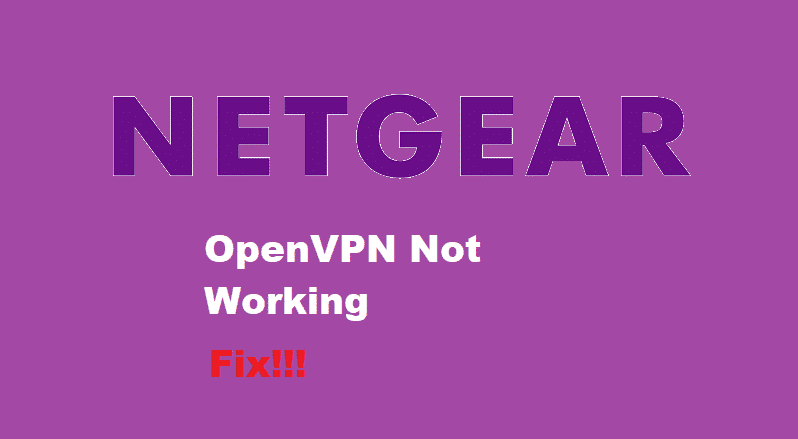 A VPN, also known as Virtual Private Network, is a secure connection created between the user and another network over the Internet. VPN's can be used in several ways to ease its users. For instance, they can allow you to access region-restricted websites and even shield your Internet activity from others over public Wi-Fi.
Many Netgear devices come equipped with the OpenVPN feature. This useful setting allows its user to safely access your home or office network. Though, sometimes users might run into problems with this feature. One of these issues that Netgear users face is the 'OpenVPN not working'. Regarding this, we will look at a few ways to get rid of it.
How To Fix Netgear OpenVPN Not Working?
Restart Your VPN
One of the easiest and fastest solutions you can try is to restart your VPN. For this, you will need to turn off your VPN. After that restart your router by switching it off from the button placed on its back and then turning it back on. Switch your VPN back on and see if that fixes your problem.
VPN Configuration Files Need To Be Updated
When using the OpenVPN service you should make sure that all the remote clients have installed their VPN configuration files. This can be done after configuring OpenVPN on your router.
If you make any changes to the OpenVPN configuration on your router afterward. It might cause you to run into the error 'OpenVPN not working'. If that is the case, then you simply have to download and install the new VPN configuration files on your remote client. This will update your new settings and your OpenVPN will start working again.
Update Firmware
You might be using an older version of firmware on your router. The previous firmware's contained certificates that were considered too weak by OpenVPN. As for this, the VPN was unable to connect with the network.
Speaking of this, if you have not updated your firmware then go to Netgear's website. Proceed by searching for your router's latest firmware update and then installing it on your device. Make sure to restart your router for it to successfully update its firmware.
Turn Off Firewall
Sometimes firewall software will prevent your VPN to establish a connection with your network. You can easily turn off your firewall by accessing the antivirus program you are currently using. Then pressing the 'Turn off Firewall' button. If this fixes your error then that means your firewall was causing the problem.
However, if you don't want to completely turn off your firewall then you can try using another antivirus. One which does not prevent OpenVPN from connecting with your network. You can easily search the web for a list of software that is compatible with OpenVPN.
On the other hand, if you don't want to change your antivirus. Then you can allow your current antivirus to make the VPN bypass its firewall. To do this you need to open your firewall settings and add your VPN's client software to the exclusions list.