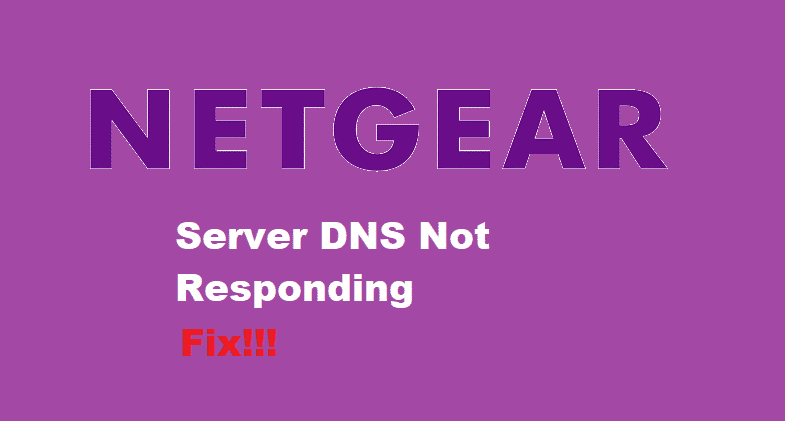 DNS stands for Domain Name System. Users access information through domain names. For instance, sites like 'Gmail.com' or 'Yahoo.com'. However, a web browser uses Internet Protocol (IP) addresses to interact with the given information. DNS simply translates domain names to IP addresses so that web browsers can process and then load internet resources for us.
Speaking about this, Netgear users might sometimes run into errors like 'Netgear DNS server not responding'. This can be quite frustrating and annoying for the users as they are unable to connect to the internet. Unfortunately, you might also run into this error. Considering this, here are a few troubleshooting ways you can use to solve your problem.
How To Fix Netgear DNS Server Not Responding?
Workstation Might Not Be Resolving DNS Addresses.
Sometimes your computer or laptop might be having trouble resolving DNS addresses. First of all, you will need to check if that is the case.
Start with going to the 'Start' button and then proceed to click on 'Run'.
A small popup window will open, type in CMD, and press enter.
Command Prompt will launch, now type 'PING' followed by a Domain Name (ping yahoo.com)
After this, type 'PING' again and the IP address of the following Domain Name (ping 216. 109. 112. 135)
If you get the error 'Ping request could not find host yahoo.com. Please check the name and try again.' After pinging the Domain name and you received 4 'Replies' after pinging the IP. This means that your workstation is unable to resolve DNS.
To fix this issue, you have to open a command prompt from your workstation. Go to the network settings, followed by selecting the network connection that is having problems with DNS. Then proceeding to open its adapter's TCP/IP properties. Now carefully enter addresses provided by your ISP into the DNS Servers. If you don't have any address then use a public DNS service like 'OpenDNS'.
Your Router Might Be Having Trouble With DNS Servers.
If you are still facing this issue then you try configuring your router to use alternate DNS servers. In order to do this, you have to access the router's web configuration. This can be done by logging into your router and then opening the 'Internet Setup' page. Now, go to the basic settings and select the option 'Use these DNS servers'. Enter the addresses given by your ISP here or once again just use a public DNS service like, 'OpenDNS'. After you are done with all these steps, make sure that you click Apply to save your changes.
ISP's DNS Servers Might be Having Server Issues.
It is also possible that your ISP's DNS servers are having some kind of problems on their backend. These can be related to server issues. Speaking about this, it might be causing you to get the error 'Netgear DNS server not responding'. If that is the case then this error will go away on its own. However, if it does not get fixed then you can contact your ISP and let them know about the issue you are facing. This is because your ISP might be unaware that it's happening and will correct the problem as soon as they can.