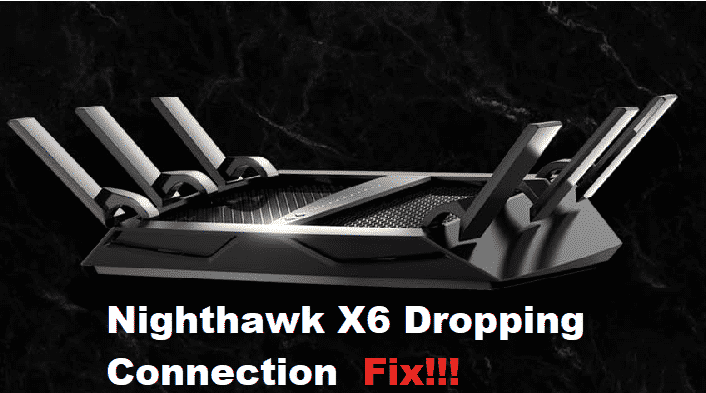 NETGEAR Nighthawk x6 is a piece of art and there are hardly any doubts about it. Not only the looks on this router are out of the world, but so is everything under the hood and you get to enjoy the best stability, performance, and speed on it as well.
NETGEAR Nighthawk x6 comes with 6 antennas that ensure you have better stability and connectivity across all the devices that you might be connecting with it and you will not be having any sort of problems with it at all.
However, if you are facing a certain problem like your NETGEAR Nighthawk x6 dropping connection out of nowhere, that can be fixed pretty easily as well, and here is how you can do it.
How to Fix Netgear Nighthawk X6 Dropping Connection?
1. Restart Your Device
At times the problem can be with your device and not the router and the best way to figure this out is to check some other device that is connected to your Nighthawk x6 router. So, you will need to figure that out, and if it is with a single device only.
That might mean there might be some bug or error on the Wi-Fi module of that particular device that needs to be fixed up. You will need to reboot that device once and then connect it with the router once again to get the problem solved.
However, if that doesn't sort out the problem on your device, you can also try forgetting the network and then connecting with it from scratch using the right credentials as that will definitely be helping you out of the tight corner and you can have the problem fixed with your device pretty easily.
Although, if you are facing a problem on all the devices you connect with your Nighthawk x6 router, you will need to troubleshoot the router, and here is how you can get it done.
2. Check the Frequency
You will also need to be careful about the frequency. Nighthawk X6 is a tri-band router and that allows you to run all the frequency bands on the router simultaneously. Now, we all know that 5 GHz is not known for stability if there is a considerable distance between your router and the device.
You will need to set the SSIDs accordingly so you can know which frequency band you are connected to and not only that, but you will need to switch to 2.4 GHz frequency in order to solve the problem. If you intend on having the speed that 5 GHz frequency allows you, you will need to reduce the difference between your device and the Nighthawk X6 router and that will do the trick for you.
3. Reset
Lastly, if nothing has solved the problem for you and you are still facing the connection drop issue on your Nighthawk x6 router, you will need to reset it to default factory settings as that will be the best thing to get it sorted out and after that, there is hardly any problem that you will have to face with the router.