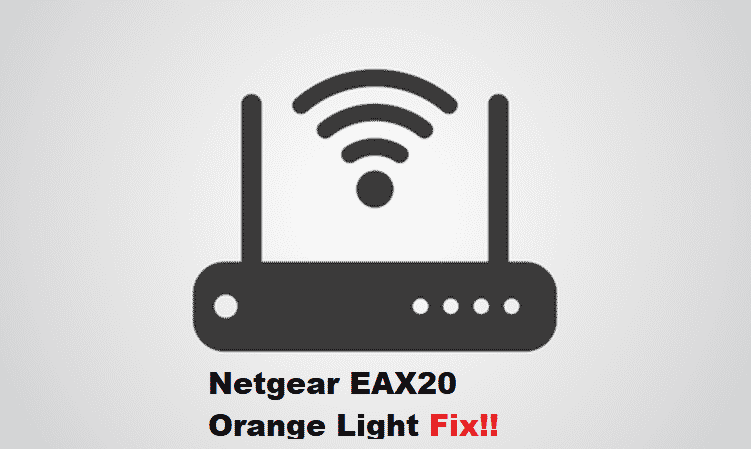 If you use a Wi-Fi router, you've probably noticed that even the top brands have problems with their routers. It is common for users to encounter minor router issues that can be resolved with simple steps if they have basic computer and network knowledge. Typically, resetting and rebooting your router/modem usually resolves common network connectivity and range issues. However many users have asked about an orange light on their NETGEAR EAX20. Therefore, if you're reading this, we're guessing you're one of them. In this article, we will take all the necessary steps to troubleshoot the issue.
NETGEAR EAX20 Orange Light Fix
1. Improper Router Setup:
If you're seeing an orange light on your NETGEAR EAX20, it could be due to an incorrect router configuration. These problems are difficult to identify, but certain router behaviors indicate that your router is unable to recognize the setup. As a result, try restarting your router by unplugging the power cord and waiting for 15 seconds. Re-plug the power cord into the power outlet to see if the blinking stops.
2. Check Your Cable Connections:
If the orange light does not go away, make sure you have correctly connected the cables to their respective ports. Orange light can sometimes be caused by a faulty cable connection. Remove all cables from your router except the power cord, including any Ethernet cables that may be connected to it. Wait a few seconds before plugging them back in. Make certain that the cables are hand tightened.
3. Resetting Your Router:
You may have noticed that resetting your router resolves several issues, making it a universal problem solver. However, there are times when resetting is a necessity rather than a choice. It will temporarily put your router to sleep, and when you restart it, it should operate more efficiently.
Therefore, your orange light might indicate a reset to the router. For this, hold the power button located at the back of the router and hold it for a few seconds. Release the button to reset your router
4. Outdated Firmware:
Outdated firmware is one of the most possible reasons for the orange light issue that your router is currently experiencing. A nonoperational firmware causes your router to behave erratically, so if you've been ignoring the firmware popups that your NETGEAR EAX20 router has been showing you, it's time to take them seriously!
That being said, perform the following steps to update your firmware.
Go to the web browser and type in the default IP address 192.168. 0.1
Log in to your NETGEAR account with the login credentials.
Once you enter your router settings, navigate to the Firmware update section
Click the tab and check if you have any pending new firmware updates.
If found, you should put your router to the firmware update and wait until it's completed.
Restart your router to check if the orange light goes away.