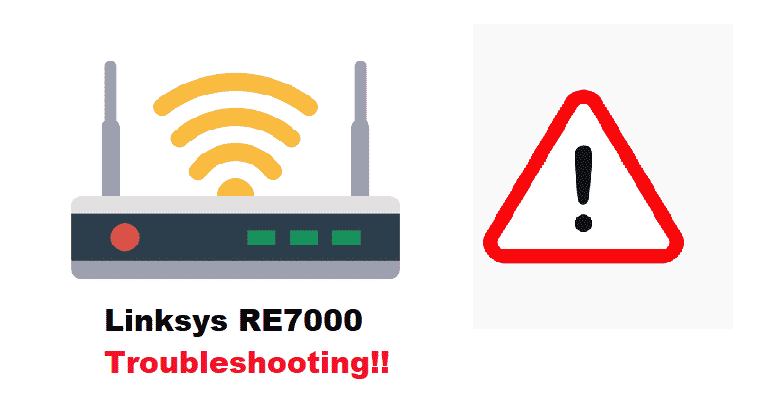 If you are one of those customers who want to extend their Wi-Fi ranges to great distances in their home, you are probably familiar with the Linksys Wi-Fi extender range, specifically the Linksys RE7000. This device will provide you with a fast internet connection, an extended Wi-Fi range to reach out to dead zones in your home, and a great capacity. Although it has been commonly observed that many users experience some basic issues with their Linksys RE7000. This article will walk you through a general framework for troubleshooting your Linksys RE7000.
Linksys RE7000 Troubleshooting
1. Cable Connections:
It may have occurred to you that your Wi-Fi extender frequently does not provide you with an established connection, disrupting the network flow. If you're having the same problem, double-check your connections. Loose or improper connections at the time of installation might have caused connectivity issues. Having said that, if you are using a wired connection through the Ethernet cable, plug out the cable and plug in again. Make sure the connections are hand-tight.
2. Synchronize Wi-Fi Extender To The Router:
If you are facing connection issues, then there is a chance that your Wi-Fi extender is not synchronized with your router so it is unable to access the internet. Therefore, to synchronize your router
Plug out the power cables of your re700 extender and the outer
Wait for about 30 seconds
Wait until the lights are completely stable
Now plug in the power cord to the respective devices and your Wi-Fi extender is synchronized with your router
3. Outdated Firmware:
If you have consistently ignored the firmware update pop-ups displayed by your re7000, you should expect your system to perform poorly. Your Wi-Fi extender is unable to establish a network connection with your router due to outdated firmware. Because of outdated firmware, your Wi-Fi extender is unable to develop a network connection with your router. Therefore,
Go to the web-based setup of your Linksys RE7000 Wi-Fi extender
Navigate to the Firmware Update section under the Administration and click it
You can either choose the automatic or the manual update method.
By choosing the automatic update your Wi-Fi extender will automatically detect a new available firmware and update itself.
You can power cycle your Wi-Fi extender to let the system run with new firmware.
4. Faulty Cables Compatibility Issues:
These are the most common issues that your Wi-Fi extender may encounter. If you have no problems with your cable connections, have successfully power-cycled your router, and have updated the firmware, but the problem persists, it could be faulty cables or compatibility issues with your Wi-Fi extender. Examine your cables for bends or insulation breakdowns. Replace any faulty cables and ensure that your extender is operational.
In terms of compatibility, Linksys supports the following standards: 802.11b, 802.11g, 802.11n, 802.11a, and 802.11ac. Check to see if your router is compliant with these specifications. If not, you should consider purchasing a new router.