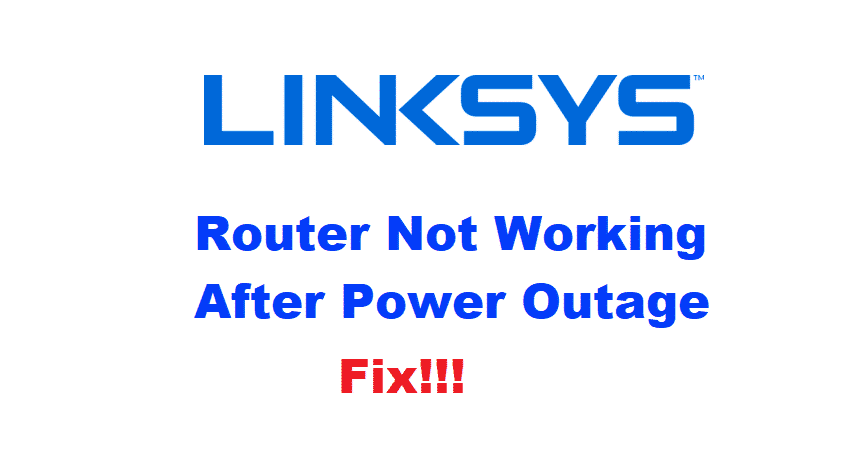 Linksys has some of the best products when it comes to networking. These devices include extenders, modems, and even routers. Additionally, Linksys also provides some features alongside their equipment that makes it really unique. On top of that, these features or services are mostly free of cost and included with almost all the new devices that have been coming out recently.
Although these products can be in a league of their own if you ever happen to run into a power outage. It might make your devices run into various problems. Similarly, Linksys users have run into the problem of their router not working after a power outage. If that is the case for you, then here is how you can fix it.
How To Fix Linksys Router Not Working After Power Outage?
Restart Router
Your router might have been switched off from the power outage when it had a lot of temporary data piled on its memory. Due to this, the sudden power cut has made the device to be unable to delete these files. There is no need to be alarmed because this can easily be fixed by giving your device a proper reboot.
So, to restart your device properly, start by switching it off for a few seconds. This will make sure that the temporary files are completely deleted from it and then you can switch on your device again. After your device is restarted it should be able to connect to the network again without any problem.
Hard Reset
If you have already tried to restart your device and it did not fix your issue then your data configuration files may have become corrupt. This might be causing your device to be unable to establish a connection your network. To restore all your configuration files, you can reset your device which will bring you back to the stock settings provided by the company.
Start of by finding a pointy object like a hair pin. After this, flip your device and look for the reset label. Insert this pin into the pinhole below the label and hold it for about a minute. Make sure that your device is turned on. After the green light starts flashing on your device, remove the pin and wait for your device to reset. The LED's on your device will become stable once it is done resetting.
Keep in mind that this will delete all the changes you have previously made to your settings, making you set up all the configurations again. This can be tedious to do so make a backup of your settings in case you happen to run into an error again and have to reset your router.
Customer Support
If the troubleshooting fixes provided above do not solve your problem then your device's hardware might have become damaged. It is highly recommended that you contact the customer support team and tell them about your issue in detail. This is so they can provide you with a solution that best serves your needs.