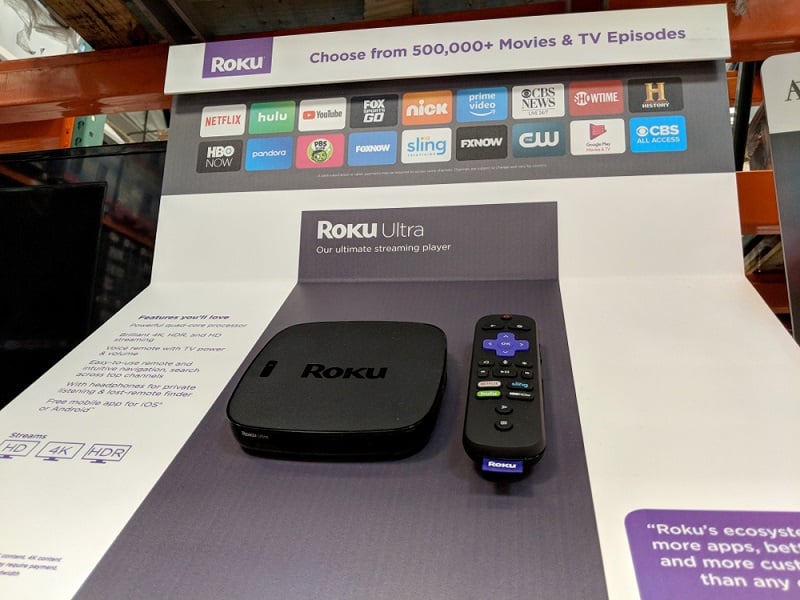 In the last few years, Roku's media streaming devices have come to the forefront of home entertainment options and at a price that is much lower than cable.
Although Internet TV has been around for a few years now, if you are just becoming familiar with it, you are not alone. But now is the time to consider using more Internet TV if you are looking to reduce the costs associated with monthly cable television bills.
In fact, many Internet TV viewers that prefer to watch television programming and movies on their schedule are completely abandoning their expensive cable TV service in exchange for low cost Internet TV. This is because Internet TV provides on-demand entertainment from a wider genre of programming than you typically get with a cable TV service and at a fraction of the cost.
If you are wondering why we are talking about Internet TV when the title of this article refers to how to use a Roku. Internet TV and Roku go hand in hand since using a Roku device provides you with access to Internet TV, in addition to other services.
In this article, we will provide you with an overview of the Roku media streaming device and how it can help you save on your monthly cable TV bill.
What Exactly is a Roku?
A Roku is a compact black box device which allows you to stream video on demand to your HDTV or Smart TV using an Internet TV resource such as Netflix, HuluPlus, Amazon Video On Demand, and others. Although the Roku was initially introduced as a Netflix box which sounds rather limited, the company quickly expanded into a variety of other entertainment options within the last few years. Especially with the introduction of the new Roku 3 media streaming box.
The expansion has resulted in a massive amount of content which is readily available for streaming to your television. The best part is the content is made available via a low priced media streaming device which is under $100. This is what makes the Roku a very attractive device for beefing up your home entertainment options while saving tons of money on your cable TV bill.
The Roku device provides you with access to hundreds of thousands of television shows and movies by using services such as HuluPlus, Amazon Video on Demand, and Netflix. Additionally, you can access sports programming, simple apps, and video games, as well as stream music to your home entertainment system using services such as Pandora and iTunes.
Basically the Roku device provides you with access to a bottomless pit of programming which includes but is not limited to, classic television shows and movies, programming from other countries, sports and news, recent movies and television programs, complete television series with many episodes to choose from, and the Roku newscaster which provides you with major news channels such as CNN and ESPN.
Like the older models of the Roku, a remote control is used to interact with the device. There is also access to a microSD memory card and USB ports for added functionality plus, a headphone jack for private listening via a high quality headphone set. There is no analog video like you would find in the Roku 2.
The Roku 3 is also equipped with a Broadcom Cortex A9 chip which is the same chip you would find in an intermediate smartphone. This provides much faster performance than previous models of the Roku when accessing the menu options.
In terms of software, the User Interface (UI) is completely revamped with a grid of colorful icons which significantly increases access to the amount of information on the home screen. There is also a generous amount of promo space for additional content and channels, yet, Roku has kept the navigation simple with an advertisement space that is strategically placed to avoid annoyances.
There is also access to a variety of apps including the newly added Spotify and Amazon apps. Plus you can change the appearance of the apps and the User Interface with access to a variety of themes. Additionally, you have access to a number of mobile apps for Android and iOS devices.
For visual learners, here is a quick overview of what the Roku device looks like and how it functions.
How to Setup and Use a Roku Device
A Roku media streaming device is very easy to install and allows you to instantly stream video to your HDTV without sacrificing high definition quality. In order to integrate a Roku device into your home entertainment system, it is necessary to have access to a high speed broadband Internet connection, a television which offers high definition viewing, and the Roku device itself.
It is necessary for your Internet connection to run at speeds of at least 1.5Mbps (megabytes per second) or higher in order to view streaming video without disruptions or buffering issues. The optimal connection would be at least 3Mbps or more for receiving the best quality viewing for live action sporting events.
It is possible to test the speed of your Internet connection in advance of installing a Roku by visiting the Visualware website. Visualware is a firm that helps to manage your Internet experience through network testing and analysis, network monitoring, consumer Internet speed testing, and many other quality assessment services.
Once you have determined that the Internet connection speed is fast enough to handle streaming video, you can install the Roku device. Typically the device comes with a standard cable included. However, if you have an older HDTV and want to get better viewing quality, it is worth your while to invest in an HDMI cable. This can be obtained from any electronics store, is very inexpensive, and will improve your home entertainment experience with your Roku device.
Connecting the Roku device to your home entertainment system is easy. All you have to do is plug it in to the nearest AC outlet and then use the AV or HDMI cable to connect the Roku to your television.
Last, your Roku device should be connected to the Internet using an Ethernet cable or by automatically identifying your home wireless Internet connection. Once you are connected, you can use the remote and the Roku menu which appears on your television screen to access video streaming and Internet TV. The only additional costs are the Internet services such as Netflix, HuluPlus, and others which can be as low as $7.99 per month which is significantly less than the cost of cable TV. Additionally, you are not committed to a long term contract and you can cancel at any time.
If you would like to see the Roku installation in detail, here is a great video that describes each step associated with setting up a Roku device.
More about the Roku
The Roku video streaming device was originally offered in four different versions which included the LT, HD, XD, and XS models. The company then advanced to the Roku 2 and finally, the Roku 3 which is the most recent device. All versions of Roku are designed to work with any HDTV or Smart TV and have built-in ports for using a wired and wireless connection.
Although the Roku 1 and the Roku 2 are still offered at a lower price on the Roku website, if you can afford it, the Roku 3 is your best bet. The Roku 3 is capable of streaming more than 1000 channels that offer TV shows, sports, movies, and more. You can also use the headphone feature and the motion-control remote to watch movies and play games without disturbing others in the household.
Roku 3 Features
The Roku 3 offers many more features and higher performance than the previous Roku models. The performance is fast and seamless, thanks to a processor that is five times as powerful as the previous Roku models. Additionally, the wireless connectivity range has been extended to improve the Wi-Fi signal to the device. Other features on the Roku 3 include:
One-Stop Search: The new One-Stop search feature allows you to quickly locate movies and TV shows from well-known sources such as Hulu Plus, Vudu, Amazon Instant Video, and Netflix.
Free Android and iOS App: The free app for Android and iOS devices allows you to convert your mobile device into a remote control. This allows your device to interact with the Roku device and provides a way to browse and add new content and use your mobile device to send photos, music, and videos to your big screen television. The app is available in the iTunes or Google Play store.
Motion Control: The Roku includes a motion control remote that allows you to easily enjoy action games.
Networking: The Roku 3 supports the 802.11 dual-band a/b/g/n standard and offers security with WPA (Wireless Protected Access), WPA2, and WEP (Wired Equivalent Privacy) encryption. Dual-band refers to the Roku's ability to function on two different wireless frequency bands and the security features provide a secure connection using encryption technologies. There is also support for 10/100 Base-T Ethernet which involves securing a wired Local Area Network.
Video Outputs: The video outputs for the Roku 3 support both 720p and 1080p resolution for added versatility.
MicroSD Card Slot: The microSD card slot expands the storage capacity for the Roku 3, allowing you to store more media and channels for enhanced home entertainment.
Remote Control: The Roku 3 provides an enhanced remote control that supports a headphone jack and motion control capability for an improved experience when playing games. The remote control operates on Wi-Fi Direct which is a Wi-Fi standard that allows multiple devices connected to a network to interact with one another without requiring a wireless access point. Tech Radar recently posted an interesting article on how Wi-Fi Direct works. Additionally, the Roku 3 includes an Infrared Receiver (IR) to support a variety of universal remote control devices.
When you purchase the Roku 3, the device comes with the streaming media player, enhanced game remote with headphone jack, power adapter, in-ear headphones, two AA batteries, and a Getting Started Guide.
For more information on the Roku, the Business Insider features a great article on how the Roku 3 compares to the Apple TV device.
Overall, the Roku is very portable, does not take up much space in your living room and is offered at a one-time low cost. The typical size for the device is 3.5 x 3.5 x 1 inches with a compatible and compact remote control, and a weight of only 5 ounces. It is easy to install, provides access to an endless plethora of programming, and cuts back on your monthly cable bill without sacrificing program variety.