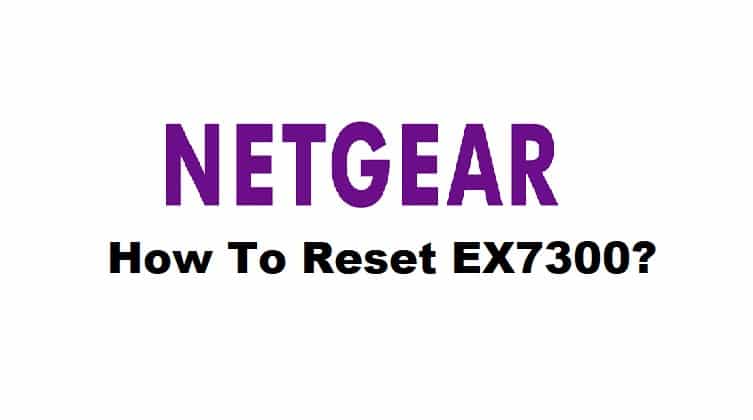 Factory resetting your broadband devices can help you with connection, login, and setup issues that appear commonly in networking.  Even if everything seems to be fine, your extender may suddenly start acting strangely or fail to connect to your router. As a result, you can reset your extender to clear out any incompatible settings and reconfigure it so that it runs smoothly.
Because many users have requested a detailed guide on how to reset NETGEAR ex7000, we will provide a comprehensive procedure to reset your NETGEAR extender in this article.
How to Reset NETGEAR EX7000?
Before delving deeper into the procedure, it's important to understand what a factory reset is and what it does to your device. A hard reset, also known as a factory reset, returns your device to its original factory state. In addition, all of your previously configured network settings are lost, and you must reconfigure your device from scratch. There are generally two methods for resetting your EX2700. This can be accomplished through the use of a web interface or by simply pressing the reset button.
Using a Web Interface:
First, you will need to access the web browser from a device that is connected to the EX2700 extender.
Now, enter the default IP address 192.168.1.250 in your address bar or type in www.mywifiext.net to access the log-in page of your NETGEAR extender.
Once you enter the login web page, use the network credentials to log into your extender's web interface.
Note: if you have not previously configured the SSID and password of your extender, the default SSID is "admin" and the default password is "password".
Once you have entered the web interface of your extender, navigate to the Settings tab and scroll up to the Other Settings option.
You will find a Reset option. Click it and confirm your decision by clicking the Yes button.
Give your web interface a little time to finish resetting your device.
Using the Reset Button:
Make sure that your extender is turned on.
Net locate the reset button at the bottom of your NETGEAR EX2700 extender and use a paperclip or a similar sharp object to press down the little button.
Hold the button for about 5 seconds and see the LED lights blinking on your extender.
Next, release the reset button. Your extender will reboot.
Make sure you don't start using the extender right away. Give it a few seconds to stabilize and your extender is reset to its factory version.
Please keep in mind that when you reset your NETGEAR EX2700, all devices connected to the extender network will be disconnected. Because the previously configured username and password are no longer valid, you must connect the devices using the default credentials. It is recommended that you configure your extender network's SSID as soon as possible to avoid security risks.