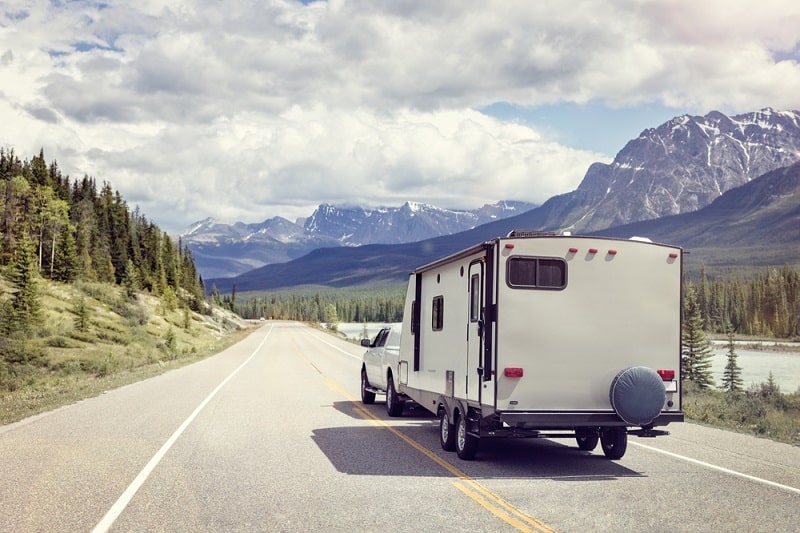 Many RVers are faced with intermittent Internet connectivity while traveling on the road. However, new technologies and the wider availability of broadband have created more options for connecting to the Internet while on the go.
In an environment that has become increasingly mobile, an RV is no exception to the rule when it comes to Internet access. In fact, with the increase in the availability of high speed public Wi-Fi and Wi-Fi enabled technology, there are many entrepreneurs who are choosing to run their business from their RV while they travel. Others are simply looking to stay connected to the Internet while on vacation or traveling in their retirement.


Staying connected has become important to many RVers with more travelers desiring to have both cellular phone service and Internet access. With new types of technology becoming available, RVers have many more options for Internet connectivity than they did a decade ago or even just a few years ago.
RV Internet Access Options
There are several options you can pursue when you want to stay connected on the go. In this article, we will provide you with an overview of some of the Internet access options that are possible so if one option is not available, you can opt to use another one.
1. Cable and DSL
When you are traveling on the road, you will find that there are an increased number of RV parks and campgrounds that offer cable or DSL Internet. Most of the RV parks and campsites will include Internet access with the rest of their services or, if they have a landline telephone and cable line, you may be able to establish a wired connection through your Internet Service Provider.
Although this is the least common way to establish Internet access, if you are staying in the same RV park for an extended period of time, this may or may not be an option you can consider. Some of the RV parks provide telephone lines at each site in the park. In this case, you can contact a telephone service provider such as AT&T to provide you with Internet access for a monthly fee.
The line is then connected to a DSL modem which is plugged into your wireless router to allow all Wi-Fi enabled devices you are using to connect to high speed Internet. If there are no phone lines provided but the RV park or campground has cable, you still may be able to acquire cable Internet access if you ask about your options. Additionally, it is important to keep in mind that you may not be able to acquire Internet access using this method, even if the RV park or campground has a cable and phone line. However, it doesn't hurt to inquire anyway so you know what your options are.
2. RV Park Wi-Fi
With the increased use and availability of wireless Internet, most RV parks now consider Wi-Fi access to be a required amenity. For this reason, many RV parks are now providing wireless Internet access as part of their regular services. Some of the parks and campsites offer Wi-Fi in a centralized location such as a shared common area, where others deploy antennas that are capable of broadcasting the wireless signal to remote areas of the park.
Wi-Fi access in RV parks and campsites can be convenient if you are concerned about exceeding your data limit with your existing Internet connection. This is typically the case with Internet access through your cellular connection and satellite Internet. The Wi-Fi connection in RV parks can serve as a backup to your existing Internet connection.
Additionally, more RV parks are offering free Internet access as a marketing tool. It is also a tool for attracting more RVers to the park, especially when competing RV parks are offering free Internet access.
3. Dial-Up
Although this option is being phased out with the inception of new technologies that require broadband, it should be mentioned since it still exists and there may be some RV parks and campgrounds that may use it. Additionally, services such as NetZero still offer free dial-up Internet access.
If the park or campsites uses it, you should be allowed to connect to a dial-up modem to access the Internet. This means you may have to move around the park to find the nearest access point. Dial-up is of course a much slower connection and may not suit the needs of RVers who run a business from their RV or have other tasks that require a high speed Internet connection. It most certainly will not fit the bill when it comes to streaming video and accessing on demand programming.
4. Configuration for Accessing Wi-Fi
Before you travel, invest the time to learn about the characteristics of each RV park as this will determine the quality of their Wi-Fi connection. Take the time to study the RV park profile, number of RVers that reside in the park, the location in terms of whether it is close to a nearby city or it is remote, and any obstructions that may pose an issue to the reliability of your connection.
Once you are familiar with the RV park characteristics, you can determine whether or not the RV park is using the best solution for providing reliable Wi-Fi. Typically the configuration involves the following technologies:
Wireless Router: The RV park owner typically chooses a wireless router that is not only cost effective but will provide customers with a reliable Internet connection. They can choose a wireless N router that runs on the 802.11n standard which is a common wireless standard used by most public access Wi-Fi hotspots. If they happen to choose a wireless AC router which is the newest standard, this will also work since the AC standard is backward compatible with 802.11 b/g/n.
Omnidirectional Antenna: An omnidirectional antenna is a receiving antenna that captures a radio frequency signal equally from all horizontal directions. In the case of an RV park, you should mount the omnidirectional antenna as high as possible to maximize the line of sight to the wireless access point provided by the RV park.
RP-SMA Extension Cable: RP-SMA stands for Reverse Polarity Sub-Miniature Version A which ensures compliance when establishing a connection using Wi-Fi equipment from the major manufacturers. This type of cable is used to connect the omnidirectional antenna to a router and is rather inexpensive at a cost of anywhere from $10 to $15.
One of the problems you may run across with an omnidirectional antenna is it may pick up interference from multiple directions. In this case, a sector antenna may be the better option since it provides a radiation pattern that is sector shaped. This allows you to focus on one area of the wireless signal, as opposed to trying to deal with multiple areas.
On the other hand, if the RV park owns and operates the Wi-Fi hotspot which is installed by one of the major carriers such as AT&T or Verizon, this is even better since it provides a Wi-Fi G4 connection. This ensures there is no interference with third party providers that could compromise the quality of the connection or the entire service altogether.
In a nutshell, there are three components that ensure a reliable Wi-Fi connection in an RV park. This includes the broadband Internet connection provider, the equipment that the RV park uses to deliver Wi-Fi to their customers, and the type of equipment being used on the part of the end user.
5. Public Establishments
Most public establishments such as a local coffee shop, mall, or library offer Wi-Fi access that you can connect to while you enjoy a cup of coffee and a sandwich, local shopping, or the quiet environment of a public library. This may not be a convenient option if you are traveling with an RV due to parking. However, if you are traveling with your car trailing behind, it presents you with another option for accessing the Internet.
Like RV Wi-Fi Internet access in a park or campground, the chances are good that the Internet connection is not secured so make sure you take the necessary security precautions when you access this type of Internet connection. This includes using WPA and WPA-2 encryption, a proxy or Virtual Private Network (VPN) connection, and refrain from entering any personal information over a public Wi-Fi access network.
6. Smartphone Hotspot
If you carry a smartphone such as an iPhone or Android, you can access the Internet with your tablet PC or laptop using your cellular phone as a hotspot. This is achieved by first making sure your data plan supports the hotspot function with your wireless cellular carrier. Then you can activate the hotspot by going into the Settings feature on your smartphone and activating the hotspot.
This allows you to use your phone as a hotspot and allow other wireless-enabled devices to connect to the Internet using the hotspot. Your smartphone service provider can set you up with the service which usually costs a little extra per month for the added convenience.
For those that are visual learners here is an example of how to activate a hotspot on your smartphone.
Use a Wireless AirCard
Your cellular phone service provider such as Verizon may offer wireless AirCards that you can purchase and then connect to your tablet or laptop PC. Once you purchase the card, it can be used for more than one device. An AirCard typically connects to your USB (Universal Serial Bus) port and then requires a simple software installation to configure the connection.
As an added tip, if you have multiple PCs when you are traveling, there are routers that you can purchase for simultaneous connectivity. Instead of plugging in the wireless AirCard to the USB port in your laptop, you simply plug it into the router to establish a wireless signal. This allows multiple devices to establish a connection to the Internet.


Deploy an RV Satellite Internet System
If you use your RV as a mobile office or you simply need to access Internet from anywhere, RV satellite Internet is the best option for connectivity. RV satellite Internet has significantly improved within the last few years and all you need is a clear view of the southern sky.
Although you can opt to use services such as Sprint, AT&T, and Verizon that are providing a wider area of coverage than in the past, RV satellite Internet is the only way to ensure you will definitely have Internet access at the most remote RV parks and campsites. The service provides high speed broadband Internet regardless of your location, but can also be costly when compared to other types of Internet access services such as cable or DSL.
An RV satellite Internet system is made of the following components:
Dish Antenna: This provides you with a connection to the nearest satellite signal provided by the satellite Internet service. This is the space satellite where you will receive the high speed broadband signal.
Mount: The mount is accompanying hardware that enables you to point the dish to the correct location in order to pick up the satellite signal.
Modem and Wireless Router: The modem is the device that allows you to connect your wireless router to the Internet connection. This enables you to connect wireless-enabled devices to the Internet such as your laptop or tablet PC.
Satellite Controller: This is a device that allows you to automate the process of pointing the satellite dish at the correct angle. It helps to eliminate hassles associated with climbing on top of your RV every time you want to use the satellite Internet service. The satellite controller automatically deploys the dish and tilts the dish to lock onto the satellite. The process only takes a few minutes and easily folds back down when you are ready to move on to your next location.
Most RV satellite Internet providers, furnish all of the components we discussed above and will install the system for you if you do not happen to be a do-it-yourselfer. The main manufacturers of the automatic systems are MotoSAT, Ground Control, C-com iNetVu, and AVL Technologies which you can learn more about on the RV Boondocking Adventure website.
For a quick demonstration of how an RV satellite system works, here is a video on the MotoSAT system.
Consider Millenicom
Millenicom is a new mobile broadband service that offers unlimited or almost unlimited access to 3G and 4G mobile broadband with requiring a contract. When you sign up for the plan, you can access an unlimited amount of data for $69.99 per month with a one-time activation fee of $49.99.
Millenicom sends you a mobile broadband unit that connects via USB. The fee for shipping the device is $15 plus, you can cancel the service at any time. The Millenicom service is intended for personal use and provides nationwide coverage in the United States. In order to access the service, you must use a pre-existing device that is compatible with Millenicom. Most devices will work with the service but it is wise to contact Millenicom to be sure you can use your existing device.
It is important to mention Millenicom prohibits the use of its service as a public Wi-Fi hotspot. If a user exceeds 50 gigabytes (GB) of data usage, Millenicom will suspend the account and investigate. So, in this regard, there is a data usage limitation of 50 GB.
Millenicom also offers a Mobile Hotspot plan with 10 GB of data usage for 4G access and 20 GB of data for 3G access. Switching between 3G and 4G according to availability is a seamless process and the service supports Virtual Private Networks (VPNs) and the 802.11 b/g/n wireless standards. The service is $69.99 per month and allows you to connect up to five different wireless-enabled devices. The hotspot device costs $99.99 with a one-time shipping fee of $15.
The following video provides a demonstration of how Millenicom works for RVers.
Boosting a Weak Internet Signal
Regardless of where you travel, you are bound to encounter a situation where you are struggling to find a strong Internet or cellphone signal. A weak wireless connection can set you back in terms of work if your office is in your RV and it can render smartphones with the latest technologies useless. This is where a device such as the Wilson Sleek 4G can help strengthen your Internet connection and speed up data transfer speeds.


The Wilson Sleek 4G amplifies the signal by boosting the signal reception from nearby cell towers. Typically, this type of device is capable of providing up to 20 times the power of most cellular antennas. If you are able to access wireless cellular services where you are located, this is one of the options for creating a faster and more reliable connection to the Internet. Here is how it works:
Conclusion
These are a few of the new options you have when it comes to obtaining RV Internet access. The topic of accessing the Internet while on the road is one worth following since there are new technologies being made available on a consistent basis and more access points being established by wireless carriers. Plus, more RV parks, campsites, and other venues are realizing the importance of providing Internet access to those who prefer to live life on the road.