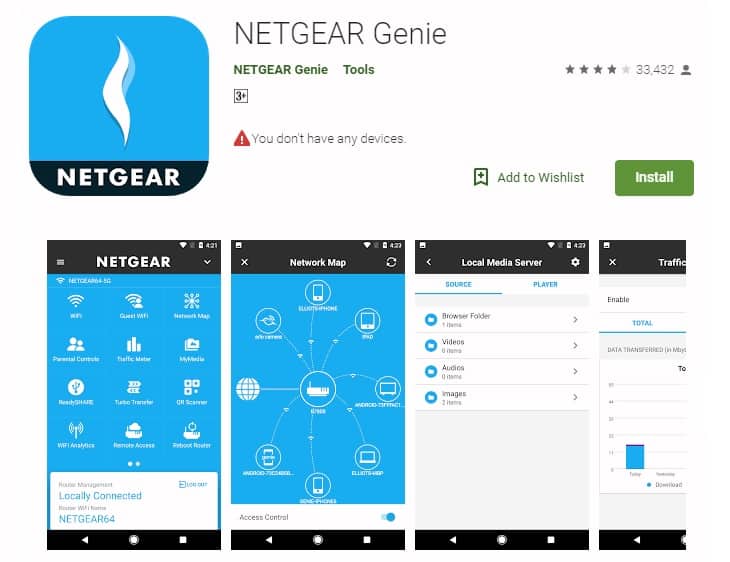 NETGEAR and other vendors such as D-Link are creating more apps to make network devices easier to install and manage on your home network. The NETGEAR Home Monitoring Apps helps you to use your PC or mobile device as a convenient remote control.
NETGEAR, a leading global provider of networking equipment offers the NETGEAR Genie mobile app which is available in the iTunes store and the Google Play store. The NETGEAR Genie mobile app won the Innovations Design and Engineering Award at the Consumer Electronics Show (CES 2012) for its efficiency in monitoring your home network from the palm of your hand. The app is available for Apple iOS and Google Android devices, as well as PCs, Macs, the iPad and the iPhone.
How NETGEAR Genie Mobile App Works
NETGEAR Genie mobile app allows you to turn your mobile device into a remote control that monitors and operates components in your home network. The NETGEAR Genie helps you to monitor and control your home network by using a compatible router. The router provides comprehensive access to all parts of your home network, including home security monitoring.
Some of the features which are included in the NETGEAR Genie mobile app include:
Home Network Map
NETGEAR Genie provides you with access to a comprehensive map of your home network which offers an easy to read diagram of the network. The network map assists you with the identification of any unauthorized access events and unwanted devices which are connecting to your network. The app also provides you with a way to block devices and unwanted network users, such as neighboring houses which are piggybacking on your network.
Parental Controls
With NETGEAR Genie mobile app you can operate the parental controls from the palm of your hand to prevent your children from accessing inappropriate content and other applications on your home network. The controls can be operated with the app, even when you are not at home. This feature allows you to control your children's friend's access to your home network.
Usage Meter
The broadband usage meter helps you to keep track of bandwidth and the amount of broadband you consume on your home network. This can be especially useful if you are connected to a 3g or 4G network through your cell phone carrier.
Guest Access
If you have a friend that you would like to allow temporary access to your home network, you can operate the guest access controls using the NETGEAR Genie mobile app. It is not necessary for you to be on the premises to grant permission for a guest to access your home network.
MyMedia
Using the NETGEAR Genie mobile app, you can locate multimedia on your home network and then play it back on any compatible media device. The multimedia includes music, videos, and digital photos. You can transfer any multimedia to a Smart TV or other compatible device which is DLNA certified.
DLNA stands for Digital Living Network Appliance and is a set of standards that allow devices to be recognized with no setup requirements. A DLNA device means that the device is a member of your home network and can communicate with any other type of devices that are also DLNA certified. The NETGEAR Genie mobile app also allows you to turn your mobile device in a media controller, player, and server that is DLNA certified through MyMedia.
AirPrint
The NETGEAR Genie app offers an AirPrint feature that allows you to convert your USB printer to an AirPrint printer. This enables your iOS devices to access printers that are connected to the same network. The AirPrint feature is accessible from Safari, Notes, Photos, Mail, and other apps that have print capability. AirPrint is an application that can only be used with Apple devices plus, your NETGEAR router must be able to support the AirPrint app.
For visual Learners, here is a video that demonstrates the Genie app.
Other Components
You can obtain the NETGEAR Genie mobile app at no cost however, you must have a NETGEAR wireless router which is compatible with the app. To determine if your router is compatible, you can visit the NETGEAR website to find out if the specific model router you have is compatible with the NETGEAR Genie mobile app.
In addition to the NETGEAR Genie mobile app, the company offers a Media Storage Router and Wireless Dual Band Gigabit DSL Modem Router. The Media Storage Router is offered in a variety of models such as the WNDR4700 which provides up to 900Mbps (megabits per second) of wireless broadband speed. A DSL router such as the DGND4000 offers wireless dual band gigabit that allows devices to connect to a network at high broadband speeds.
The DGND4000 combines a high quality DSL modem with a wireless router which is capable of delivering high speed broadband connectivity of up to 750Mbps. This accommodates demanding applications such as high definition video which cannot function properly at slower speeds.
There are a variety of NETGEAR router models that provide additional features which include ReadyShare which allows easy access and sharing with a variety of features and function. ReadyShare offers six different features which include:
USB Storage Access: This function in ReadyShare allows you to share access to a USB hard drive from any PC that is connected to your home network. The USB hard drive is connected to the router and offers instructions and a PC utility for quick and easy setup.
Printer: The ReadyShare Printer feature provides wireless printing capabilities via a USB printer and includes a PC Utility, MAC Utility, and instructions for easy setup.
Access and Sharing in the Cloud: The ReadyShare Cloud feature provides easy access and sharing of files using an external USB hard drive. You can access the files from any location where there is Internet access. ReadyShare Cloud includes a Mac Utility for MacOS X 10.6.0 or higher, how-to video, Mac Utility User Guide, and instructions for easy setup.
DLNA: The DLNA feature in ReadyShare provides a way to store videos, music and photos via a connected external USB hard drive. The hard drive can be connected to any game console, media player, or DLNA connected television for playing videos and viewing music and photos stored on the hard drive. This feature includes how-to videos for both PC and Mac for easy setup and installation.
Time Machine: The Time Machine provides a way for you to configure automatic backups for your Mac System and supports GUID (Globally Unique Identifier) Partition Table and Master Boot Record in partition format when you setup Time Machine on your MAC. This feature provides instructions for easy setup along with a support web page from Apple.
Vault: The ReadyShare Vault is a feature designed for Windows PCs and provides a way to schedule automatic backups on your home network. The Vault function includes a PC Utility that steps you through the setup and configuration process.
In addition to the six features and functions included in ReadyShare, the application also offers an additional feature known as Network Support that provides tools for troubleshooting network problems. The tools include Traceroute, Ping, and DNS (Domain Name Server Lookup).
Traceroute helps you to monitor data packets that are transmitted from your PC to the host by using route identification.
The Ping utility provides a way to test the path between your PC and a specific destination you identify. The DNS Lookup allows you to locate the IP address of a host name such as a website.
The last feature in the Network Support function is the Computer Profile function. This feature provides a way to view the details related to your PC, such as operating system functions and current network connections.
It is important to mention that not all of the ReadyShare features are compatible with all NETGEAR routers. When you access the ReadyShare page, NETGEAR lists the routers that are compatible with specific features and functions in ReadyShare.
A great resource for acquiring a complete overview of NETGEAR Genie and ReadyShare is the comprehensive manual NETGEAR provides. There is a section in the manual that explains the Network Support function in detail, in addition to other ReadyShare features we discussed earlier.
Conclusion
The new variety of apps that help you monitor and manage home networks is a giant step forward. However, many of the vendors need to improve upon distinguishing apps from the conventional network management interface. NETGEAR Genie requires you to access the IP address of your NETGEAR router using your web browser each time you perform a setup and configuration of the features and functions we discussed in this article.
Using the Genie app means that you are constantly referring to both the app and the Graphical User Interface (GUI). Instead, NETGEAR and other vendors should create distinction between the two entities so users understand when they are accessing the Graphical User Interface and when they are accessing the app.
Overall, the NETGEAR Genie app is a major step forward for monitoring and managing devices on your home network. As NETGEAR and other vendors continually improve the functionality of their network monitoring apps, it is likely we will see more innovations that will make network management easier.