A lot of us, including your intrepid blogger, have "cut the cord" in favor of over-the-top (OTT) programming streamed from the Internet. However, many viewers like to record and save video to watch at a later time by using a set top DVR such as TiVo or a DVR leased from their MSO (cable provider). So how can one record programming from OTA television broadcasts received by an antenna? One option is the Nuvyyo Tablo.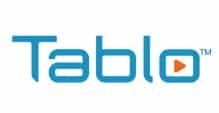 A Brief History of the Digital Video Recorder (DVR)
Seems like digital video recorders have been around since the onset of cable TV but some of us oldsters remember the debut of the DVR in 1999 with TiVo. It was a revolutionary product for its time and the first to record televised content onto a readable fixed hard disk.
Prior to TiVo, people would have to fire up a video cassette player (VCR) and record content onto tape stored in a removable cartridge. But as viewers quickly discovered, it could be a major pain fast-forwarding and rewinding a multi-hour tape just to find the desired episode of a TV show or the part of a movie they wanted to watch. Too, viewers wanted the option of watching and recording video at the same time, a capability not available with VCRs.
TiVo introduced a number of innovative features to DVR viewers including a patented pause/rewind/replay option to up to 30 minutes of recently watched TV and more recently a local area network (LAN) capability to view video and website information from the Internet. TiVo has pretty much branded itself to DVRs just as Coke did with cola and has a number of different models available from Amazon.
But the DVR has evolved with the times. While TiVo may be the granddaddy of DVRs, there are other products specifically designed for streaming programming from live, over-the-air (OTA) television and the Internet. Which means no need to design a personalized, seamless, stand-alone PC-based media hub—a hassle in the extreme for anyone, let alone tech poseurs like your intrepid blogger.
Tablo—"Watching TV on Your Terms"
According to Matthew Moscovciak of CNET, the Nuvyyo Tablo "is one of the most exciting over-the-air recording solutions to come out in years." See the CNET video below extolling the virtues of Tablo:
Tablo is what is known as a "network-based OTA DVR." Unlike legacy DVRs, a Tablo isn't directly connected to a TV set but instead wirelessly streams both live and recorded video content to HDMI-compliant devices like Apple TV, XBox One, Chromecast and Roku boxes. Note that Tablo itself does not use HDMI but connects to an Internet router using either Wi-Fi or Ethernet, which then in turn wirelessly streams to media players connected to TVs or to mobile wireless devices.
An unobtrusive black box equipped with an Ethernet port, two USB ports, a power port and a coax antenna port (but no HDMI port), the Tablo can "stream live and recorded OTA HDTV content to as many as 6 devices on your local network at the same time. Or if you're on the go, you can stream live and recorded programs over Wi-Fi or 3/4G wireless connections."
As we noted some months earlier in our article on HD antennas, HDTV signals broadcast OTA are uncompressed. MSOs compress the DOCSIS signal transmitted across coax or fiber to the home to save bandwidth for "triple play" (video/voice/data) services. With Tablo OTA, you'll receive a glorious HDTV reception (and someday content formatted for 4K UHD TV with HRD), one far superior to the TV images typically transmitted by the cable company.
You would expect Tablo to come with dual-band Wi-Fi; of course it does. This allows for optimal location of both the antenna and the DVR for OTA reception. If a number of wireless devices share bandwidth in your home, do your WLAN a favor and connect the Tablo to the router via wired Ethernet, which will also provide full-duplex communication between the two devices. Depending upon distance and obstructions from router to the media player, use the 5 GHz spectrum for the Tablo and the router and the 2.4 GHz spectrum for all other wireless devices in the home.
The Tablo Starter Kit
To use Tablo, you'll need the following:
An Internet connection
An HDTV antenna
A USB hard drive; used for both recording content and viewing live TV broadcasts
An Android tablet with 4.1 or higher OR an iPad with iOS 7 or higher OR any computing device (e.g., laptop or smartphone) running the Chrome browser.
For viewing video content on a home HDTV, you'll also need a media player such as Roku Set Top Box/Roku Streaming Stick, Android/Apple TV, Amazon Fire TV/Fire TV Stick or a Chromecast dongle sourced from an Android device or Chrome browser. Another option employs the Tablo app by connecting a TV with an HDMI cable to an HDMI-capable computer. Or you can bypass intermediary devices completely by connecting directly to most LG webOS 2.0 and 3.0 TVs. (See our take on webOS TVs here.)
From YouTube, here is a video produced by Nuvyyo pitching Tablo to the masses:
2 Tablos 4 U
Nuvyyo offers two Tablo models: one with two tuners, the other with four. What's the difference? If your family doesn't need the option of recording more than two shows at once, a 2 tuner Tablo should suffice. On the other hand, if the need arises to record three or four shows simultaneously, the 4 tuner is the model for your family. Just remember, a tuner doesn't multitask, i.e., record a show while allowing someone to watch it simultaneously. So if someone wants to watch one show while recording two others, the four tuner model will be needed.
With that in mind, Amazon currently offers the 4 tuner Tablo at a 7% discount compared to buying direct from Tablo. We also recommend that you consider purchasing the optional electronic program guide (EPG) to facilitate recording programs on the Tablo. It's available at US$4.99/month, $49.99 annually or $149.99 for a lifetime subscription. Tablo units come with a 30 day trial subscription. Note that TiVo charges $15 per month for their EPG.
Coda
There are other "OTA DVRs" on the market—Channelmaster DVR+, SimpleTV, HDHomerun and of course, the venerable TiVo—but the one closest to Tablo in concept is SimpleTV. For an in-depth comparison of all four, see this. Also be aware that currently Tablo is available for only those who reside in the U.S. and Canada.
If you've read this far, you'll be happy to know that Tablo is highly regarded by most everyone who's had the chance to use the product. At Amazon, 64% of the 1,200+ who've reviewed Tablo rate it either 5 or 4 stars. Tablo also offers a number of 3rd party apps ("Plex," "Rippers," etc.) from an active and engaged user community. For those possessing basic tech savvy, they'll probably be more than pleased with what Tablo has to offer.