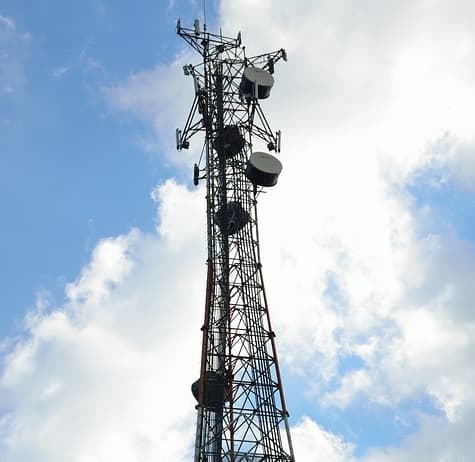 Long Term Evolution, or LTE, is the cellular technology driving today's mobile devices. As we mentioned previously, comparing 4G to LTE is like describing a stop on a long journey with 5G the next destination on the horizon. Also, LTE is not so much a technology per se but but a wireless Ethernet protocol backwards compatible with 2G (GSM aka Global System for Mobile Communications), CDMA (Code Division Multiplex Access—both 2G and 3G) and 3G (HSPA or High Speed Packet Access).
To be considered LTE, data connection speeds should be in the range of 100 Mbps downstream and 50 Mbps upstream, which describes LTE-A (Advanced) since so-called "LTE 4G" mobile devices flooded the market before actually delivering the standard of performance associated with LTE.
Trip the Spectrum Fantastic
As we know, cellular devices connect through the use of radio spectrum. Nations across the globe license rights to the electricmagnetic spectrum; part of this spectrum is used by cellular providers. In the U.S., the Federal Communications Commission (FCC) since 1994 has auctioned radio frequencies to the highest bidder. Since spectrum is finite and much of it is already in use, radio frequencies used in wireless are a valuable asset and licenses are a highly sought-after commodity.
In the U.S., much of the spectrum originally used for legacy cellular technologies like 2G has been repurposed for LTE. The block of frequencies used for LTE worldwide is divided into 70 bands ranging from 450 MHz to 5200 MHz; frequencies most utilized are from between 700 MHz to 2600 MHz. LTE spectrum use in North America is summarized in the table below, followed by a glossary. Note that only major carriers are listed. This range of frequency bands is used across the globe.
e-UTRA Band
Duplex-Mode
Frequency (in Mhz)
Common Name
Country - Carrier
2
FDD
1900
PCS-AF
USA - Verizon, AT&T
4
FDD
1700
AWS-AF
USA - Verizon, AT&T
5
FDD
850
CLR
USA - AT&T, U.S. Cellular
7
FDD
2600
IMT-e
Canada - Bell, Rogers, Telus
12
FDD
700
LSMH A/B/C
Canada - Bell; USA - AT&T, T-Mobile, U.S. Cellular, others
13
FDD
700
USMH C
Canada - Bell, Eastlink, Feenix, MTS, SaskTel, Telus, Vidéotron;
USA - Verizon
14
FDD
700
USMH D
USA - Public Safety
17
FDD
700
LSMH B/C
Canada - Rogers; USA - AT&T, T-Mobile
24
FDD
1600
L-Band
USA - Ligado Networks (formerly Lightsquared) no assignments
25
FDD
1900
EPCS A-G
USA - Sprint
26
FDD
850
ECLR
USA - Sprint
29
FDD
700
LSMH D/E
USA - AT&T
30
FDD
2300
WCS A/B
USA - AT&T
66
FDD
1700
EAWS A-J
USA - Freedom Mobile
70
FDD
1700
USA - Dish Networks, no assignments
Not Assigned
FDD
2300
WCS C/D
USA - AT&T
Glossary:
e-UTRA—evolved UMTS (Universial Mobile Telecommunications Service) Terrestial Radio Access. The LTE radio access network replacing 3G.
FDD—Frequency-Division Duplex. Compare with Time-Division Duplex used by some Asian carriers.
PCS—Personal Communications Services.
AWS—Advanced Wireless Services.
EAWS—evolved Advanced Wireless Services.
CLR—Cancel Location Request.
IMT-e—International Mobile Telecommunications (or Telephony)-evolved.
LSMH—Lower 700 Megahertz.
USMH—Upper 700 Megahertz
L-Band—1-2 GHz operating frequency range.
EPCS—Evolved Packet Core Switching.
ECLR—Egress Cell Loss Ratio.
WCS—Wireless Communications Services.


WCS Spectrum
Source: fcc.gov

 Strike Up the Bands
First, let's mention two facts of physics. One, lower frequencies reach greater distances than higher frequencies. To illustrate, perhaps the reader recalls our skepticism regarding the commercial viability of millimeter wave (MMW) technology. Two, higher frequencies support greater data capacity than lower frequencies. This is why Wi-Fi IEEE 802.11ac (5 GHz) carries more data than 802.11n (2.4 GHz). And we're all too familiar with the limited range of Wi-Fi.
Given a carrier's need to serve the various demands of their subscribers, they need a number of different frequency bands, preferably distributed over the range of 700 MHz to 2600 MHz. As the table above indicates, nine of the 16 LTE bands in North America are either 700 or 850 and licensed by most of the main mobile network operators (MNOs) aka carriers.
Since a frequency band carries a finite amount of capacity, it behooves the MNO to have more than one band to accommodate all of its subscribers. Also, FDD requires two separate bands for simultaneous use, i.e., one talk path (uplink) and one receive path (downlink). While separate frequencies are not absolutely required for voice traffic, FDD is an efficacious use of bandwidth—even if not as efficient as TDD— with low latencies, lower signal interference and provides an overall superior user experience. Too, multiple bands allow for load sharing, as the MNO can then assign traffic over various frequencies in order to maximize network capacity.
For insight into FDD and TDD, watch this video from Asia's 'LTE':
Below is the allocation of licensed operation for LTE Spectrum across the United States. Note that blocks of spectrum among bands may be shared between major MNOs as well as smaller startups. For example, AT&T, Verizon and T-Mobile share Bands 2 and 4. In addition, AT&T uses Band 17 across most of Texas while regional MNO Evolve Broadband (as well as many others) is licensed to operate on the bandwidth in certain smaller markets in central Texas.
Summary of U.S. MNO LTE Band Usage
| MNO | Bands/Frequencies (in MHz) |
| --- | --- |
| AT&T | 2/1900, 4/1700, 5/850, 17/700, 29/700, 30/2300 |
| Verizon | 2/1900, 4/1700, 13/700 |
| T-Mobile | 2/1900, 4/1700, 5/850, 12/700 |
| Sprint | 25/1900, 26/850, 41/2500 |
| Adams Networks | 17/700 |
| AlaskaComm/GCI | 4/1700 |
| Big River Broadband | 4/1700 |
| BIT Broadband (Wildfire) | 12/700 |
| Bluegrass Cellular | 12/700 |
| C Spire | 2/1900, |
| ClearTalk | 2/1900, 4/1700 |
| Colorado Valley Com | 12/700 |
| ETC | 12/700 |
| Evolve Broadband | 17/700 |
| Infrastructure Networks | 12/700 |
| iWireless | 2/1900, 4/1700 |
| Limitless Mobile | 32 |
| Si Wireless/Mobile Nation | A Sprint "rural LTE roaming partner," hence bands 25, 26 or 41 |
| Mosaic Telecom | 12/700 |
| Nex-Tech Wireless | 12/700 |
| Nortex (SkyFi) | 17/700 |
| PTCI | 12/700 |
| Pine Belt Wireless | A Sprint "rural LTE roaming partner," hence bands 25, 26 or 41 |
| Redzone Wireless | 41/2500 |
| Rise Broadband | 41/2500 |
| Rock Wireless | 12/700 |
| Silver Star | 12/700 |
| Space Data Corp | 4/1700 |
| Speed Connect | 41/2500 |
| Syringa Wireless | 12/700 |
| U.S. Cellular | 5/850, 12/700 |
| United Wireless | 12/700 |
| VTel Wireless | 4/1700, 17/700 |
| West Central Wireless | 12/700 |
Coda
Fast facts from the GSA (Global mobile Suppliers Association) as of January 2017:
790 operators investing in LTE in 201 countries
764 operator commitments in 196 countries
581 commercially launched LTE, LTE-Advanced or LTE-Advanced Pro networks in 186 countries
102 operators commercially launched VoLTE-HD voice service in 54 countries
7,037 LTE user devices announced (GSA-January 13, 2017)