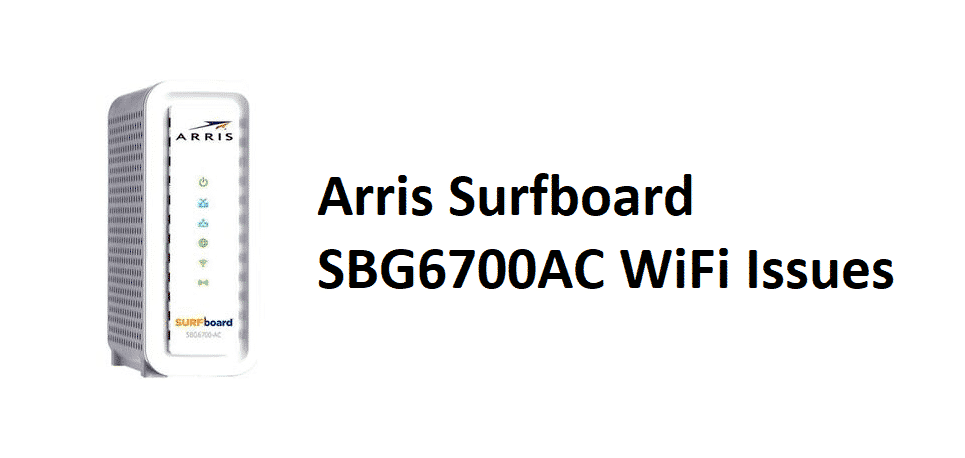 Arris is one of the most major hardware manufacturers for networking equipment and most major ISPs are using the equipment for their subscribers. With that being said, Arris Surfboard SBG6700AC is one such modem that is being used for multiple service providers including Comcast, Spectrum, Cox and more.
The modem offers Docsis 3.0 cable support and on top of that, it also has a built-in Wi-Fi router that you can use to connect your devices wirelessly over the internet. So, it is a great choice to have until you start having issues with the Wi-Fi and here is how you can have them fixed.
Arris Surfboard SBG6700AC WiFi Issues
1) Check on the Internet Connection
The first thing that you need to ensure is that your internet connection is working fine. For that, you can connect any wired device with the same modem and that will allow you to establish a better understanding if your internet connection is working fine. You can also take the input cable off the modem and try connecting it with a device like a laptop or PC that supports it and that will allow you to check on the line in a better manner. If the line is not working fine, you will need to contact your ISP and they will be able to make it work for you.
If the line is alright, then you can move on to other troubleshooting steps to fix your Wi-Fi issues with the router.
2) Check Settings
Another thing that you should know about the Arris Surfboard SBG6700AC is that it has an option in the interface to turn the Wi-Fi on or off. If you have it at Off, it will simply work as a modem and you will not be able to establish any connection over the Wi-Fi. To rule out that possibility, you will need to access the control panel for your router and make sure that the Wi-Fi is not only turned on there but it is also optimized at the best settings.
Even if the Wi-Fi switch is at on position, you can toggle it off and on once and that is going to fix all such sorts of issues for you. If that doesn't work, you need to make sure that the MAC filtering is turned off, the VPN is disabled and that your Wi-Fi router is running at 2.4Ghz frequency for better connectivity across all the devices that you might be using.
3) Reset the modem
If you are unable to make it work even after trying all of the troubleshooting steps above, then you might need to reset the modem to its default settings. This is going to fix all of the problems that you might be having with the modem and router and you will be able to optimize Wi-Fi settings all over again from the very scratch to make them work for you without getting any sorts of issues that might be causing you to face problems with the working or connectivity over your Wi-Fi connection.