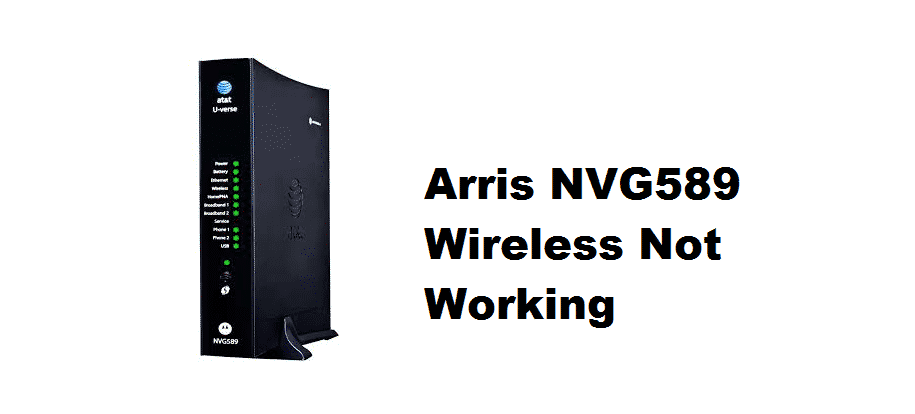 Arris NVG589 is one of the best modem/routers you can get for your office/home usage. It features tons of perks that give it an advantage over any other router. The best thing is that it supports all the cable types that you can have. You get a coaxial port, a port for your traditional telephone line also known as DSL, a dedicated CAT port, and even a USB port on it. You also get 4 ethernet ports on the router that allow you to connect your PC, gaming consoles, Smart TVs, or even other switches to connect more devices through an ethernet connection with the router.
But the best part is that you also get the Wireless feature that allows you to connect other devices through Wi-Fi on the router. Although, setting it up is not an easy task as you might have to face some difficulties over it. There are also some issues that you may encounter and here are simple fixes for them.
Arris NVG589 Wireless Not Working
1) Check with your ISP
Arris NVG589 is mostly used by ISPs to offer them to their consumers for internet usage. AT&T uses it widely over the US, and most consumers from AT&T must be familiar with the device. However, ISPs sometimes have restrictions on Wi-Fi according to your package. Your connection might not support Wi-Fi coverage, or if you have arris NVG589 from your ISP, they might have restricted it. You need to contact your ISP and check it with them if there is any such arrangement. You can fix it by upgrading your package and enabling Wi-Fi services on your network.
2) Enable it in the Settings
Since Arris NVG589 is essentially a modem, you might have the Wi-Fi option disabled in the router settings. You will need to log in to your router admin panel and check if the Wi-Fi is enabled there. Make sure that you restart your router after you have enabled the Wireless option in the settings for the changes to take place effectively.
3) Restart your Router
If your Wi-Fi was working fine and it stopped working all of a sudden, you might need to restart your router as it might have crashed. A simple press on the power button will shut your router down and you can restart it by pressing the same power button. This should do the trick for you and you will be able to use Wi-Fi again.
4) Reset your Router
The next thing to do would be to reset your router to its default settings. You need to ensure there are no settings conflict or any similar issues that might be blocking your wireless access. Resetting on this device is a bit tricky as there is no physical button on this router as you might find on the latest modems or routers. You will need to long-press the power button from around 10 seconds until the lights flash on the router. If you don't keep it pressed for 10 seconds at least, it will simply restart the router and you will have to repeat the process again.