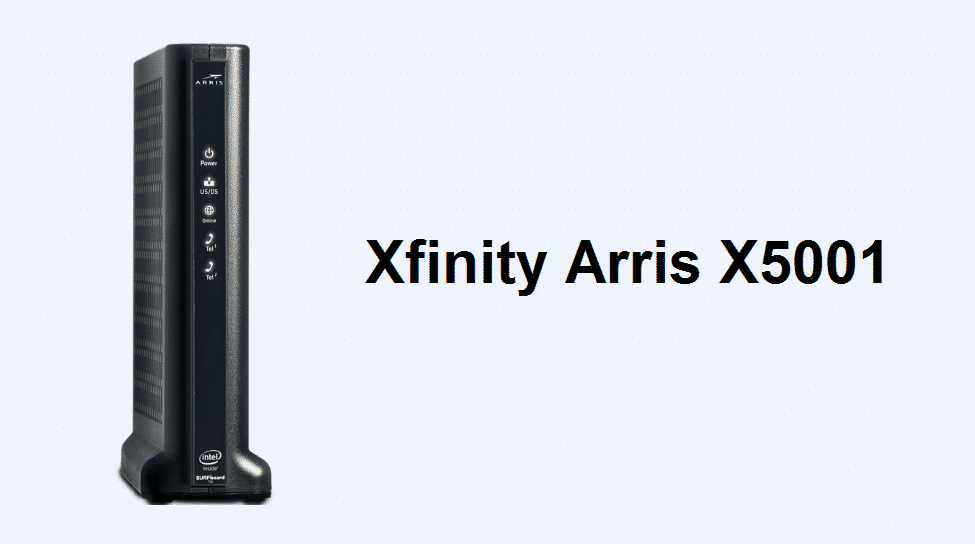 Xfinity Arris X5001 is a WiFi gateway solution that provides complete coverage and connectivity for your home at high speed using the Fiber to the Unit. It is one of the most used Xfinity gateways for the past few months and overall it has enjoyed decent reviews from the customers. If you are looking for a new gateway for your home internet, then Xfinity Arris X5001 can be a pretty good choice. To help you make your decision and to expand your knowledge, here is a complete review of the unit along with its specifications, pros, and cons.
Xfinity Arris X5001 Review
Xfinity Arris X5001 is one of the xFi Fiber Gateways by Xfinity that allows you to browse the Internet at high speeds. It features a maximum data throughput of 1 Gigabit which is more than enough for most internet users. It is ideal for home usage and it provides complete coverage in your home area. You can enjoy the benefits of high-speed WiFi through Xfinity Arris X5001. The device itself looks quite sleek and modern so there is probably no need to hide it. The device activation and installation processes are quite easy. Xfinity gives a complete guide as to how you can activate and start using the device.
Specifications:
Having the model number Arris X5001, the gateway unit is more commonly known as XF3. It has 4 Gigabit Ethernet Ports. It also has a Band WiFi Option. The maximum data throughput for the unit is 1 Gigabit per second. It features a WiFi protected setup and has a gateway management tool as well. Arris X5001 is Xfinity xFi eligible and it does not require Xfinity app activation.
Arris X5001 has two telephone ports and battery backup capability as well. It does not link to cordless phones. The unit also has home hotspot capability and as well as Xfinity Home compatibility. It can easily cover most of your everyday browsing and streaming needs. You can enjoy high-quality HD live streaming and videos with ease, depending upon your Internet package.  Also, this gateway is a reliable option for professional gamers.
Most of the professional gamers are satisfied with the results from the gateway. However, a handful of gamers have reported facing issues with their internet while playing games that require high data transfers in real-time. Xfinity Arris X5001 is also a perfect gateway to take care of your work needs. It is reliable and you can expect it to work well during crucial zoom meetings or other work-related activities.
Hardware Recommendations for the Gateway
If you want to make the maximum use of the Arris X5001 gateway then it is recommended to use a computer with the following minimum specifications.
The recommended CPU is at least P4 with 3 GHZ speed or faster.
The minimum recommended RAM is 1 GB.
The recommended hard drive is 7200 RPM or faster.
The recommended Ethernet is Gig-E (1000 Base T)
Although these PC specifications are the minimum recommended ones, you might still be able to use Arris X5001 with lower specifications. However, to get the advantage of the maximum speed and quality of the device the above-mentioned minimum computer specifications are recommended.
Pros:
Here are some of the major pros of Xfinity Arris X5001.
It is a trusted wireless gateway that provides a stable Internet connection for everyday use.
It features dual-band WiFi.
It is Xfinity xFi Eligible.
It is easy to set up using the guidelines provided by Xfinity.
Cons:
Like all other gateways, Xfinity Arris X5001 also has a few cons.
It cannot be activated through the Xfinity app.
The 1 Gigabit maximum data throughput might not be enough for extremely high-speed gaming or other tasks that require faster Internet connections.
Conclusion:
If you are looking for a stable home internet solution, then Xfinity Arris x5001 is a reliable option. It will take care of your cable and WiFi internet needs. It ensures a sufficiently fast Internet connection. It will easily cover your browsing, streaming, gaming, and work needs. There are a few higher gateways available that feature higher speeds, but most of the users can do fine with Arris x5001. It also enjoys decent reviews among the users and is one of the best gateways currently offered by Xfinity.