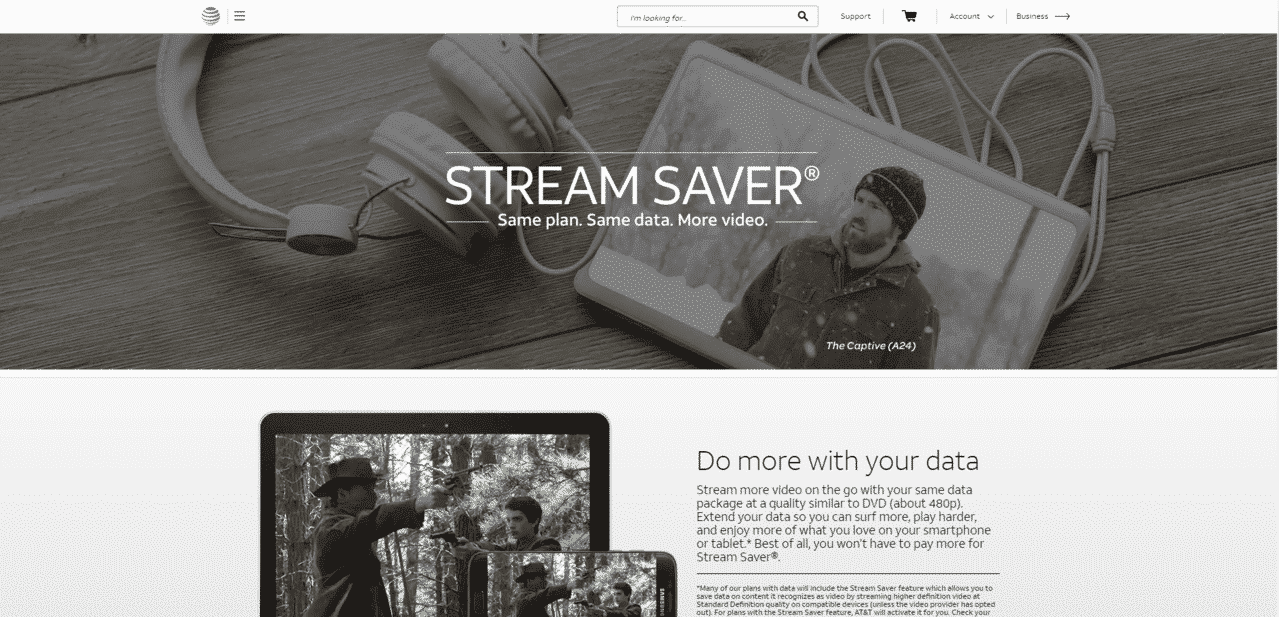 What Is AT&T Stream Saver?
Stream Saver is a technology that lets you watch many more videos of Higher Definition quality similar to that of DVD on your wireless device while consuming lesser data than usual, so you can have a quality time spent watching your favorite videos over your cell phones or tablets.
You can obtain control over the streamlines which your account on Stream Saver has streaming and can turn it on or off according to your wish at any time after the activation of AT&T.
This feature adds up your chances of enabling you to more emailing, internet or wireless device, e-shopping, listening to music, navigating, and nonetheless, more access to watching videos.
AT&T Stream Saver is considered to have a DVD standard quality of 480p, though not to confuse it with HD quality, which is reserved for 720p and 1080p, doubled the resolution of DVD quality. Precisely, Stream Saver is designated only for streaming a video, nothing more than this, which means if you want to switch to higher quality music, you can still use Stream Saver to stream music at the highest bitrate consuming data comparable to an HD video.
The best part about the AT&T Stream Saver is that you have got the choice if you still want to stream video in higher resolution whenever it is available. It is your wish to turn off or turn it on to have adequate control over your Stream Saver service.
Though if you are a business consumer, you can switch it off or on for any of the qualified lines on my AT&T service. Keeping in mind that the switching option is entirely free of cost and does not charge.
AT&T Stream Saver has been enabled on most of the postpaid rate plans that contain data for the consumers. This service has already been a part of most of the existing plans (eligible plans). The eligibility shows that if Stream Saver is not included in your plan, your plan has not entered eligibility criteria then.
How To Enable AT&T Stream Saver?
The chances are clear that AT%T Stream Saver enables itself automatically without the push. However, for first-time users, they can mistakenly turn it off in the 1st month. No need to worry about, as the service can be turned on with you following steps:
Log in to your personal AT&T Stream Saver wireless account.
Steer to your plan's summary on the web page.
At the bottom of the web page, the "Manage Data" option showing up on Usage.
Now you can toggle the AT&T Stream Saver switch on and off according to your requirement.
For switching on back your AT&T Stream Saver, follow up the above instructions precisely.
Wait for the fiver minutes after switching On your Stream Saver.
Restart your wireless device.
The AT&T Steam Saver will start working accordingly.
How Does It Work?
AT&T Steam Saver service can be of great use to your short-termed and limited data activation plans. However, it can prove to be overkill to your ideas if they are based on universal and prolonged terms. If you are eligible and appropriate to use the service under the short term plan, you can enjoy endless videos you are streaming in the complete high resolution.
Though it will not harm you in any way if you disable the AT&T Stream Saver service after it has remained On by default for the eligible AT&T consumers for a long time, as it is their own choice.
How to turn off AT&T Stream Saver?
Follow these simple and direct steps to turn off your AT&T Stream Saver:
Go to your wireless AT&T Stream Saver account, log in.
You can have access to your wireless account interface, make sure to tap on the myAT&T tab showing upfront the header.
The screen will display your plan(s) and line(s).
By clicking on the Usage button, the Manage Stream Saver link will appear.
Knob over the AT&T Stream Saver button.
Click "Save."
Wait for five minutes.
Reboot your wireless device.
Then the effects will display according to the settings you brought.
What Videos Are Applicable To Stream Saver?
Since AT&T Stream Saver does not apply to all the videos, it is designated for particular videos. So basically, the purpose of AT&T Stream Saver is to identify the content of the currently streaming video and adjust the data speed. Higher definition video's resolution prescribed Standard Definition quality of about 480p.
This adjustment allows the consumers to stream unlimited videos of their choice utilizing an equal amount of data. Thus, the Stream Saver does not apply to the content, which is not identified as video content. In addition to this, other factors can potentially affect your streaming ability and video resolution.
Though, the technicians are still working on improving the ability of the AT&T stream Saver to identify video content more effectively, which later can be added up with the video streaming sources.
How To Balance A Business Account With AT&T Stream Saver?
With the AT&T Stream Saver, you can facilitate your business account by having access to Premier. For that, follow these quick steps:
Navigate to Premier.
Select the options of "View account" and "Usage," it will display "I want to" dropdown.
Select "wireless number" from the "Lookup Type" dropdown, input the wireless line that you are updating.
Select "Go."
Right under the "Usage" settings, "Stream Saver" will appear of the line is eligible. The range is likely if Stream Saver displays.
Tap on the "Change."
Follow the instructions.
Wait until five minutes.
Reboot your wireless device.
In case, if the Stream Saver feature does not display, your line is not eligible.
Final Verdict For AT&T Stream Saver:
AT&T Stream Saver service is built with the intention to let you have a good video streaming experience. However, it might not be following your plan to save on data. However, if you want to save on your data, you can disable the feature by following the above-discussed steps and still can enjoy streaming unlimited videos over the wireless device in the best resolution that AT&T Steam Saver could offer.
Stream Saver consumers have an option to let the service know if they want this feature to disable. However, it is the consumers' choice, and every element that AT&T has been building is designed for its consumers.