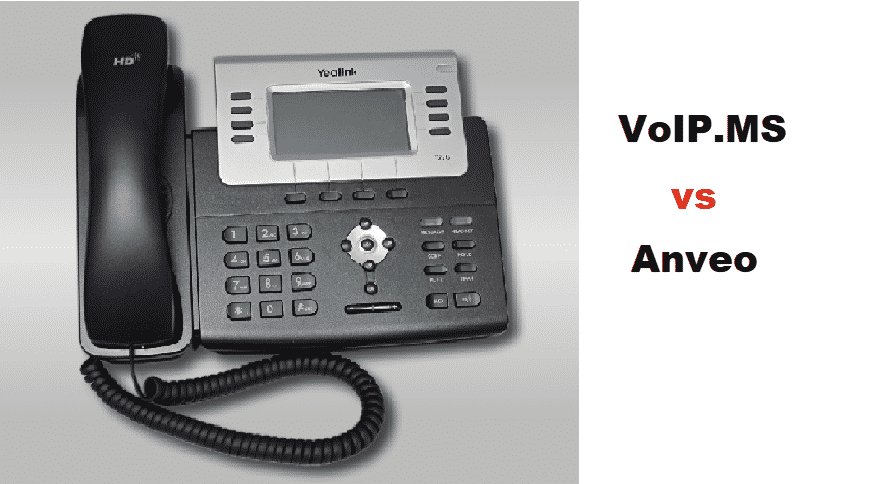 Enhanced productivity and reduced cost are inversely proportional to each other. But, this is what VoIP, generally termed as Voice Over Internet Protocol, can do for you. The technology helps you send voice information digitally by using the same networks you already use for your internet services.
VoIP helps the user reduce the regular call's essential cost by as much as 40% and even more for international calls. It allows you to reduce the number of physical lines as everyone in the office can have their virtual extension. But, which software company will let you get the best VoIP in the American region? Below you will be introduced to two of the best VoIP provider in America.
VoIP vs Anveo
Why Choose VoIP. MS
It is one of the biggest companies when we talk about better Voice Over Internet Protocol. Whether it be the cost price of packages, accessibility, customer care, or the stability of the network, VoIPMS stands second to none. The company owns one of the biggest networks in 125 countries in general and America in particular.
Along with it, the VoIP.MS holds more or less 80,000 worldwide customers with an amazingly incredible customer satisfaction level of 99%. It is what makes VoIP.MS is one of the best software companies in the world.
What Features Will You Get Through VoIP.MS?
There're a lot of good things that VoIP.MS will offer its customers. Below you will be introduced to some of the best features that the company provides.
Compliance
If we talk about the best features, then it will be that the company is compliant with (CRTC) Canadian Radio-television and Telecommunications Commission and Federal Communications Commission of Canada and the USA, respectively. This ensures the availability of 911 services throughout Canada and the USA for customers' safety and care.
Compatibility
Moreover, the compatibility of VoIP.MS is what helps the firm to stand firm in the market. The company implements some of the commonly used protocols, ensuring that their services will work with more or less every VoIP devices and software.
No Hard Contracts
Also, the best thing which you will get from VoIP.MS is zero barriers. The company does not bound you in hefty contracts, making life hard for you. The company's rules and regulations are so comfortable that you may subscribe or unsubscribe the packages at any moment with no extra cost.
No Extra Expenditure
Furthermore, the best thing about VoIP.MS is that they never bound you to purchase or get their particular devices on rent. The company respects its customer's pockets, and therefore you are good to use your old hardware devices for getting VoIP.MS subscription.
Easy And Budget Friendly Packages
Finally, the package cost is so smooth that even the small business owners can accommodate it with ease. This reduces incoming and outgoing expenses, and their unlimited packages have made life relatively easy for their customers. You can get their packages for as low as $15.
Everything About Anveo 
If we talk about Anveo, then the company is suitable only for business purposes. This is why it's widely preferred by small to significant level enterprises. Anveo has got different packages, but two of the best are Anveo for Consumers and Anveo for businesses. Having a brief look at all of them will enable you to choose the best suitable package for you.
Anveo For Consumers
This package will allow you to get local or international phone numbers from over 48 countries. Along with it, the package is designed to help you receive and send faxes without any software required. Moreover, the box will let you make phone calls using a web browser, without the help of any handset. The best thing about Anveo for the consumer is that it enables you to make worldwide conference calls.
Anveo For Business
Anveo for businesses was specially designed for medium-sized enterprises. Like the Anveo for consumers, this package also allows you to get local and international phone numbers from over 48 countries and receive and send faxes with no software installed. What makes this package different is that it allows you to control your business panel by managing sub-accounts, shared contacts, and employee spending.
Final Remarks
It is hard to choose between Anveo and VoIP.MS. Both of the companies provide their services at a synchronized cost. But, if you need to choose one, then go for VoIP.MS. It has more current customers, a high share value, and an even higher ranking than Anveo.
Conclusion
In the draft, you will find an unbiased comparison between VoIP.MS vs Anveo. The article has got everything that you needed to know about both of these companies. Along with it, the article will allow you to choose the best out of these two.