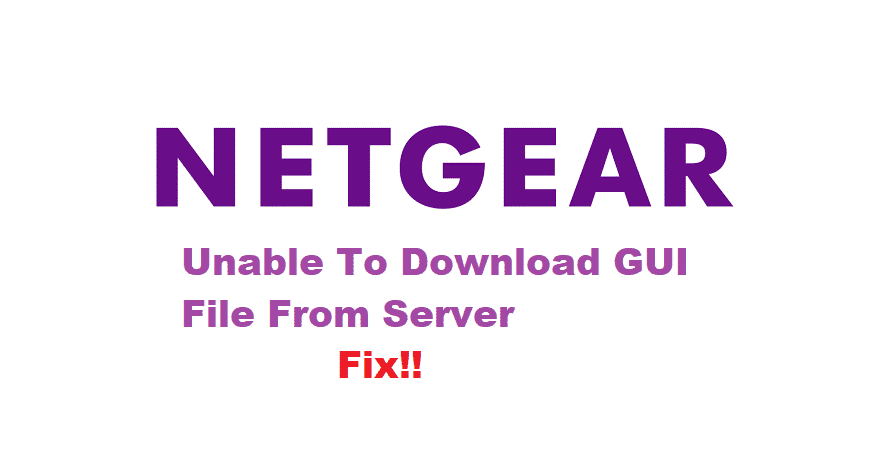 Netgear is one of the best networking companies.  It provides its consumers with a wide variety of products. These include routers, Wi-Fi extenders, and many more similar devices.  Nonetheless, their routers might sometimes run into several issues. But, Netgear tends to come up with firmware updates from time to time so they can fix them.
Although this may be true, Netgear users might run into an error known as 'Unable to download GUI language file from server', while trying to update their firmware. This can be really frustrating for its consumers. So, let's look at a few ways we can troubleshoot.
How To Fix Netgear Unable To Download GUI Language File From Server?
Manually Update
If you're having a problem while trying to update your firmware then your best option is to try updating it manually. For this, you will need to connect your device with the router. Afterward, visit 'NETGEAR Support' and enter your router's product name and model number.
This will help you to find the latest firmware version for your device, which is compatible with it. Download the file and proceed to open your router's administration settings.
For this, firstly, enter 'routerlogin.net' in a web browser.
Secondly, login to the page that is displaying by entering your username and password. The default user name is 'admin' and the password will be the one you specified the first time you logged in.
Finally, select router update here, then browse the file you have just downloaded and upload it to update your firmware manually.
Browser Issue
If, manual updating does not work and you are still getting the same error. Then this means that you might be having some problems with your browser. It is highly recommended to use 'Firefox' or "Internet Explorer' while manually updating your device.
Also, make sure that you are running your browser in compatibility mode. This will ensure that no third-party application interferes with your browser while you are trying to update your firmware.
Wired Connection
When trying to update your firmware, your device may be using Wi-Fi to download the files and upload them to the router. This can also be one of the reasons you are getting this error because your Wi-Fi signals might be dropping. Due to this, your download might be getting interrupted halfway, causing your file to not download successfully.
To fix this, simply use an ethernet cable to establish a wired connection between your device and router. This will ensure that your download does not get interrupted in-between.
Faulty Ethernet Cable
You might already be using a wired connection but still getting the same error. In this case, your ethernet cable could be faulty. Old cables might break if they are getting bent and squashed by furniture or gravity. Considering this, you should try to replace your old ethernet cable with a new one to fix your issue.
Be certain that you connect your cable to the right port by carefully checking the back of your router. The ports for wired connection should be labeled to help you.