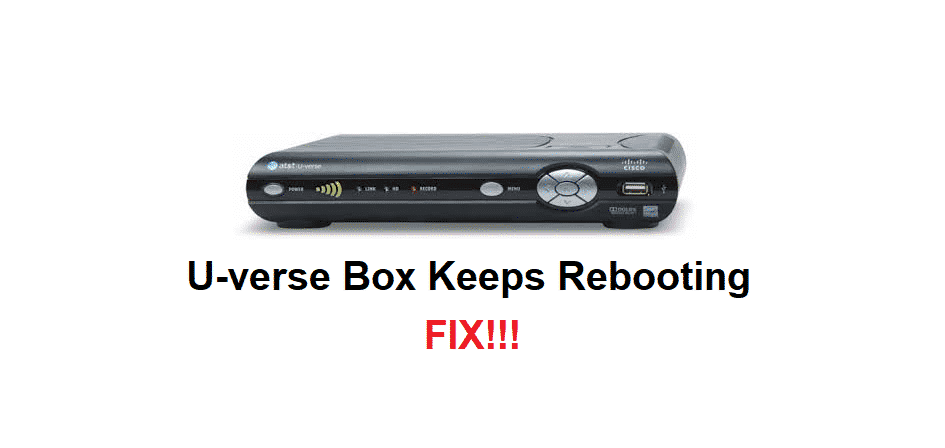 AT&T U-verse or also commonly known just as U-verse is a famous company. Their main focus is on providing telecommunication services for their users. These include not only IP telephone services but also broadband internet. Aside from this, the company also provides its users with cable boxes and modems.
These devices are used to get access to the internet or cable without any problem. You can also purchase packages on these devices to get access to all the services that you require. Talking about this, if you own a U-verse box then you might have noticed that it has been running into some problems. One of these is that the U-verse box keeps rebooting. If you get this issue then here is how you can fix it.
U-verse Box Keeps Rebooting
Check Cable Connection
The modem box from U-verse rebooting again and again usually means that your cable is too loose. This causes the device to keep getting disconnected and then reconnecting again. Alternatively, there might be a problem with your switch. This can include any problem with the internal wiring or the board's springs coming loose. This usually happens when you use an outlet too much.
Whatever the case might be, you can easily fix this problem by first tightening in your power cable to both the connector and device firmly. This will confirm if they were loose or not. If this still doesn't work then remove your device from the outlet and plug it in some other outlet. If your device starts working fine then this means that there is a problem with your outlet. In case, of loose springs, you can either use an adapter or get the outlet replaced.
Update Firmware
Some common problems that the devices receive are fixed from the company. These fixes are then sent to your device through firmware updates and patches. This is why it is essential that you run your modem box on the latest update there is. To do so, open up the settings on your box and locate the option to check for updates.
This should find any updates available on its own and then install it on your device. Although, one thing to make sure is that you have a stable internet connection during this. This is because any interference can cause your update to fail. If the update still fails to install then you can put it on your device manually.
Recovery on Device
If none of the steps mentioned above work out for you then you can recover all of your old files back to their prior state. This helps fix most problems, because they might be from some setting that you accidentally changed. Start by holding down the down arrow, ok and power button on your device. After you see a popup on your screen, take your hand off the volume and ok button. This should start the recovery procedure. One thing to keep in mind is that this will delete all of your DVR files that you had recorded.