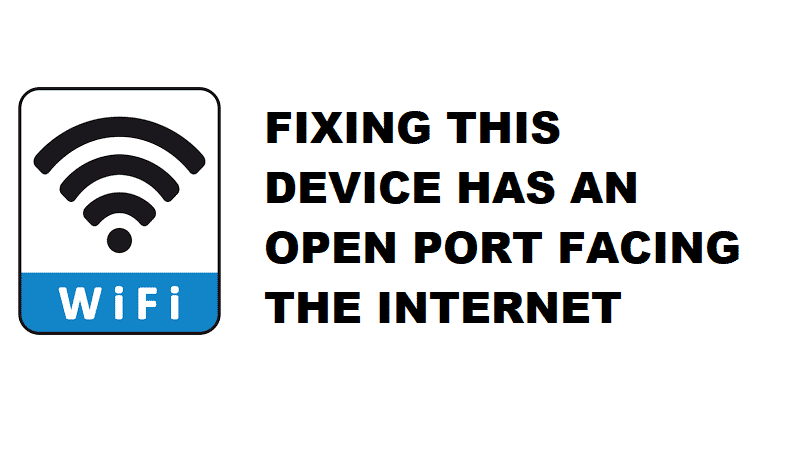 Unauthorized usage of internet technology and illegal means such as stealing the data, information, and other stuff makes it unsafe for those who don't have appropriate network security. Hackers are always on the verge of stealing your information over the internet as it is probably the most valuable resource of the future. If you are concerned about the security of your data over the internet, you must know about the open port issue.
What is an Open Port?
An open port is generally referred to as a port that is open to accept data packets. All network communication takes place through ports. There are ports on your router that are sending and accepting data from other devices all the time. There is no issue for you if you can monitor each port and recognize it connected to your devices. Each port is assigned to a device with an IP address and you can monitor it easily on a small-scale network for your home or office.
Explaining This Device Has Open Ports Facing The Internet
Open Port Facing the Internet
If you are getting an error message triggered by your security firewall or your antivirus that states this device has open ports facing the internet, that means the port is vulnerable to any hackers that might be scanning for open ports to send data packets that would scan your network vulnerability. These ports are dangerous for you and you will not be safe from privy intrusions if you have any such port open on your network.
Identify the port and close it
If you are getting the error, the first thing for you is to access the router/modem settings and try to identify the port that is causing the issue. Once you have got the idea about any port that might be messing up the settings for you, you can move forward to have it closed. You must have basic networking knowledge about the ports, router settings, and the internet to do it efficiently. However, you might mess up some other settings and that would not be good for you. That is why it is not recommended for beginners to attempt any such solution without ample networking knowledge.
Get a monitoring software
The best thing you can do if you are not confident enough about the networking skills is to get some privacy management and monitoring software. This software is designed to deal with such issues as open ports and will fix the problem for you. Not only that but this software can also detect any attempt on your privacy and block such port to keep you safe on the internet. You can get plenty of options on the internet to choose from according to your requirements and network specifications.