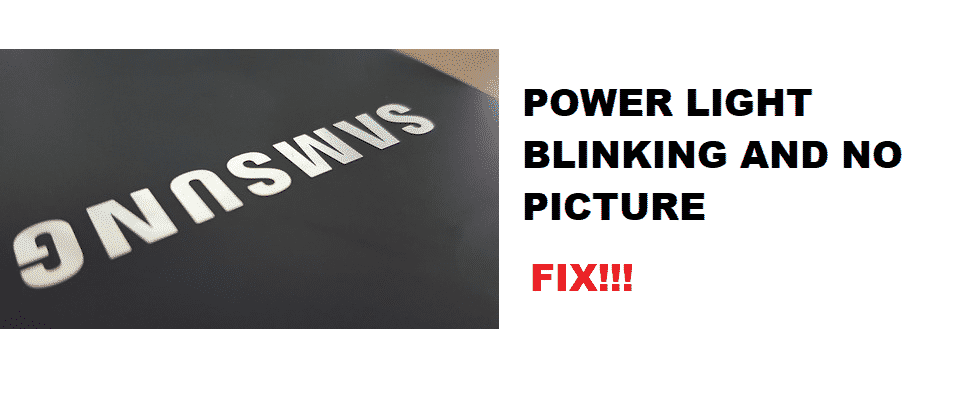 If your Samsung TV is showing you a black screen, then it may be the indication that your TV is turned off but if it's producing sound and still showing a black screen then you should know that it's not the case here with your TV.
How To Fix Samsung TV No Picture Power Light Blinking?
What Does The Power Light Blinking Mean:
The constant blinking of the power light indicates that the problem with your Samsung TV is related to the power management system.
Before moving on to the troubleshooting problems and their solutions, you need to determine that:
Your tv won't turn on and shows a red standby light.
Your tv won't turn on and there is no red standby light.
Your tv won't turn on and shows a red standby light blinking.
Here are some of the troubleshooting problems which are indicated by the blinking power light:
1. Power Supply Problem:
A bad power supply may also be the reason for the blinking power light with no picture. Your TV must have a short power supply due to the excessive flow of the electric current. This might damage the capacitors, transistors, and many other components as well.
Solution: Make sure your TV has a proper power supply with the appropriate flow of the electric current.
2. Launch Configuration Problem:
There might be problems with the launch configurations of your TV. The launch configurations might be corrupted due to which your TV shows no picture at all.
Solution: Launch configuration decreases the startup time of your TV. However, if they get corrupt then it can be avoided by unplugging the power supply and removing the power cable from the power outlet. Now press and hold the power button for 15 seconds. Plug it back in and power on the button. Now check if the problem persists.
3. The HDMI Glitches:
If your Samsung TV is connected to some external devices like Xbox or PS4, then this power light blinking issue may arise. This may also arise because of switching off your TV directly without removing the external devices and now it's preventing it from turning on.
Solution: Make sure you remove all the externally connected devices. Unplug all the devices which you have connected to your tv's HDMI slots. Now launch it again and see if it has launched now.
4. Incorrect Power Source:
The No picture issue with your TV may also arise due to the incorrect power source. This is the most common mistake and it arises because the TV can't receive proper signals.
Solution: Make sure there is a proper transfer of signals to your TV to avoid the launch problem.
Here is a guide related to the blinking power light of your Samsung TV. The troubleshooting problems can be avoided by keeping the above points in mind. Hopefully, this article will help you in solving your troubleshooting problems.