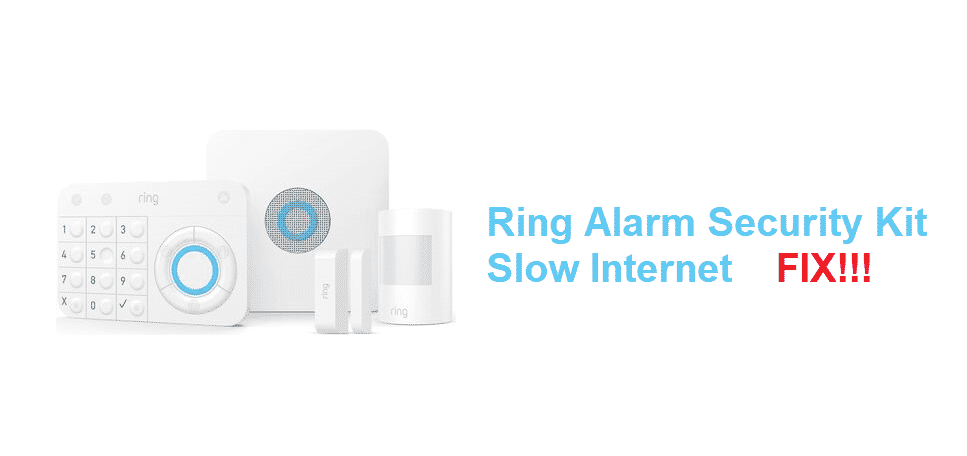 The Ring is one of the most popular brands out there in the market when it comes to smart doorbells, door-mounted connected cameras, and similar stuff. They are allowing you to have your door locks operated smartly and all that without having to compromise on the aesthetics or convenience.
The Ring Alarm system will notify you on your phone over the internet whenever there is some movement in front of your door, record the footage for you and alert you in case someone rings the bell. These doorbells also come with mics, speakers, and cameras so you can talk to the people on the door remotely through any internet-accessible device.
Ring Alarm Security Kit Slow Internet
Ring Alarm Security kits work out great, but you will definitely need to have the right internet speed if you would like to make them work in the right manner. If you are not getting the right internet speed, that can be quite troublesome for you and cause you to have inconvenience.
It can also be unsafe to have less speed of internet over such security systems so you must be careful about it. A few things that you will need to do in order to make it work and solve the slow internet speed issue are:
1) Reconnect
Sometimes, the device from Ring like the Ring Alarm Security Kit that you have connected over your Wi-Fi can get slow traffic due to multiple factors on the network. These factors include traffic priority lists, DHCP, and whatnot. There can also be some bugs or errors on the network that might be causing you to have such problems and the best way to get it fixed is by reconnecting the Ring Alarm Security Kit with your network.
You will simply have to make sure that you disconnect the device from your Wi-Fi router and then connect it from scratch. That is going to help you out perfectly and you will never have to face these issues with slow internet speed on the network again after successfully reconnecting it over the Wi-Fi network.
2) Mind the Distance
Since the Ring Alarm Security Kit is most likely to be installed at the door, there can be a considerable distance between the router and your Ring Alarm Security Kit. That is obviously something that you wouldn't want to have on your Ring Alarm Security Kit as it can cause you to have problems like slow internet speed, weak signal strength and low internet coverage.
Optimally, the problem can be fixed with two easy solutions. Firstly, you should consider changing the location of your router as that is going to help you out in the perfect manner. This is pretty simple and you will not have to go to much lengths to achieve that. If the wiring is open and it can be moved around, you need to install the router at someplace that is closer to the door and that will most likely be solving the speed issue for you.
Another thing that you need to do if relocating the router is not possible for you is to get yourself a Wi-Fi Extender or it would be even better if you can get a booster. So, you will need to install the booster or extender near to the door where you have installed the Ring Alarm Security Kit and that is going to help you perfectly in solving the problem for good. This will not only increase the signal strength for you, but will also be increasing the internet speed.
3) Reset
Lastly, if nothing has worked out for you so far, you need to try a complete reset on the network and system. There are tons of settings like metered connection, VPN, and things like that on your router that might be causing you to have the problem. Similarly, the Ring Alarm Security Kit is also likely to develop some errors or bugs that might be slowing down the internet speed for you.
You will have to reset the router first and then optimize it again to work with the Ring Alarm Security Kit. This will help you solve the problem most of the times. If that doesn't work, you should try resetting the Ring Alarm Security Kit as well and then connect it to the network to get the best possible speed of internet.