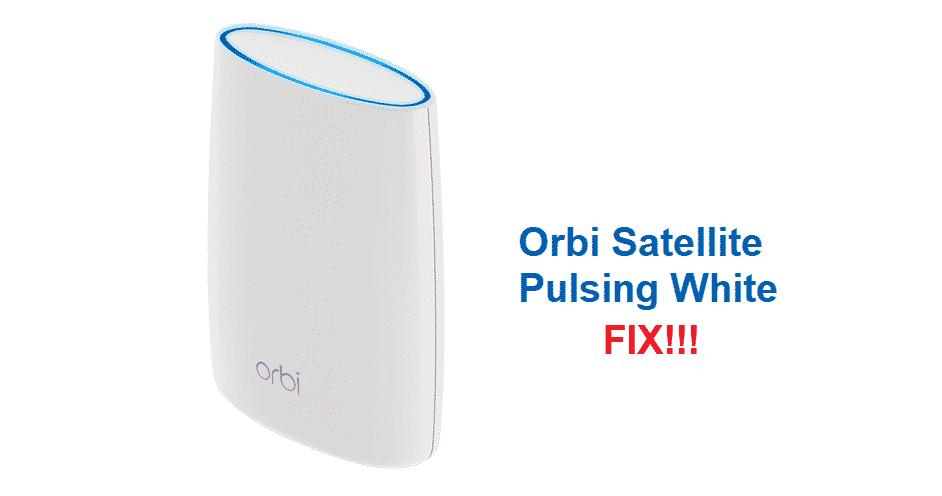 It can be quite annoying if you're not able to get Wi-Fi coverage in your room. Even though the Wi-Fi is working just fine in other parts of the house. Luckily, Orbi Satellite can fix this problem for you. It can extend the overall network coverage so you receive good signal strength in every part of your home.  You have the option to go for either a simple router or satellite.
The option can vary depending on your usage. Though all of these are available for purchase on the main website of Orbi. Overall, it is a very reliable device and can provide you with great convenience. However, recently a lot of users have been reporting issues with the Orbi Satellite pulsing white. If you're in a similar situation then here are some possible fixes to help you sort out this problem.
Orbi Satellite Pulsing White
Change Connection Cable
The Orbi Satellite is equipped with many features. These help in having a relaxing experience without having to go through much trouble. One of the best ones is the light indications on it. These allow you to see what is causing problems with your device if there are any. The lights on your device pulsing white usually indicate that there are problems with your connection.
This is why it is recommended that the first thing that you check is your cable. Make sure that there are no bents in it and no heavy thing has been placed on the wire. These can damage the cable internally and it can even break out in some conditions. Though, you should be able to easily note that by carefully looking at the cable. If it has any damages then take it out and replace it with a new one.
Though, if the cable has no damages then you can proceed to check the ports. Make sure that you have not inserted the wire in the wrong port, these are usually identified by labels to make it easier for people. Sometimes having a loose connection can also cause the issue so firmly insert your cables in and see if there are no wiggles. This will ensure that your cables have been connected successfully and your problem should now be gone.
Power Cycle Orbi
If the cable is in perfect condition then you can try power cycling your Orbi satellite. This should clear up its memory and delete all the temporary files that have been stored on it. If the error that you are getting was within these files then it will be removed as well.
To power cycle the device, you will have to close down your connection. Once that is done, you can then proceed to wait for some time. After a few minutes have passed, you should now connect the device back into power and wait for it switches on. Finally, connect your cables and connections back into the system to start using it again.
Reset Orbi Satellite
If the simple power cycle did not work out for then you will have to reset the device instead. This deletes all the configuration files on the system and reverts them to their factory default state. You can start by removing any connection from the system and then finding a small pin. Flip your device and you will notice that it has a small pinhole on its back.
Make sure that only the power cable is inserted during this process and your device is powered on. Now hold the pin inside the port and a button will be pressed. Keep the button pressed until you see the lights on the system flashing. You can now take out the pin and wait for this procedure to end. Do not power off the device or press any button during this or the process can fail.
Finally, after the lights have all become stable. You can now proceed to configure your Orbi satellite again. Once done, connect all your connections back and your problem should now be gone. It is better if you make a backup copy of the current state of your device. This comes in handy if you run into any similar problem again. You can then revert the device to the current state and your issue will be gone.