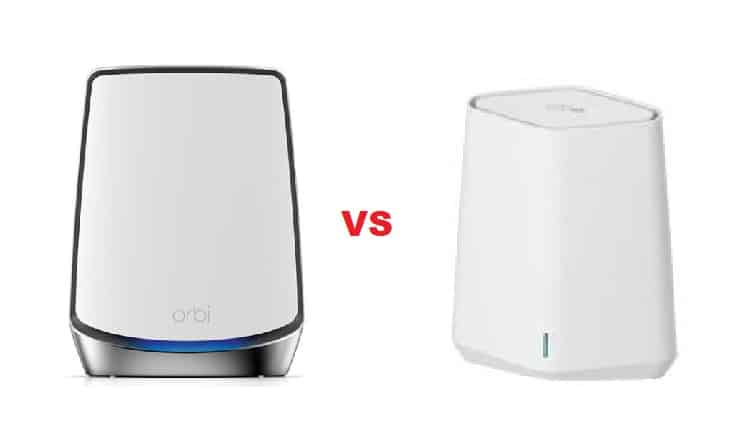 When it comes to one of the fastest and most dependable broadband routers Netgear is the brand to look for. Not only it is a trusted name in networking routers, but it is also a competitive name in technological advancements in the market.
The Netgear Orbi Wi-Fi 6 and Orbi Pro have been highlighted as potential purchases by users. Both of these routers provide excellent performance, but to compare their features in greater depth, we will provide a general Netgear Orbi Wi-Fi 6 vs Orbi Pro comparison. So let us get started.
Netgear Orbi Wi-Fi 6 vs Orbi Pro (Comparison)
Netgear Orbi Wi-Fi 6:
Looking for dependable and high gigabit speeds in your home or office? Netgear's Orbi Wi-Fi 6 has you covered. Finding a good solution to manage multiple clients while maintaining consistent speeds throughout is difficult. However, with the Netgear Orbi Wi-Fi 6, you can get a stable network throughout your home with its tri-band frequency and incredible throughput rates. Aside from that, one of the main concerns for users has been the router's signal strength. Even if you have a good Wi-Fi router, but the signal penetration is low, it is useless. However, the Wi-Fi 6 Mesh Wi-Fi network blankets your home with seamless coverage and signal penetration through walls and floors.
Orbi Wi-Fi 6 offers incredible coverage of 3000 square feet and gigabit speeds of up to 3Gbps. At $165, this is by far the best value for users. Though it may be a little out of reach for some, Netgear technology Proves to be an excellent addition to your network. Besides that Netgear Orbi Wi-Fi 6 has advanced security features for better network Protection. With NETGEAR Armor, your network is protected across all connected devices, allowing parents and children to surf the web safely. In addition to that, smart parental controls help you with a healthy network so your children can access a controlled and monitored network anywhere.
In terms of design, your Orbi Wi-Fi 6 hardware includes one router and one satellite. The router and satellite have the same round-edged base and 10-inch height. This system does not support wall mounting, but its modern and sleek white design allows it to be easily placed on top of shelves or tables.
Netgear Orbi Pro:
Let us assume that Orbi Pro wins the bet for the sake of simplicity. It may have been a direct statement, but just so you know, we will provide you with a detailed comparison of why it stands out not only from the Netgear Orbi Wi-Fi 6 but also from other competitive routers on the market. Orbi Pro, like the Wi-Fi 6, is a tri-band frequency router that Provides excellent throughput across the 2.4 GHz and two 5GHz bands. Because of its advanced features and superior performance when compared to the Orbi Wi-Fi, the Orbi Pro is ideal for businesses.
Orbi Pro allows you to connect up to 25+ devices to the network at the same time, with an incredible coverage of up to 5000 square feet. You get amazing speeds in corners and areas where your standard router cannot reach with its ultra-fast and robust connections. Orbi Wi-Fi 6 is a good solution, but for advanced features and flexibility, Orbi Pro is the name to remember. When it comes to flexibility, you get a device prioritization feature that allows you to easily control your devices across the network. Furthermore, its compatibility with all internet Providers and incredible tri-band backhaul will provide you with faster connections and no network congestion. So, whether you have a large home or a multi-story business building, you have network access in every corner at the fastest speeds.
The Final Verdict:
Orbi Pro is an advanced version of the Orbi Wi-Fi 6 that includes the benefits of the former as well as optimized features of itself that make it an all-rounder. If you need to cover a larger area, the Orbi Pro is an excellent choice. It depends on your network requirements because both of these routers are excellent picks. If you only need to cover a small area, Wi-Fi 6 is a good option; however, if you need to cover a larger area, Orbi Pro will provide you with a more stable connection and faster throughput across your devices.