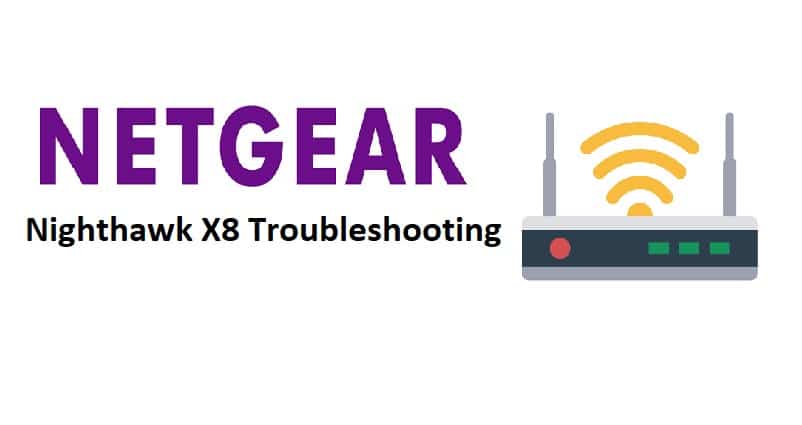 The NETGEAR Nighthawk is the company's fastest internet router. Since its inception, it has gained favor among the best broadband competitors. The NETGEAR Nighthawk has proved to be a good product for users to satisfy their broadband needs.
However, some users have reported issues while using this device, so we assume you are here for a comparable reason. This article will give you a general overview of NETGEAR Nighthawk X8 troubleshooting.
NETGEAR Nighthawk X8 Troubleshooting:
1. Trouble Installing The NETGEAR Nighthawk:
Even though the NETGEAR Nighthawk installation and setup procedures are quite simple, if you are a new user, you may encounter minor errors while configuring the device. Because this is a frequently asked issue, we will walk you through the installation process.
Disconnect the cables which connect the router and the modem.
Once both the devices are separated, power cycle your modem.
When your modem gets stable, use an Ethernet port and plug it into your router's internet port.
Launch your Nighthawk app and install your NETGEAR X8 router again.
2. Wireless Devices Disconnecting:
Connection issues can be caused by several factors such as physical obstructions, cable connections, range of the router, etc. If none of this is the case with you then there is another viable reason why your router is misbehaving.
NETGEAR Nighthawk X8 is a three Wi-Fi band router which means that you will have to configure an SSID for each one of them. This is where the problem gets to your feet. If you are using different SSIDs for each one of them it is normal for your router to get into connection troubles. To resolve this issue, use one SSID for each one of them so your router connects to either band without the need for an additional network.
3. Locating the IP Address of the Router.
Another commonly asked query regarding the Nighthawk X8 is trouble locating the IP address of the router. Therefore you can easily find the IP address of your router from the following steps.
Go to the web browser and enter http://routerlogin in your address bar.
Once the login page appears, use your network credentials to log in to your router's web page.
If you have not configured your network credentials before, the default username is "admin" and the password is "password".
After you log in, navigate to the Advanced tab and go to the Router's Information section.
Your router's IP address will be displayed under the Information section.
4. Router Not Starting:
If your router is having trouble turning on given that the cable connection and power outlet are proper, then it might be due to corrupted or incompatible firmware. It is a frequently occurred issue that can be solved just by updating your firmware to its newest version. You can log in to your router's web interface or use the NETGEAR Nighthawk app to check for firmware updates.