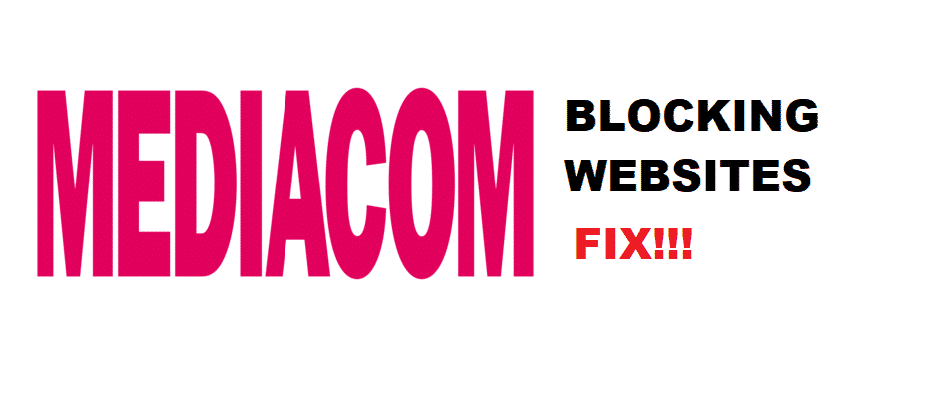 Mediacom
Mediacom is a telecommunication company that was founded in 1995. Mediacom Communications Corporation aka Mediacom is the fifth-largest cable television provider in the United States of America. Other than cable TV, the company provides services related to broadband internet access and cable telephony.
Mediacom being an internet service provider can block its clients from accessing certain sites. Your ISP does that by restricting access to that site's IP address. The reason for such an action can be a government order, a malicious site, or a site with gruesome inhumane content.
Troubleshooting Mediacom blocking websites
In this article, we will tell you how to bypass a restriction implemented by Mediacom on a website or multiple websites. But before you start bypassing the restriction, make sure to take proper precautions by installing an antivirus or by enabling your windows defender. Because the site you're trying to access might contain malicious computer viruses.
1. Use a VPN
A VPN masks your IP address, encrypts your data, and protects your computer from 3rd party invasions.
Installing a VPN is a three-step process that allows you to mask your IP. Masking the IP will hide your data packet from the ISP restrictive firewall, and as a result, your data packet will successfully travel to the restricted site's server. The VPN will also mask the returning data packets to establish a stable data connection uninterrupted by the Mediacom's IP restrictive firewall.
Downloading and installing a virtual private network on your computer or laptop is easy. You can find free VPNs like Betternet, Zenmate, etc, and other premium options like Express VPN, Nord VPN, etc. Paid VPNs provide extra protection, more complicated encryptions, and faster data transfers.
2. Public DNS
It's a well-tested fix that allows you to bypass the restriction imposed by Mediacom.
Follow these steps to convert your close Domain Name System (DNS) server to a public DNS server.
Within your PC's Taskbar right-click on the Wi-Fi icon. From the two options select 'Open Network & Internet Settings'.
In the middle of your PC's Network and Internet settings, you will see an option called 'Change adapter options. Single-click 'Change adapter options'.
Find the name of your internet connection and right-click to pull the list of options. Go to the bottom and select 'Properties'
You will see a list of options within a box below 'Configure'. Look for a text that reads 'Internet Protocol Version 4 (TCP/IPv4)' and select it. Outside the box you'll see a button for properties, select it.
Remain inside the General tab and select the option 'Use the following DNS server addresses'.
Fill the Preferred DNS server box with 8.8.8.8 and the Alternate DNS server box with 8.8.4.4. Click OK to apply your new DNS server.
3. Proxy websites
There are a ton of proxy websites located on the internet. A proxy website is similar to a VPN as the website will mask your IP allowing you to access the restricted site. Google free proxy websites and paste the restricted site's URL. Doing so will surely allow you to access the site restricted by Mediacom.