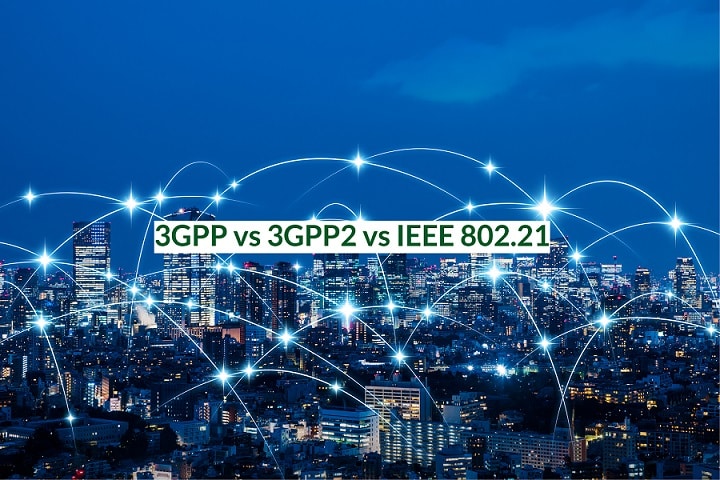 As readers have no doubt noticed, we have a penchant to use a lot of confusing acronyms. This time we add to the jumble by including numbers. To complicate matters, 3GPP and 3GPP2 have nothing to do with each other beyond defining competing mobile wireless standards. Never fear; we're here to cut through the clutter and (hopefully) bring clarity to this alphanumeric maelstrom.
Triple Play Standard Bundle
3GPP, 3GPP2 and IEEE all refer to organizations that oversee wireless standards. With regard to wireless carriers aka Mobile Network Operators (MNOs), think of 3GGP as Verizon, Sprint and U.S. Cellular, 3GPP2 as AT&T and T-Mobile and IEEE 802.21 as Wi-Fi and cellular call handover. Note that most of the world's MNOs use technology evolved from 3GPP standardization.
3GPP vs 3GPP2 vs IEEE 802.21
3GPP
The Third Generation Partnership Project is the power behind the Universal Mobile Telecommunications System (UMTS). This consortium of seven participating telecom standard development organizations (SDO)s is collectively known as "Organizational Partners." They include
The Organizational Partners manage three Technical Specification Groups (TSG) dealing with Radio Access Networks (RAN), Service & Systems Access (SA) and Core Networks & Terminals (CT). These categories cover cellular telecommunications network technologies like core transport network, radio access and service capabilities (e.g., codecs, QoS, security) to establish comprehensive systems specs, including those for integration with Wi-Fi (i.e., IEEE) and non-radio access to the core network.
3GPP initially was envisioned as an attempt by the Organizational Partners to construct a consensus of a global 3G mobile phone system standards based on evolved Global System for Mobile (GSM) Communication specs as part of a project of the International Telecommunication Union (ITU). The project's scope subsequently expanded to include GSM—2G/2.5G standards (e.g., GPRS and EDGE), UMTS—3G standards (e.g., HSPA) and LTE—4G standards as well as an evolved IP Multimedia Subsystem (IMS), an architectural framework for a packet-switched network.
From Telecom TV, chairmen from two of the three TSG groups (RAN and SA) discuss 3GPP standards evolution, interviewed at the 2016 Mobile World Congress (MWC):
3GPP2
Although the Third Generation Partnership Project 2 sounds like a 2.0 version of 3GPP, these two organizations oversee mobile standards incompatible with the other. It too is an alliance of telecom associations working toward a consensus of a global 3G mobile phone system standards based on evolved CDMA2000 aka IMT Multi-Carrier (IMT-MC) specs as part of a project of the ITU. Along with GSM, CDMA2000 standards are used chiefly in North America, South Korea, Japan, China and India. Most other countries use only the GSM standard.
3GPP2 is composed of five SDOs, all but one of which are also members of GPP2. These include ARIB, CCSA, TTA, TTC and North America's Telecommunications Industry Association (TIA). CDMA2000 is divided into two complimentary applications: Voice (1xRTT, 1X Advanced) and Data (1xEvolution-Data Optimized or EV-DO). "1x" denotes number of antennas used. 1xRTT and EV-DO are still widely used across much of the world although many carriers have either decommissioned these networks or have announced plans to do so.
The equivalent of UMTS, CDMA2000 is the evolvement of 2G cdmaOne technology. While LTE, evolved from GSM, has become the de facto 4G standard worldwide and appears poised for forthcoming 5G domination, 3GPP2 has seemingly come to an evolutionary dead end. Ultra Mobile Broadband (UMB), planned as a 4G successor to CDMA200, was abandoned in 2008 in favor of LTE.
Here is a CDMA2000 industry video produced in June 2011
IEEE 802.21 — Media Independent Handoff (MIH)
Published in 2008, this "standard supports algorithms enabling seamless handover between networks of the same type as well as handover between different network types also called Media Independent handover (MIH) or vertical handover. The standard (allows) handing over to and from 802.3 (Ethernet), 802.11 (Wi-Fi), 802.15 (Wireless Personal Area Networks aka WPAN, e.g., Bluetooth), 802.16 (WiMAX), 3GPP and 3GPP2 networks through different handover mechanisms."
Moreover, since current Wi-Fi standards do not allow for independent search and selection of wireless access points (APs), the MIH standard allow for MNOs and mobile users to fully avail the connectivity available from various overlapping networks. This limitation found in horizontal handoffs has necessitated the use of two separate radio transmitters in mobile devices. With MIH, transparent service continuity is achieved by utilizing mechanisms that amass and distribute data from various link types to a handover regulator. Real time notifications update link conditions and the availability of access networks.
For those ready to attend class, this instructional video from Professor Raj Jain explains in depth the vagaries of MIH and vertical handover:
Coda
In approaching years as awareness grows for the Internet of Things (IoT), more focus will be aimed at IEEE 802.15.4 as new standards will need to be evolved to address the tens of billions of devices affected. Too, new 802.11 standards are evolving for even faster Wi-Fi connectivity. Already 802.11 ax is being developed with deployment anticipated in less than two years from now, delivering up to 10 Gbps over the conventional Wi-Fi spectrum of 2.4 GHz and 5 GHz. Hence accommodations will have to be made to facilitate increased traffic from varied wireless network sources. Hopefully, with fewer acronyms and numbers.