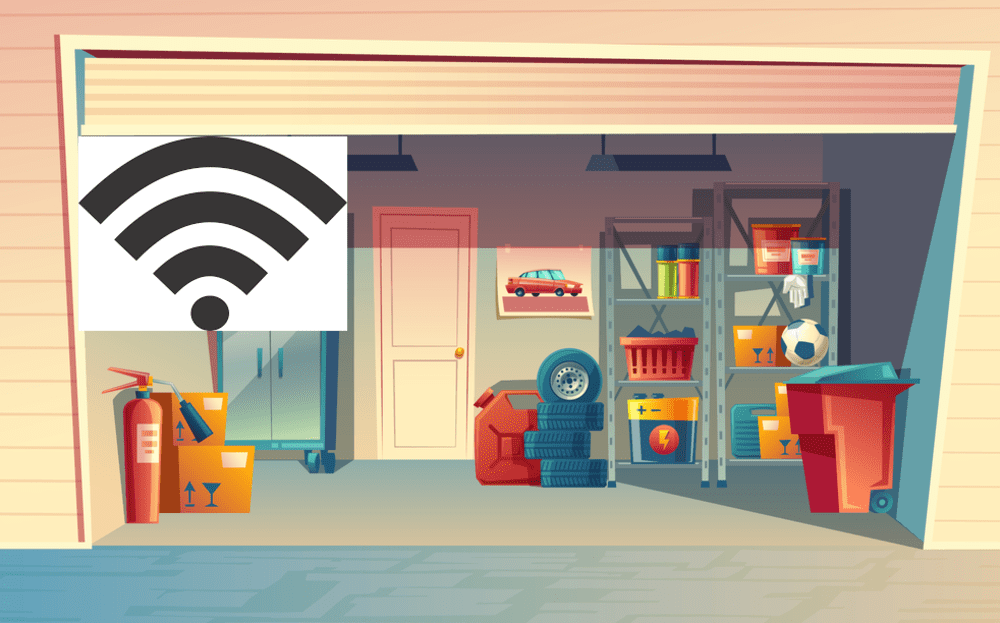 With the increasing need for internet connection, one needs to have a proper setup of it in almost every spot of their house. However, in far-off spots of your property, Wi-Fi signals might not reach properly. The interference and being quite distant from the Wi-Fi router do not let Wi-Fi signals reach your garage smoothly.
No one wants to miss out on their internet connectivity. Not even into the far-off spaces of their house. There can be a Wi-Fi constant drop when it comes to availing internet connectivity in distant spaces like Garage. In this article, we have gathered all the effective ways by which one can easily have a robust internet connection in their garages. Although first, you need to know why is your internet connection slow in the garage.
Why Is My Wi-Fi Coverage So Poor In Garage?
Apart from the obvious reasons such as prolonged distance between the router and the garage, several factors that resist the Wi-Fi signals to reach the garage smoothly and creating the "dead spots" for internet connectivity. Here they are:
Firmware of your network devices is outdated or expired.
Network hardware got crashed.
Network hardware devices are outdated.
Un-configured network and router settings.
Interfering objects are in abundance.
Other home appliances causing constant signal drops.
Extra concreted walls being the biggest barriers, so on.
How To Get Internet In Your Garage
We have discussed various factors that block good internet connectivity in distant spaces like garages and yards of homes. Considering them, we have to strategize such ways that could erase those interfering factors.
Here are some extremely effective factors for you get the best out of internet connection in your garage:
Relocate Your Router or Modem:
In any case, whenever you are facing sudden and continuous drops in your internet connection, you first rush to relocate your router. that's the way. Why? Because it might be the improper location of your router causing persistent drops in your Wi-Fi signals. Especially in distant spots like a garage, poorly located router causes frustrating connectivity issues.
Try to relocate your router immediately. It would be best if you place it somewhere in the center of your property. The Wi-Fi coverage would get a lot improved and your garage won't be missing out the proper connectivity.
If you are an Ethernet user, contact your internet services provider to reinstall the connection.
Update Your Router:
Sometimes, outdated devices cause the biggest hurdles. Your router would be placed perfectly and yet you will be facing sudden slowdowns in internet connectivity in your garage. Why? Simply using an expired router. contact your ISP if they have updated router devices. Replace and update it immediately. Hopefully, your signal strength would thrive with that.
Replace Outdated Devices:
Your router would be doing perfectly fine being an updated one yet your internet connection is severely poor. Why? Because of the use out outdated hardware devices. Try to update your phone or laptop or anything you use in your garage. We are hopeful that the results would be quite improved.
Configure Your Hardware Devices Properly:
Most of the time your router and connected devices are all promptly arranged but still, there are sudden slowdowns in your internet connection. Especially in a distant area like the garage, the Wi-Fi coverage gets irreversibly awful. Lookup for your hardware devices of they are configured properly. Keep tinkering your settings until they don't get the optimum frequencies of 2.4 GHz and 5 GHz wireless frequencies. Although, we would recommend you contact your ISP. They'd send you a technician, he would do that right.
Use A Wi-Fi Extender:
If none of the above ways help, it is a high time you get a good Wi-Fi extender or booster. Using a good Wi-Fi booster would increase your network coverage hence proper internet connection in your garage.
Conclusion:
Having an awful internet connection in the garage is an obvious issue. However, dealing with this issue isn't that hard if you carry out the above-discussed ways properly. Everything is connected to the router. if we set that properly, we have solved almost 70% if the issue. The rest can easily be taken under control with the proceeding ways.