Although "Wi-Fi" has become a more or less generic term for wireless transmission, it in fact is a trademark of the Wi-Fi Alliance. Wi-Fi CERTIFIED™, a registered trademark, is only allowed to describe products that have "undergone rigorous testing by independent Authorized Test Laboratories" and have "been tested in numerous configurations with a diverse sampling of other devices to validate interoperability with other Wi-Fi CERTIFIED equipment operating in the same frequency band." The Alliance claims that over 30,000 products are certified and branded from among its worldwide network of companies. Note that just because a product lacks the Wi-Fi logo doesn't necessarily indicate that the device is incompatible with other Wi-Fi products.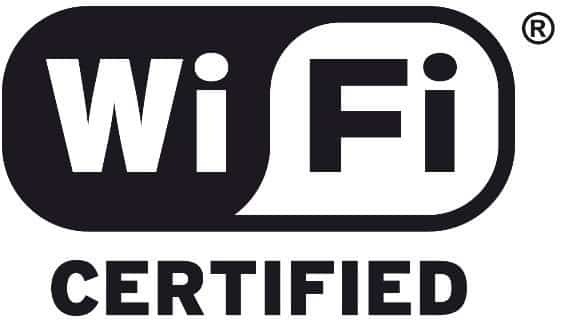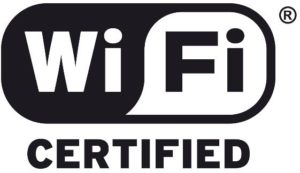 Image Source: wi-fi.org
History
A non-profit organization, the Wireless Ethernet Compatibility Alliance (WECA) was formed in 1999 from a consortium including Nokia, 3Com, Symbol Technologies (now Motorola), Lucent (now Alcatel-Lucent), Harris Semiconductor (now Intersil) and Aironet (acquired by Cisco). Others that have since joined are Apple, Microsoft, Dell, T-Mobile, Samsung, Qualcomm, Sony and many other prominent companies. In 2002 WECA adopted the name "Wi-Fi Alliance" and now counts over 550 members. The Alliance came into being due to interoperability issues between the products of various manufacturers.
Wi-Fi is based on Institute of Electrical and Electronics Engineers (IEEE) 802.11xx standards (amendments); thus, Wi-Fi is synonymous with IEEE 802.11. It refers to various media access control (MAC) and physical layer (PHY) specifications for wireless devices operating in the 900 MHZ and 2.4, 3.6, 5 and 60 GHZ frequency bands. It is the wireless counterpart to Ethernet. While one may hear reference to "802.11 standards," there is in fact only one standard — IEEE 802.11-2012. "Standards" such as 802.11g and 802.11n, for example, are actually amendments to the standard.
Below is a short video produced by the Wi-Fi Alliance celebrating 15 years of existence:
What Does Certification Mean?
When purchasing a certified Wi-Fi device, the consumer can be assured that the product has been tested to comply with IEEE 802.11xx standards of radio and data format interoperability and security protocols; higher end products also are usually tested for quality of service and power management benchmarks.
The hallmarks of Wi-Fi certification rests upon three precepts:
Interoperability – the main aim of certification.
Backward Compatibility – to allow newer generations of Wi-Fi products the ability to interact with legacy equipment thereby allowing users to continuously upgrade and expand networks cost effectively.
Innovation – by introducing new certification procedures as technological improvements warrant, equipment vendor specialization and ingenuity exist in conjunction with certification testing.
For manufacturers to label their products with Wi-Fi logo they must have:
Core MAC/PHY interoperability over at least one of the following Wi-Fi standards: 802.11a, 802.11b, 802.11g or 802.11n.
Wi-Fi Protected Access 2 (WPA 2) encryption.
Optional certification may include:
Interoperability over IEEE 802.11 h and d
WMM Quality of Service and Power Save stemming from the IEEE 802.11e standard
Wi-Fi Protected Setup (to ease the establishment of smaller application WLAN devices while enabling network security)
Application Specific Device (ASD) for media players, printers, appliances, etc.
Categories and Capabilities
The Wi-Fi Alliance divides certified products by category and capability. Categories include:
| | |
| --- | --- |
| Computers & Accessories | Gaming, Music & Media |
| Phones | Routers |
| Smart Home | Tablets, E-Readers & Cameras |
| Televisions & Set Top Boxes | Other, i.e., home appliances, electronics, etc. |
Capabilities include:
Power-Efficient Discovery — Wi-Fi aware products that "continuously discover other devices, information, and services when they are in proximity of each other."
Seamless Hotspot Networking — "access points and mobile devices with the capability to connect seamlessly in hotspots using Passpoint™."
Device-to-Device Connectivity — "Wi-Fi Direct® products that can connect to one another without joining a traditional home, office or hotspot network," i.e., peer-to-peer (P2P).
Coda
While Wi-Fi has undoubtedly changed wireless networking in many positive and productive ways, concerns have been raised regarding the development of Wi-Fi aware products, specifically "proximity marketing." Proximity marketing can be defined as "any system that utilizes location technologies to directly communicate with customers via their portable devices."
Terms such as "geofencing" or "microfencing" — the use of Bluetooth "beacons" to recognize Smartphones or other mobile computing devices within a specified geographic location — have arisen as marketers try to reach consumers at the point of sale where presumably "impulse buying" is more likely to occur.
All consumer wireless technologies — Wi-Fi, Bluetooth, near field communication (NFC)/radio frequency identification (RFID) — have been used to distribute proximity marketing. While supposedly permission is needed to enable the technology, one can readily foresee a future need for "ad blocker" software when a consumer uses a SmartPhone to help with shopping at the local grocery.
Save
Save
Save
Save