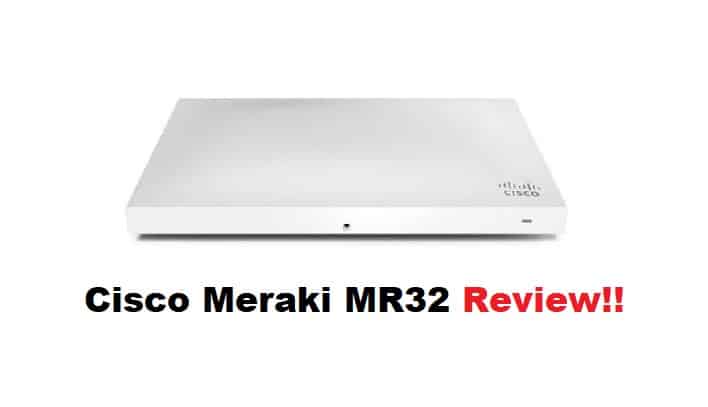 The wireless access point is basically a device that helps create the wireless LAN connection in a huge building or office. In simpler words, it allows wireless-based devices to connect to a wired internet network, which makes it easier to connect computers and PCs. For this reason, the access point devices are used but finding the right one can be extremely challenging. So, to help you make the right choice, we are reviewing Cisco Meraki MR32 in this article!
Cisco Meraki MR32 Review
The Brief
Cisco Merak MR32 is a cloud-managed and three-radio access point that's integrated with 802.11ac wireless technology. It has been designed for general places, such as hotels, hospitals, schools, and offices that need a high-speed and next-generation internet connection. It wouldn't be wrong to say that the access point device offers easier management and high-end internet performance. It has two-by-two MIMO technology that extends the internet connection.
It offers the maximum internet speed of 1.2Gbps since there is an 802.11ac connection available. In addition, the third radio has been dedicated to WIDS and WIPS for improved internet spectrum visibility and security. The access point has an automated RF optimization, which means the internet speed will be automatically optimized according to the internet application. It is integrated with BLE (Bluetooth low-energy radio) offers beacon functionality and has BLE scanning.
Feature
The access point device has a dual-band configuration and offers an internet throughput of 1.2Gbps because of the 802.11ac configuration. In addition, the third radio helps extend internet visibility. There is a scanning radio feature that's perfect for scanning nearby internet connections. It has advanced transmit power and signal reception sensitivity, which promises strong internet reception, promising a high-speed internet connection.
The best thing about this access point is that it has mesh technology that helps extend the internet connection without needing extra configuration. In particular, when it scans the internet connection, it will connect automatically. In addition, the users can create guest network profiles, so you don't have to worry about them hijacking the internet connection. The access point device has a plug-and-play device, which makes it extremely convenient to install and set up.
In simpler words, when you plug the access point into the power socket, it will automatically start the configuration process since there is a self-configuration feature. In addition, the device has a low-profile and sleek design, which means it blends into the home or office pretty easily. On top of everything, it has been optimized for voice commands, making it extremely easy to change or adjust the settings with the help of voice commands.
Performance
When it comes down to the radio technology, the access point device supports four radio connections at once and the max data rate is around 1.2GB per second. In addition, it has been integrated with maximum ratio combining (MRC), promising interference-free internet connection. The device also has beamforming technology that improves spectral efficiency because it boosts the signal range as well as the capacity.
The access point device has a packet aggregation feature that not only increases spectral efficiency but also simplifies traffic management. As far as the wireless channels are concerned, there are 20, 40, and 80MHz wireless channels available that help extends the wireless connectivity.
Design
Cisco Meraki MR32 comes with the standard mounting design as it comes with the desktop as well as a wall mount option, promising easier installation. In addition, there is a bubble level on the mounting cradle that promises on-point wall mounting. It needs an Ethernet injector as well as a DC adapter to turn it on but you've to purchase them separately because they aren't included in the package. As far as the installation is concerned, there are two security screw options available, so the unit doesn't fall off.
There is a lock hard point and an anti-tamper bay for cable placement. The best thing about this access point device is that the mounting plate has been concealed, so it doesn't disturb the home's aesthetics.
The Bottom Line
The bottom line is that this access point promises extended and high-speed internet connectivity since there are omnidirectional antennas – these antennas improve signal reception. Also, there are cutting-edge security features, such as firewall and VPN, promising strong connection without any errors.