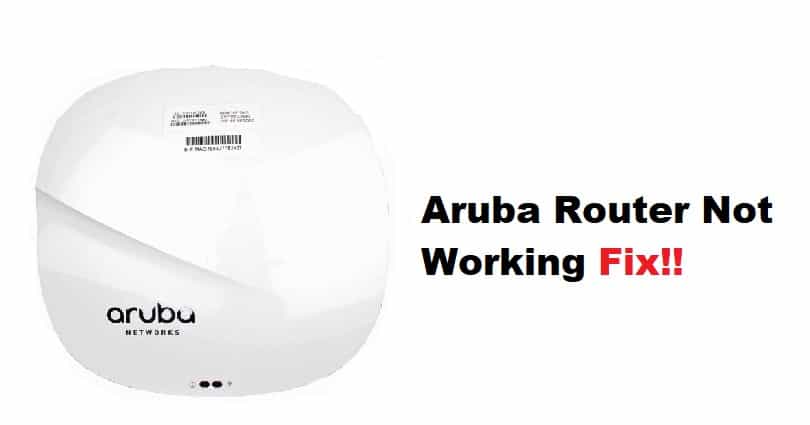 Aruba wireless LAN solutions are an excellent way to improve the capability and range of your business internet. Aruba routers and access points are ideal for providing a stable and reliable internet connection in a small business or industrial setting.
The fact that your Aruba instant-on access points support router mode means that you can connect your devices and have the AP act as a router. However, if not properly configured, router performance and connection issues may arise. We will investigate this issue in this article because users have frequently reported that their Aruba router is not working.
Aruba Router Not Working Fix:
Check Your Connections:
Loose or incorrect LAN hardware configuration can cause serious issues with the performance of the Aruba Instant On access points. Because Aruba routers are not separate routing devices with advanced capabilities, you can enable the router mode for the instant-on device and it will function as a router communicating wirelessly with your clients. When configuring your wireless network, you must ensure that the connections are secure. Check that the access point's ENET port is correctly connected to the ISP modem via an Ethernet cable. Check that the connection is securely in place. If the router cannot communicate with the modem, it will frequently fail to function therefore it is important to check the status of the connection of your router first. Also, Change the Ethernet cable and, if necessary, try a different one.
Check The LED Indicator:
Check that the light on the instant on the device is showing the desired status before configuring the network. If the light on the instant on device alternately flashes between green and amber, the connection is established from your modem.
Reboot Your Modem:
The provisional network from the modem communicates directly with the instant on device, so if the access point is not working, probably your modem is not working correctly. It is best to reboot your modem to rule out any router issues and clarify the problem. Ensure that no connections to the router are established during the process. Remove the Ethernet cable that connects the ISP modem to the instant-on device. Remove the modem from the power source and allow it to rest for 1-2 minutes. Reconnect the adapter and wait for your modem to stabilize. Make the Ethernet connection and ensure that it is secure.
Update The Firmware:
If you are running an outdated firmware version on your access point or instant on device router, software crashes are likely. It is possible that when your instant on device attempts to connect to the client, the software crashes, causing problems connecting your router to the clients. As a result, if you have not yet updated the firmware version of your instant on device, look for the most recent version to upgrade to.