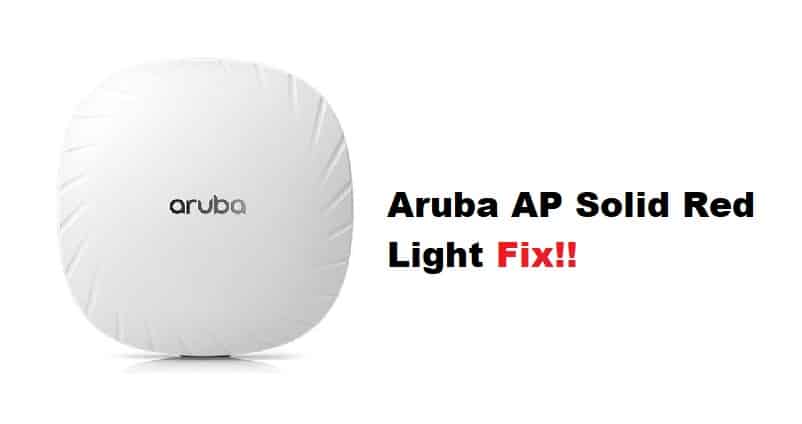 A red light display on your networking device requires no explanation, whether you are a high-tech customer or a newbie. In networking devices, the red LED display typically indicates an error, regardless of the nature of the error. Similarly, in Aruba access points, a red light indicates an error with your device.
Because this light indicates a system error, you can't do much about it, but if the error is caused by a configuration failure, you can try some troubleshooting steps. As a result, if you're looking for solutions to the Aruba AP solid red light problem, we've got you covered.
Aruba AP Solid Red Light Fix:
1. Check The PoE Standard:
When attempting to install your Aruba access point and encountering a red light on the device, it is difficult to determine whether this is due to a system failure or a hardware defect. In the latter instance. You must contact the provider, but it is prudent to first check the configuration settings of your access point. The compatibility of the PoE standard could be the root of the problem. Check the access point's standard to see if it supports the connection you've made. Most users have solved their problem by moving the device to the PoE+ switch, so see if this works for you as well.
2. Plug In The Console Cable:
To better understand the issue, connect your console cable and check the status of your device. If it is a system failure, you will be able to narrow the problem down to a hardware problem. If no ports on your access point work, it is likely that your access point is defective.
3. Reset The Access Point:
Resetting the access point can be very helpful to solve such issues. Since these problems can arise without notice you can rule out further possibilities by resetting your access point. It does help to solve the technical issue of this nature. You can perform the following procedure to reset your Aruba access point.
Access the web browser from your device and use the network credentials to log in to the access point console.
Go to the Monitoring section and click the Access Points section.
Now from the console select the access point you want to reset and click it.
Click the console access.
Now at the command prompt, you will have to execute the write erase all command.
Power cycle your AP and it will be reset.
4. Contact Aruba Support:
If these steps do not resolve your problem, it may be a hardware issue with your access point. In such a case, it is best to seek professional advice and contact Aruba Support for additional technical assistance. You can explain the problem to them, and your problems will be resolved.