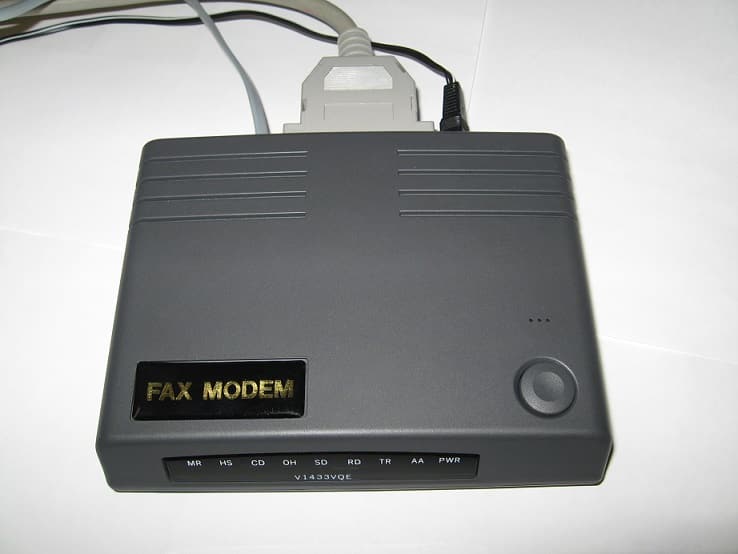 The conventional fax machine is becoming part of technology from the past and is considered to be antiquated due to advancements in Internet use and high speed broadband connections.  The original fax machines occupied a lot of space, required high maintenance, and did not allow for privacy of confidential information.
Although the fax modem is smaller and does not require the maintenance of the older fax machines, fax modems are still considered to be somewhat outdated since more people are connecting to the Internet wirelessly and without a modem.  The fax modem falls somewhere in between the original fax machines and the newer technologies that allow you to fax directly over the Internet and have the recipient retrieve the fax from their email account.
What is a Fax Modem Anyway?
Instead of technology that is separate from your PC, a fax modem is a device that is inserted into your PC and allows you to easily fax documents that are already in your files on your PC without having to print out the document.  Instead of printing out the document and feeding it into a fax machine you can fax it directly from your PC with the help of a fax modem.  By using a fax modem you can send a document to other PCs that have a fax modem or to a conventional fax machine.
How a Fax Modem Works
Fax modems allow data to be transferred over a telephone line by converting analog signals to a digital signal.  Once the data is transmitted over the telephone line the modem acts as the translator between your PC and the telephone line.  The document that is being sent to the recipient is converted to a digital signal by the fax modem before it is transmitted through the telephone lines and to the recipient.
Internal and External Fax Modems
Before you consider a fax modem it is important to be aware that there are fax modems that are installed internally on your PC and external devices that plug into the USB port on your PC.  Internal fax modems can be obtained at any PC or electronics store and are installed near the motherboard on your PC and usually in the motherboard slot.
If you are not tech savvy the installation process is best left to a computer repair specialist however the process of inserting the device into the motherboard is fairly easy to do.  You simply insert the fax modem into the slot as you would a graphics card or other device and then secure it to your PC. An internal fax modem typically comes equipped with a telephone cable that connects to the fax modem and to the phone jack in the wall.
An external fax modem can also be obtained from a PC and electronics retail outlet and plugs into the USB port on your PC.  This type of fax modem also is commonly equipped with a telephone cable which plugs into the modem with the other end connected to the telephone jack in the wall.
How to Choose a Fax Modem
As described above you can choose to use either an external fax modem or an internal device that plugs into the motherboard slot of your PC.  Internal fax modems will cost more than an external fax modem and both have their advantages and disadvantages depending upon the purpose for which you are using them.
As a general rule, internal fax modems tend to run faster than an external modem and since they do not require a USB port they offer additional features that are typically not available in external devices.  On the other hand an external fax modem offers more versatility in terms of portability.
The cost of fax modems start at around $20 and then increase to as high $100 depending upon the features that the device offers.  You will also find that the costs will vary according to the brand such as USRobotics, TRENDnet, Hewlett Packard, and other primary manufacturers of PC components.
Using a Fax Modem
Once you install the fax modem your PC should automatically find the device when you restart it following installation.  Depending upon the type of fax modem you purchased it will either install the software automatically or you may be required to insert the CD that is included with the device.  The software will also include an interface for you to use to send and receive faxes. The software is typically very user-friendly and will walk you through the process of sending and receiving faxes.
Although there are a variety of options for sending faxes such as faxing over the Internet to email and other options, fax modems are still used by business professionals and others that wish to have a faxing system they can rely on and without having to pay monthly payments like you are required to do with an Internet faxing service.  Fax modems simply represent an additional option which will suit the needs of users that for one reason or another do not have any other options available to them.