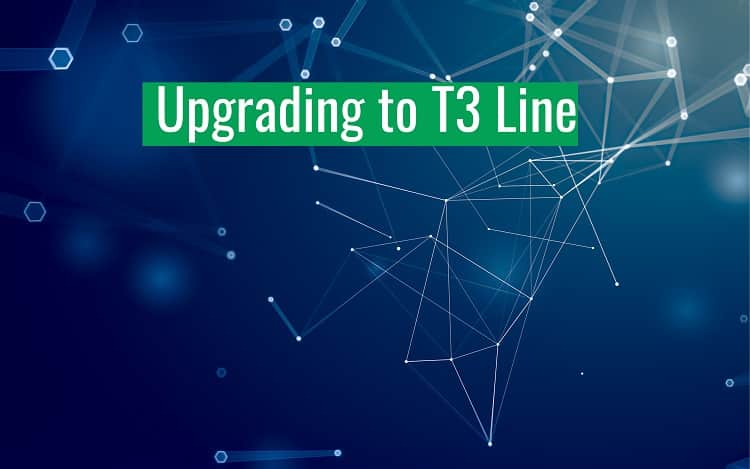 If you are a small business with less than one dozen employees or even a home business there is a wide variety of options available for achieving a high speed connection.  On the other hand, if you are a large business that uses a lot of bandwidth many of the connection options which are available do not adequately accommodate business expansion or increased data transfer needs. In order to acquire more bandwidth it is necessary to implement additional technology to make scalability possible which may or may not result in compatibility or issues with connectivity.
For the above mentioned reasons, many businesses are opting to switch to a T3 or DS3 connection to meet the new bandwidth requirements in an age of electronic data.  T3 is also known as DS3 and represents a faster connection that can accommodate increased traffic and high demand applications such as videoconferencing.
Upgrading from T1 to T3
Although T1 offers a sizeable amount of bandwidth large businesses are finding that their demand for greater bandwidth is increasing.  A typical T1 connection can accommodate up to two dozen phone lines running at approximately 1.5Mbps or megabits per second.  For businesses that need more than that the next step is to upgrade to a T3 connection since this type of connection is capable of handling up to 28 T1 lines.  This allows large businesses to implement more than 650 phone lines at approximately 45 Mbps in addition to increasing efficiency and productivity.
Benefits of Upgrading to a T3 Service
In the past, businesses have relied on a T1 connection for their revenue stream and bottom line return on investment.  T1 connections are reliable with very little downtime in the event of a failure in the technology.  It is much easier for the telephone company to repair a T1 connection than a Digital Subscriber Line making a T1 line the preferred connection by businesses that require larger bandwidth.
Both T1 and T3 connections are designed for large businesses and are digital leased lines.  T3 line providers have gone to great lengths to test this upgraded connection making it just as reliable as the T1 connection except with improved bandwidth and efficiency.
What about Cost?
Although the cost of a T1 connection is considerably less than a T3 connection when you weigh the benefits of using a T3 connection in terms of reliability, scalability, efficiency, and speed, choosing a T3 line provider may prove to be the better investment.  For example, a T1 connection offers up to 24 different channels which may allow a company to implement eight to ten phone lines and Internet connectivity for less than $1000.  However what if the company requires more than a T1 line can offer?
If you continue using the T1 connection and the company exceeds the bandwidth limits you are looking at literally thousands of dollars of lost revenue as the result of slow performance and a possible system outage.  Although T3 lines can cost anywhere from $3000 to $8000 you are increasing revenues while reducing risks and liabilities that could otherwise result from slow productivity or data loss.  This could cost a business much more than the cost of implementing a T3 connection.
Options Offered by T3 Line Providers
A T3 line provider can offer companies the opportunity for scalability when they upgrade to a T3 connection.  If you want to conserve costs while optimizing productivity there are a few different options you can pursue.
Fractional T3:  A fractional T3 line can improve bandwidth and offer more capabilities without the hefty price tag.  This is a T3 connection that offers a portion of a full T3 line and is eventually upgradeable to a full service T3 line.  Companies can implement this type of connection when they outgrow a T1 connection and then gradually upgrade without sacrificing access to a faster connection speed.
Private T3:  This type of T3 connection is offered to companies who require a VPN or Virtual Private Network which reduces the security risks that are present with an open Internet connection.  Private T3 is used for companies that have more than one location and require a line of communication between locations that is efficient and secure.  T3 line providers often refer to this type of connection as a point-to-point T3 connection that securely transmits data between locations.
Tiered T3:  This option offers business a pay-as-you-go option that is more gradual than a fraction T3 connection.  Businesses who expect their bandwidth requirements to increase opt to use this connection to enable them to pay only for what they need and then increase in increments over a period of time.
Burstable T3:  A burstable T3 connection allows you to pay only for what you use without having to share the connection.  This is also a point-to-point connection that allows businesses some flexibility when upgrading bandwidth according to company requirements.  The upgrade is offered in increments of 3Mbps until you reach the limit of 45Mbps.
Bonded T3:  This is the most capable type of T3 which may not be offered by all T3 line providers.  This connection combines multiple T3 lines to provide a massive amount of bandwidth.  The lines are combined via a router but are configured to be used as a single line
Hopefully this information on what is available through T3 line providers will provide you with the knowledge you need to begin upgrading to T3.  The first step is knowing what is available and then weighing it against an assessment of company needs.