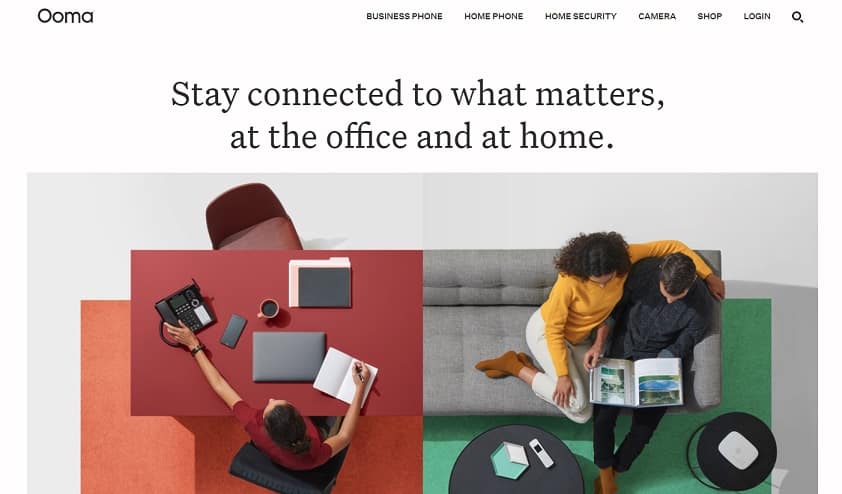 In the last several years, Voice over Internet Protocol has grown in popularity due to its convenience and cost-effectiveness when compared to cellular telephone services and traditional landline phones. As a result, more companies are offering VoIP to provide free and inexpensive calling.
The increased availability of high speed broadband connectivity has made VoIP a more attractive option for saving on costs while enhancing communications through voice and video. Ooma is one of the several options available for obtaining VoIP services.
Although the company has been in business for close to a decade now, Ooma only recently expanded its services with the increased availability of high speed broadband Internet connectivity and Voice over Internet Protocol applications such as Skype.
VoIP or Voice over Internet Protocol involves the conversion of voice signals to digital data so it can be transmitted over a high speed broadband Internet connection. Although VoIP services such as Google Talk and Skype are offering VoIP communications for free, they also have plans that involve fees or flat rates for VoIP services.
If you are unfamiliar with Ooma, in this article we will provide you with an understanding of what Ooma VoIP is and how it works to help you save money on your traditional telephone bill.
Ooma VoIP Defined
The Ooma VoIP service is different from other VoIP services because its primary goals are to completely obliterate your monthly telephone bill by using a VoIP service that is completely free. Ooma's goal is to offer VoIP completely free for life with a one-time purchase of an equipment bundle to get setup.
After that, the service eliminates the routine monthly telephone bill which can get quite costly. This why the Ooma VoIP service is changing the way we perceive Voice over Internet Protocol services. If you are under thirty years old, you may not see any need for a home telephone number since cell phones are the preferred way of communicating. However, people that are over this age typically feel that a home phone is part of an ordinary lifestyle. Ooma is geared toward this generation and can also provide you with a home phone service in the event that cell phone service is not an option depending upon where you live.
How Ooma VoIP Works
Ooma VoIP has become popular due to its ability to completely replace your monthly telephone bill, regardless of the type of phone service that you currently have. The typical landline home phone service can be replaced by VoIP. This allows you to make telephone calls over the Internet with voice quality that is just as clear as talking over a conventional telephone line.
The only cost involved with obtaining Ooma VoIP is the upfront cost of the Ooma Telo equipment to install and setup the service. Once your equipment is setup and configured, Ooma uses your high speed Internet connection to provide you with home phone service. Although this sounds similar to a setup that Vonage was promoting a while back, there are differences which we will point out in this article.
The cost of the Ooma Telo VoIP system is just under $130 but, then you have no telephone bills following the purchase. Plus, the equipment comes with a 30-day money back guarantee should you decide that Ooma is not your cup of tea.
Ooma Features
The Ooma Telo device allows you to make free domestic calls within the United States with very low rates for international calling. Other features include:
Access to 911 emergency services, call waiting, caller ID, and a variety of other calling functions.
Free calling to another Ooma user anywhere in the world.
No requirement to leave your PC powered on all the time.
Incoming calls are completely free with up to 5000 minutes per month for outbound calls.
Free 60-day free trial of Ooma Premier. This can be useful if you require additional features such as voicemail forwarding, a second phone line, the ability to use your home phone and cell phone simultaneously, advanced voicemail, the ability to create a personal phone number for each member of your household, call blocking and blacklisting, conference calling, and multi-ring which can be configured to make your cell phone and your home phone ring at the same time. The free trial allows you to test the plan before you commit to a subscription at $12 per month.
Easy connection with an rj11 outlet for a conventional standard cordless phone.
Fast configuration and connection with online activation. In most cases, a connection can be established within fifteen minutes of removing the equipment from the box.
Quick Start Guide steps you through the process of installing the Ooma Telo device.
Additionally, it is possible to get a one hundred percent return on investment up to six months after purchasing the Ooma Telo system, depending upon how frequently you use the service.
Other features include, call hold, online phonebook, one-touch voicemail access, remote voicemail retrieval, call return, online call log, online voicemail playback, encrypted calling, fax mode, and free calling in the United States with any applicable taxes and fees. The taxes typically amount to around $3 per month.
Ooma Telo Setup and Installation
The Ooma Telo equipment can be purchased at online electronics retailer, as well as your local electronics store depending upon where you live. When you open the box, you will find the Ooma Telo device, one Ethernet cable, one AC Adapter, and a Quick Start Guide.
In order to ensure the Ooma service works properly without disruption, it is necessary to have a high speed broadband Internet connection such as DSL (Digital Subscriber Line), cable, or fiber optic. High speed Internet is provided by a service such as Time Warner, AT&T, HughesNet Satellite, Wild Blue, and others. This is important since a slow Internet connection will result in dropped or disconnected calls, poor voice quality, and trouble using some of the Ooma services we mentioned.
Once you have the Ooma Telo system equipment, all you have to do is connect the Ooma Telo device to your existing high speed broadband connection and then to your existing phone. The Ooma Telo is designed to connect to the modem you received when you installed your home Internet connection.
You can choose to use your existing cordless handset or you can choose to purchase the Ooma handset as part of your Telo equipment bundle. If you purchase the Ooma handset separately, you can expect to pay around $60 for the device. However, it produces excellent voice quality so you may find the investment is well worth it.
You can choose to get a new phone number free of cost. If you would rather keep your existing number, there is a one-time cost of $39.99. The cost is transferred to your current telephone service carrier in exchange for them forfeiting your number to the Ooma phone service.
From there you may call any location in the United States completely free, as well as make international calls starting at just 1.4¢ per minute. You do not need to wear a headset or use your PC to place and receive calls, and there are no monthly bills or hidden charges once you are connected.
The people you call with your Ooma Telo VoIP system are not required to have the same setup for you to connect with them. You can call anyone with the OomaTelo VoIP system, regardless of the type of telephone equipment or phone service the call recipient is using.
To enable others to reach you with your Ooma service, you simply provide them with your telephone number. This is different from other VoIP services which require both parties to have the same configuration in order to establish a connection.
Ooma is also capable of providing you with access to 911 which is also unlike other VoIP services. Most Internet calling services do not provide a way for emergency services to locate you.
The following video provides you with an overview of how to setup and install the Ooma Telo device.
A Few Things to Be Aware of When Using Ooma
Like other products and services there are a few things you should be aware of before you decide to commit to the service.
5000 Minute Limit: To discourage commercial enterprises from abusing the Ooma VoIP service, there is a limit of 5000 minutes each month for outbound calling. However, Ooma will only enforce this rule if it is determined that you are abusing the service. At the same token, if you place more than 5000 minutes of outbound calls per month on a routine basis, this is something you should think about before you commit.
411 Directory Calls: Another aspect you should know about is directory service calls to 411. When you make a directory call using 411, the Ooma VoIP service charges a small fee of 99 cents for each 411 call you make. After that, any additional charges which are incurred from your own location can be determined by looking them up on the Ooma website. Additionally, Ooma currently does not allow phone chatting services and you cannot access 900 numbers using the Ooma VoIP service.
Backup Numbers: Ooma provides a way to reroute your calls in the event your Internet connection goes down or you experience a temporary outage. If you subscribe to the Ooma Premier Service for $12 per month, you can reroute your calls to a backup number to avoid losing your phone service during an outage.
Voicemail Transcription: If you would like to have your voicemail messages transcribed and sent to your email, there is an additional cost of $4.99 per month.
Regulatory Fees: During the first year of service your regulatory fees for using the Ooma phone service are free. Starting with the second year, you are billed a regulatory fee of $12 per month. Regulatory fees are mandated as part of the Communications Act of 1934 and requires Ooma to pay these fees to the Federal Communications Commission. The law mandates that no organization is exempt from paying this fee to the FCC.
Ooma Pros and Cons
When used according to the purpose for which Ooma is intended, chances are you will find a significant cost savings with Ooma when compared to other services such as Vonage. Some of the pros and cons to using the service include:
Pros
Ooma Telo is very low cost even if you decide to use the Ooma Premier Service.
Setup and installation only takes a matter of minutes.
Easy porting of your existing number which takes up to 5 days.
Exceptional voice quality that does not sound like you are talking on a VoIP connection.
The ability to reroute your phone number to a backup number in the event of Internet service interruption.
You do not have to leave Your PC powered up all the time which results in energy savings.
Telo equipment is high quality and relatively inexpensive.
Cheap international calling to other countries.
Free calling to other Ooma users anywhere in the world.
Cons
Regulatory fees after the first year of service and taxes on domestic calling.
Service does not work without a high speed Internet connection.
You must subscribe to the Premier version to take advantage of all of the features and functions.
Limitation for outbound calling can be a problem if you make a lot of calls.
Conclusion
Overall, Ooma VoIP is great for anyone that wants to eliminate the costly expense of a landline telephone. Basically the Ooma service pays for itself within a relatively short period of time. All of the calls are crystal clear as long as you have a high speed Internet connection. Plus, the service can significantly reduce your cell phone bills by allowing you to cut back on your cell phone minutes.
Additionally, the voicemail service and other functions are consistent and reliable and in most cases, the features and functions will exceed your expectations. Most of the people who choose to switch their phone service to Ooma feel that the service is worth the price and are happy with the cost savings when they compare it to their existing landline service. At the very least, it is worth looking into and will save you tons of money if you use it over the long term.