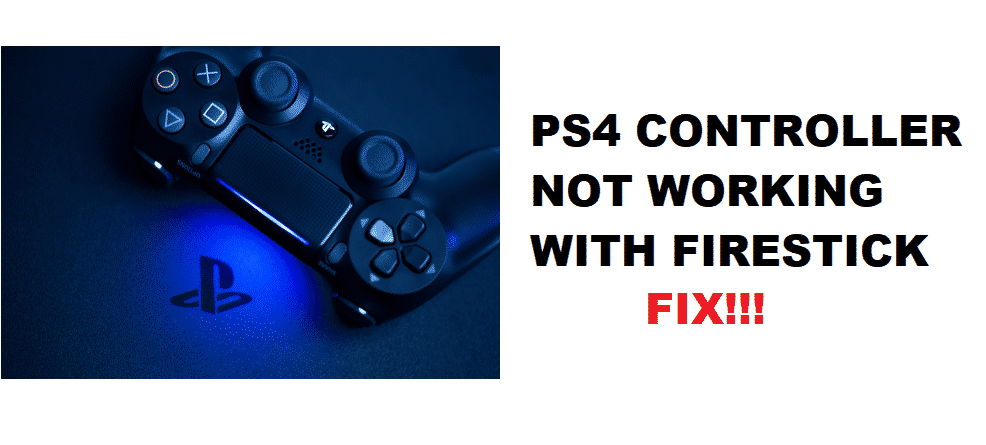 Gaming on Smart TV may not have been normalized that much in the masses, but gaming lovers are still finding ways to have a gaming experience on smart TVs. Since Amazon Firestick has enabled us to pair our PS4 controllers with their Firestick, their Smart TV users are very excited.
Amazon Fire TV isn't only for streaming, but now it has revolutionized to provide gaming facilities. Being that said, PlayStation Dualshock 4 controllers can easily be paired with Amazon Firestick. However, people are still not smoothly getting their PS4 controllers paired with Firestick. What could be the reason? What can you do to solve this issue? Well, we will walk you through the causes and some troubleshooting solutions.
PS4 Controller Not Pairing With Fire Stick:
Why Won't My PS4 Controller Pair With Firestick?
Paring PS4 controllers on your Amazon Firestick must be a great gaming experience. No one wants to miss out on that. However, some Firestick users are still unable to pair them or sync them properly. There are several reasons. Maybe the connection is lousy, or your FireTV hasn't plugged in tightly to the central hub.
Sometimes the issue lies with your PS4 controller's outdated firmware. However, mostly the reasons could be unknown too. Don't worry. With the following troubleshooting solutions, you can pair your controllers to the Firestick again and enjoy Smart TV gaming. Read on!
What Do I Do Pair My PS4 Controller With Amazon Firestick?
Even when the firestick is made compatible to pair with the PS4 controller, still your Firestick TV's Bluetooth stack rejects the pairing attempt.
Try these solutions to get the pairing done.
Check Your Connection:
First of all, you would need to check if your Firestick is connected to the internet and hasn't lost the connection. Make sure the signal strength and speed are sufficient too.
Reboot Your Amazon Firestick:
The very next after checking the connection, you are going to do is quickly reboot your Firestick. Unplug the Firestick, wait for a minute or two, and then plug your FireTV back. Check if it solves the issue.
Re-Sync Your PS4 Controller To Amazon Firestick:
Sometimes, you wouldn't don't have any idea, but your faulty syncing may be causing the pairing issue. Unlike other wired controllers that connect smoothly to Smart TV, your PS4 controller syncs via Bluetooth.
We assure you that you make the pairing process smooth.
Here is how you do it:
Go to the Settings menu on your Firestick.
Keep navigating and scrolling left to reach the "Controllers" section.
After scrolling for a bit, select the "Bluetooth Game Controllers" option.
Tap on the Add Bluetooth Controller option. Your Firestick would be searching for a controller to sync to.
Re-syncing your PS4 controller to Firestick will be successful as you have rebooted your device. You might have no idea about it, but pairing after rebooting can be very helpful.
Update Firmware Of Your PS4:
Always make sure that your PS4 controller's firmware is up to date.
That's all! This is everything you need to do when your Amazon Firestick rejects your attempts of pairing it with the PS4 controller. However, if the issue persists, you need to reach out to your Firestick customer support.