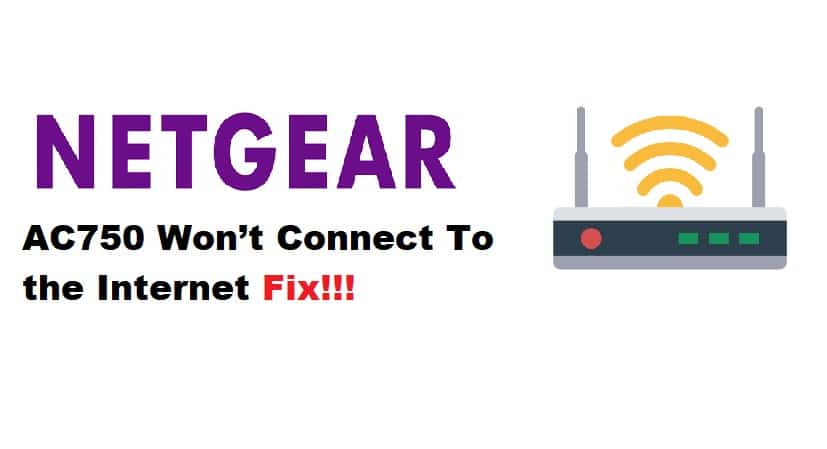 It can be very frustrating when your internet connection frequently disconnects from your device. Although this is an unavoidable issue, it can be resolved with some precautions and basic troubleshooting steps. For a few weeks, NETGEAR users have been complaining about their NETGEAR AC750 not connecting to the internet.
Even though the internet is saturated with troubleshooting techniques, in this article we will discuss some of the major factors that can affect your extender's internet connection and how to counter them.
Fixing NETGEAR AC750 Won't Connect To the Internet:
1. Location Of The Extender:
For optimal performance, place your AC750 extender near your NETGEAR router or any standard router. If your AC750 is having trouble connecting to the router, it is possible that both of your devices are too far apart or that your extender is in a dead zone. Place your extender near your router and try connecting to the internet again.
Check the cable connection between your router and the AC750 as well. Connect the two using an Ethernet cable, and make sure the cable is in good working order. Damaged or broken cables can disrupt your extender's connectivity.
2. Hardware Configuration:
Another reason your extender isn't receiving signals from the router is that your hardware isn't properly configured. This can result in a variety of problems, your extender refusing to connect to the internet.
The first thing you should look for when trying to solve this problem is any damage or bends in your power cable. Ascertain that your power cable is securely connected to the device and that the connection is made via a direct electrical outlet. In addition, ensure that the connection between the router and the NETGEAR extender is strong and secure. Your connections are correct if you see solid green power light on your extender.
3. Corrupted Firmware:
Corrupted firmware can significantly obstruct network signals. Your extender may have corrupted or incompatible firmware which is causing connection issues. You can reinstall your firmware to replace the old one. This will resolve any issues with your previous firmware.
Furthermore, if you had no problems with your prior firmware, it is recommended that you update to the latest version. You can manually download it from the NETGEAR website and install it on your extender.
4. Power-Cycle Your Extender:
Rebooting, also known as power cycling, can save you a lot of time and troubleshooting by potentially resolving connection problems with your extender. Because of accumulated cache and overtasking, your extender often refuses to function properly. Rebooting not only clears your extender's temporary memory, releasing it from cache files but also gives a rest to your device.
To restart your extender, disconnect it from the power source and disconnect all cable connections, including any with the router. Allow it to rest for about 30 seconds before connecting to a power outlet. Wait until the extender's light LED illuminates. Reconnect all of the cables and reconnect to the router.